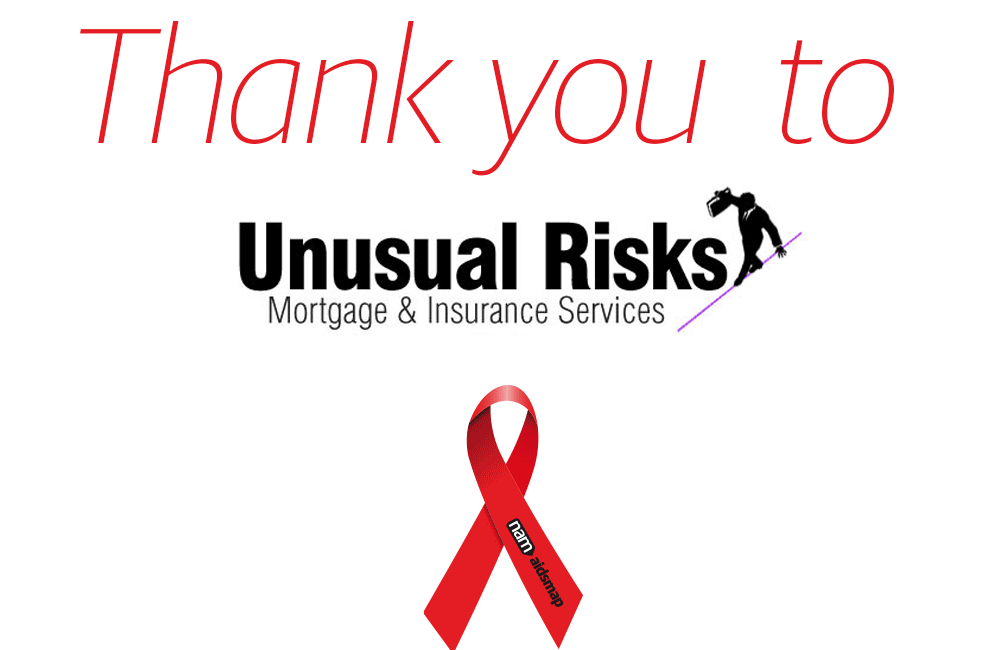 Nothing brightens a rainy Monday in the NAM office more than receiving a wonderful donation cheque to support our work. This week it is Unusual Risks we want to thank.
Unusual Risks is an insurance company specialising in supporting clients with pre-existing medical conditions, including HIV and hepatitis C, find mortgages and insurance policies.
Choosing NAM as a charity partner
As part of their business, they have a Charity Donation Scheme, and for every HIV-related insurance product they sell they make a donation to NAM, or an HIV charity of their customer's choice. For NAM the benefits of having like-minded businesses support our work are obvious: the more funding we can attract, the more people with HIV we can support with our information. But I was interested to understand more from Unusual Risks about why they chose NAM as one of their charity partners, and how it has impacted their business. So when I called Chris Morgan, their Practice Manager, to thank him for the cheque he had sent us, I took the opportunity to find out a bit more.
Chris told me:
"As I was building the Unusual Risks business, I knew I wanted to establish sustainable links with a small number of charities who were closely aligned to our aim of creating a business that helped marginalised groups access insurance products. As well as NAM, we also support the Hepatitis C Trust, reflecting the different communities we provide services for.
"I'd been aware of NAM for a number of years previously and their role as a community-based information provider. I wanted to make sure that any money we donated would make the maximum impact possible, and I believe that NAM's work – supporting people with clear and accurate information – plays a centrally important role in helping people with HIV look after their health and challenge stigma and discrimination.
"Supporting NAM has made a positive impact on our business. It has provided us with a great opportunity to learn more about the HIV community, and the NAM brand values of quality, equality and accessibility reflect values that are central to our company ethos."
From everyone at NAM, and on behalf of our service users, thank you so much to Chris and the Unusual Risks team for your donations and support for our work!
Get your company involved
If you have a business and would be interested in finding out about supporting NAM's work please email info@nam.org.uk