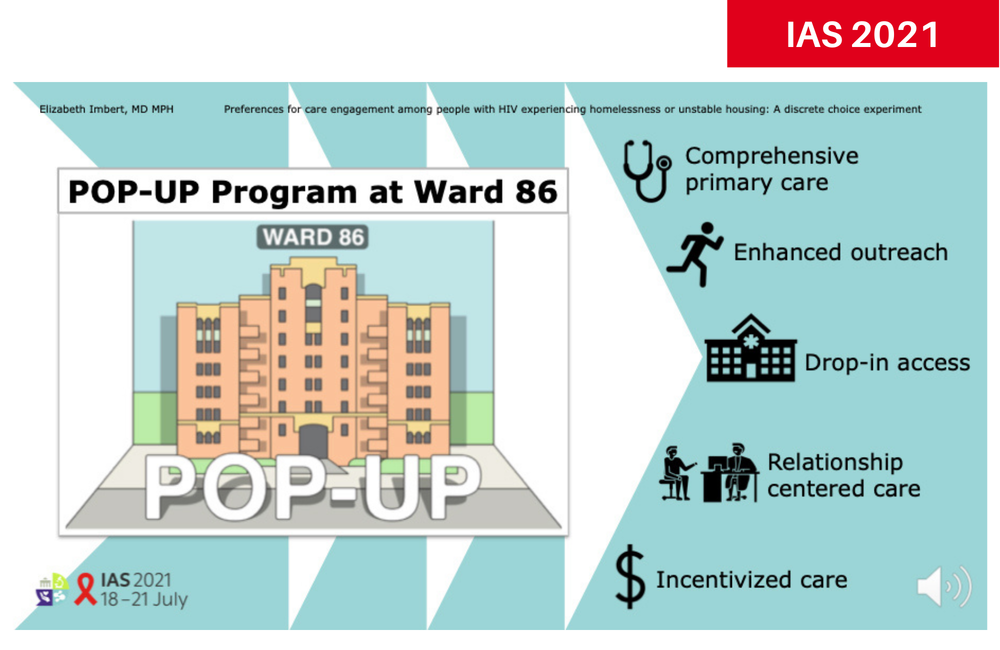 People experiencing homelessness or unstable housing differ in the types of HIV care they prefer, with a majority favouring flexibility while about a third wanted to consistently see the same provider, according to a study presented this week at the the 11th International AIDS Society Conference on HIV Science (IAS 2021). Telemedicine, which many HIV clinics have adopted due to COVID-19, was not a popular option.
Homelessness and unstable housing are risk factors for low engagement in HIV care, difficulty maintaining viral suppression and a higher risk of death. Public health officials fear the COVID-19 pandemic could lead to even worse outcomes for this population.
"During the COVID-19 pandemic, people living with HIV who experience homelessness or unstable housing in the United States have faced compounding medical and socioeconomic challenges," lead investigator Dr Elizabeth Imbert of the University of California, San Francisco, told aidsmap. "Simultaneously, public health ordinances have lowered the capacity for in-person services while accelerating telehealth adoption."
People living with HIV in San Francisco have good treatment outcomes overall, with 75% of all HIV-positive individuals having an undetectable viral load, but this falls to just 39% among people experiencing homelessness. In 2019, 18% of new HIV diagnoses occurred among homeless or unstably housed people.
Imbert's team conducted a discrete choice experiment to evaluate preferred strategies for improving care engagement among homeless and unstably housed people with HIV, asking them to choose among exclusive options.
The analysis included 59 people who participate in the POP-UP (Positive-health Onsite Program for Unstably-housed Populations) programme at San Francisco General Hospital's Ward 86 HIV clinic, as well as 56 people who accessed traditional primary care and had a recent unsuppressed viral load. Ward 86 serves a vulnerable population. Most patients do not have commercial health insurance or rely on Medicaid (coverage for low-income people) or Medicare (coverage for people over 65 and those with disabilities). More than a third are homeless or have unstable housing.
Launched in January 2019, POP-UP includes a low-threshold clinic that does not require appointments and is open for drop-in visits on weekday afternoons. It offers comprehensive primary care including mental health care, substance use treatment and onsite medication pick-up. A patient navigator helps link patients to services such as case management, housing assistance and help obtaining insurance coverage. Participants receive grocery store gift cards as an incentive for coming to the clinic, getting lab tests and maintaining an undetectable viral load. Eligible participants are either not on antiretroviral therapy or are on treatment with a viral load of 200 copies/ml or higher and have a history of missed primary care appointments.
At last year's International AIDS Conference, Imbert and colleagues reported that the POP-UP programme helped people remain engaged in care, stay on antiretroviral treatment and achieve viral suppression. But that was before COVID-19. Researchers reported late last year that Ward 86 patients were 31% more likely to have a detectable viral load after the city imposed its stay-at-home order and the clinic shifted to telemedicine in March 2020. But POP-UP kept its doors open even as many other health services in the city shut down, and care engagement and viral suppression did not decrease.
The present analysis enrolled participants between July and November 2020. Out of 840 people screened, 146 were deemed eligible and 115 completed the survey. Half were White, 34% were Latino and 20% were Black (the corresponding proportions in the city's population are 53%, 37% and 6%). More than three-quarters were cisgender men, 6% were cisgender women and 11% were transgender women. Over half reported using methamphetamine daily. Four in 10 said they recently lived outdoors. Although a majority (76%) owned a phone, 56% said they had recently had a phone lost or stolen.
The researchers identified different care preferences among the survey participants. While 68% favoured flexible care, 32% said they preferred to see the same provider. The respondents strongly preferred drop-in visits over scheduled appointments, and they wanted in-person care rather than video or phone consultations. Many said they would like an additional clinic site besides Ward 86 (located in the largely Latino Mission District). And all respondents favoured incentives for receiving care.
"Service models for public HIV clinics that include options for in-person incentivized care, provider continuity and service flexibility may improve care engagement and reduce the disparity in viral suppression for people living with HIV who experience homelessness or unstable housing," the researchers concluded.