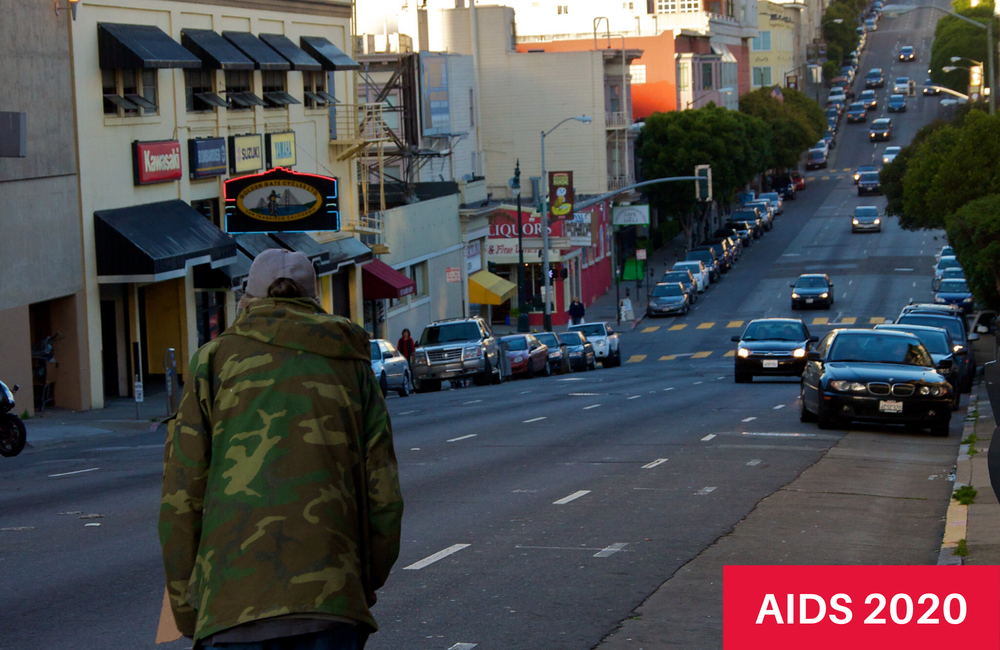 An intensive, low-barrier HIV care programme in San Francisco helped a vulnerable population experiencing homelessness or unstable housing to stay on antiretroviral treatment, according to a study presented this week at the 23rd International AIDS Conference (AIDS 2020: Virtual).

A related study looked at the trade-offs such individuals are willing to make to get the kind of care they want, finding that they value easier access and having a closer relationship with their medical providers.
Homelessness and unstable housing are risk factors for low engagement in HIV care and inability to maintain undetectable viral load. People living with HIV in San Francisco have good treatment outcomes overall, with 74% of all HIV-positive individuals and 91% of those who received at least one lab test achieving viral suppression, but this fell to just 33% among people experiencing homelessness. Moreover, unhoused individuals had a 27-fold higher risk of death than those with stable housing.
POP-UP programme
Dr Elizabeth Imbert of the University of California at San Francisco presented findings from the POP-UP Clinic at San Francisco General Hospital's Ward 86, one of the first dedicated HIV clinics in the US. Ward 86 serves around 2500 people who do not have commercial health insurance or rely on Medicaid (coverage for people with low income) or Medicare (coverage for older people).
Over a third of patients seen at Ward 86 are homeless or have unstable housing, and housing instability in Ward 86 patients is associated with a greater likelihood of detectable viral load, more urgent care and emergency room visits, and a lower likelihood of remaining in primary care.
In January 2019, Ward 86 launched POP-UP (Positive-health On-site Programme for Unstably-housed Populations), which features a low-threshold drop-in clinic that requires no appointments and offers incentives for accessing primary care.
Eligible participants are HIV-positive individuals experiencing homelessness or unstable housing who are either not on antiretroviral therapy or who are on treatment but have a viral load of 200 copies/ml or higher. They must have missed at least one primary care appointment and made at least two unscheduled visits to Ward 86 during the past year. They were identified through electronic health records or referred by clinicians or the city health department's linkage-to-care programme.
POP-UP provides primary care including mental health care, substance use treatment (such as buprenorphine) and medication pick-up. It is open for drop-in visits on weekday afternoons. The team includes three medical doctors, a nurse practitioner, a nurse, a social worker, a pharmacist and a pharmacy technician.
A patient navigator assists with linking patients to care or other services. Social services include referrals for case management, housing assistance and help obtaining public insurance coverage. Unfortunately, given the city's high housing costs and low availability, it is not always possible to help people access stable housing right away.
Participants are given grocery store gift cards as an incentive to participate in the programme. They receive $10 once a week for coming to the clinic, $10 for lab test visits and $25 every three months if they achieve or maintain a viral load below 200 copies/ml.
Seventy-five people had enrolled in POP-UP as of February 2020, out of 152 deemed eligible. Most of the remainder had not yet been reached to tell them about the programme.
Most participants (85%) were cisgender (non-trans) men, seven (9%) were cisgender women, three identified as non-binary or gender-nonconforming and one was a transgender woman. Two-thirds were in the 15 to 50 age range, with a third older than 50 years. Forty-five per cent were white, 35% were black and 9% were Latino. Forty per cent had a CD4 count below 200 cells/mm3, indicating advanced immune suppression.
At the time of enrolment, just over half lived on the streets, while most of the rest were staying in shelters, transitional housing or residential treatment facilities, or temporarily 'couch surfing'.
All of the participants had a substance use disorder, with 91% using methamphetamine and 15% using opioids. Just over three-quarters had a mental health diagnosis, including 51% with depression.
Most participants (79%) restarted HIV treatment within seven days after enrolment in the programme. More than two-thirds returned for a repeat visit within a month and 91% did so within three months. After six months, 54% had achieved viral suppression.
Sixteen people dropped out or were dropped from the programme, including five who died, three who moved away, three who were suspended for violent behaviour, one who went to prison and one who entered a long-term care facility.
"With an exceptionally vulnerable population of viremic people experiencing homelessness, we demonstrated sustained engagement in the POP-UP model of care," the researchers concluded. "Low-threshold, high-intensity primary care programmes offering comprehensive services and incentives similar to POP-UP may improve patient outcomes for people with HIV experiencing homelessness or unstable housing in other urban settings."
Care preferences
"Participants valued easier access and having a closer relationship with their medical providers over financial incentives."
In a related study, Madellena Conte, also from the University of California at San Francisco, analysed care preferences among HIV-positive people experiencing homelessness or unstable housing using a 'discrete choice experiment.'
The analysis included 65 Ward 86 patients who had missed a primary care visit in the last year and who recently had a detectable viral load measurement. Just over three-quarters were men, 61% were over age 40, 45% were white, 56% lived outdoors or in emergency housing and 44% had temporary housing.
Participants were asked to choose between two hypothetical clinics in which the services varied on five attributes:
Patient-centred care (providers "get to know me as a person")
Drop-in versus scheduled visits
Direct phone communication with the care team, versus dealing with front-desk staff
Distance from where they usually stay (two versus 20 blocks away)
Provision of gift cards as an incentive for clinic visits.
Participants expressed the strongest preference for patient-centred providers, for which they would trade $32.79, and drop-in clinic visits, for which they would trade $11.45 in gift card value per visit.
"Homeless and unstably housed people living with HIV, who live on the economic margins and who often lack basic subsistence, were nevertheless willing to trade significant financial gain…to have a personal relationship with and immediate access to the primary care team," the researchers concluded.
References
Imbert E et al. POP-UP clinic: A multicomponent model of care for people living with HIV (PLHIV) who experience homelessness or unstable housing (HUH). 23rd International AIDS Conference, abstract OAE0406, 2020.
Update: Following the conference presentation, this study was published in a peer-reviewed journal:
Imbert E et al. Evaluation of the POP-UP Program, a Multi-component Model of Care for People Living with HIV with Homelessness or Unstable Housing. AIDS, published ahead of print, February 2021.
doi: 10.1097/QAD.0000000000002843
Conte M et al. Strategies to increase uptake of retention in HIV services: Understanding preferences for HIV care among patients experiencing homelessness or unstable housing: Results of a discrete choice experiment. 23rd International AIDS Conference, abstract OAE0103, 2020.
Correction: the figure for use of methamphetamine was corrected on 12 July 2020. It is 91%, not 61%.
Full image credit: San Francisco. Justin Ritchie. Available at www.flickr.com/photos/jritch/5656255445/ under a Creative Commons licence CC BY-NC-SA 2.0.