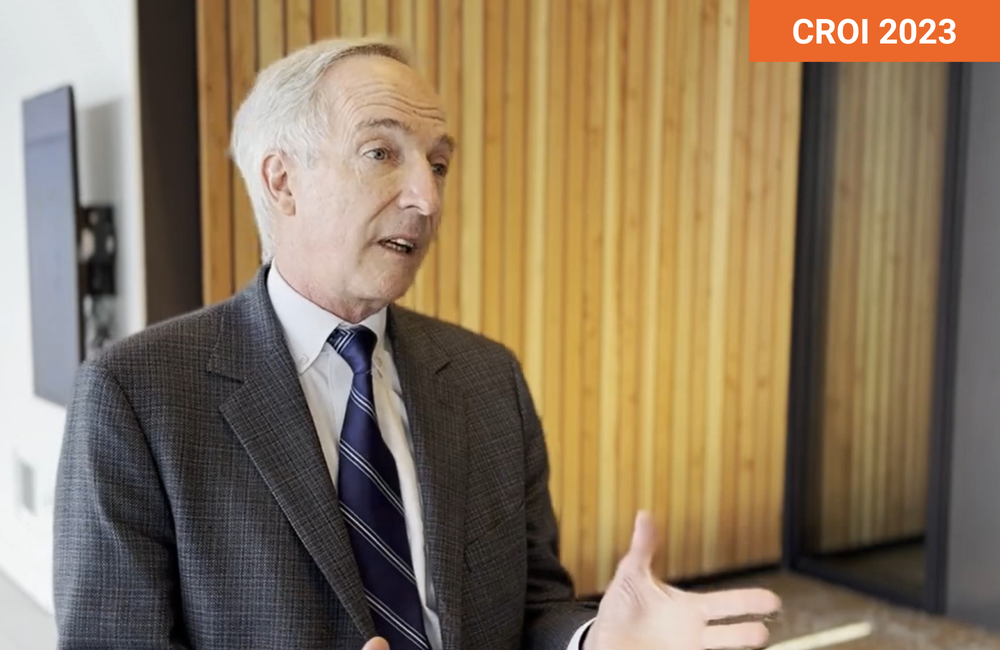 Lenacapavir (Sunlenca), a new antiretroviral that can be taken every six months, might be combined with a pair of broadly neutralising antibodies to construct a complete twice-yearly regimen, according to a small study presented last week at the 30th Conference on Retroviruses and Opportunistic Infections (CROI 2023) in Seattle.
Professor Joseph Eron of the University of North Carolina at Chapel Hill reported that 90% of study participants who received injections of lenacapavir plus infusions of the antibodies teropavimab and zinlirvimab maintained an undetectable viral load six months after stopping their existing antiretroviral therapy.
These findings, Eron said, "demonstrate that we can offer long-acting [viral] suppression, but there is a lot more to do."
Lenacapavir background
Lenacapavir, from Gilead Sciences, is an HIV capsid inhibitor that disrupts the cone-shaped shell that surrounds the viral genetic material and essential enzymes. Because it works differently than existing drugs, it remains active against virus that has developed resistance to other antiretroviral classes, and its long half-life means it can be taken just twice a year.
Lenacapavir was approved for treatment-experienced people with multidrug-resistant HIV by the European Commission in August 2022 and by the US Food and Drug Administration in December 2022. Lenacapavir has demonstrated good effectiveness both for heavily treatment-experienced people and for those starting antiretroviral therapy for the first time.
The phase II/III CAPELLA trial evaluated twice-yearly lenacapavir injections plus an optimised background regimen in 72 people with extensive treatment experience and highly resistant HIV who were not able to maintain viral suppression using existing drugs. At last year's CROI, researchers reported 52-week results from the study's randomised cohort, showing that 83% had a viral load below 50, rising to 94% for those with two or more active agents in their background regimen.
In the phase II CALIBRATE trial, 183 previously untreated people were randomly allocated to receive daily oral lenacapavir or twice-yearly lenacapavir injections in combination with daily oral antiretrovirals, or else a standard oral regimen (Biktarvy). As reported at last year's CROI and in a recent edition of The Lancet HIV, 85% to 90% of people who received lenacapavir injections plus tenofovir alafenamide or the integrase inhibitor bictegravir had an undetectable viral load at 54 weeks.
Findings from these two studies show that lenacapavir has the potential to be used as a component of a long-acting treatment regimen, but currently there are no other drugs that can be given at such a long interval. The approved regimen with the longest duration, ViiV Healthcare's injectable cabotegravir (Vocabria) and rilpivirine (Rekambys), is administered once monthly or every other month.
A trial of lenacapavir plus islatravir, Merck's experimental long-acting nucleoside reverse transcriptase translocation inhibitor, was put on hold in December 2021 due to unexplained side effects, but the study will resume using a lower dose of islatravir.
Lenacapavir plus bnAbs
Combining lenacapavir with long-acting broadly neutralising antibodies (bnAbs) may be another option for providing a complete long-acting regimen. These specialised antibodies, originally derived from people with a strong natural immune response to HIV, bind to parts of the virus that do not change very much as it evolves. Early research suggests that bnAbs might have potential for HIV prevention and long-term remission. However, they are prone to resistance, so they are likely to work best in combination regimens.
Eron and colleagues evaluated a regimen of lenacapavir and two bnAbs administered every six months. Teropavimab (GS-5423) is derived from a bnAb dubbed 3BNC117 that targets the CD4 binding site on HIV's spikes, which the virus uses to enter cells. Zinlirvimab (GS-2872) is derived from a bnAb called 10-1074 that binds to the V3 loop of HIV's gp120 protein. Both bnAbs were modified to extend their half-life and allow less frequent dosing. More than half of clade B HIV is highly susceptible to both antibodies and more than 90% is highly susceptible to one or the other at a feasible dose, Eron said.

This phase Ib clinical trial (NCT04811040) enrolled 21 people with HIV who were on antiretroviral therapy with viral suppression for at least 18 months, had a current CD4 count above 500 and had never had a CD4 count below 350. They were tested to ensure that their HIV was sensitive to both antibodies. Among 124 people initially screened, only 55 met the susceptibility criteria. Of these, 34 were not enrolled due to a temporary clinical hold on lenacapavir or for other reasons.
All but three participants were men and a majority were White. The median age was 44 years and they had been diagnosed with HIV for a median of 8.2 years and on antiretroviral therapy for a median of 2.6 years.
On the first day of the study, after discontinuing their existing antiretroviral regimen, all participants received an oral loading dose of lenacapavir (repeated on the second day), two subcutaneous injections of lenacapavir and an intravenous infusion of teropavimab (30mg/kg). In addition, they were randomly assigned to receive either 10mg/kg or 30mg/kg of zinlirvimab. Ten people in each group received all planned doses and were included in the analysis.
Viral load was measured every four weeks. The study was originally intended to run for a year, at which point participants would restart their prior antiretroviral regimen. However, when lenacapavir became unavailable due to the clinical hold, the study was halted at 26 weeks, after just one dose of the three agents, Eron explained.
Lenacapavir, teropavimab and zinlirvimab (using either dose) remained well above therapeutic levels up to 26 weeks. At that point, 90% of participants in both groups maintained viral suppression. One person who received the higher dose of zinlirvimab decided he preferred pills and withdrew from the study at 12 weeks, Eron said. One person in the lower-dose group experienced viral rebound which was resuppressed after they resumed their baseline regimen. CD4 counts remained stable in both groups.
Treatment was safe and generally well tolerated. There were no serious or life-threatening adverse events or clinically meaningful laboratory abnormalities, and no one withdrew due to adverse events. The most common side effect was injection site reactions, such as pain, redness, swelling or nodules. Most were mild to moderate, though one person developed cellulitis.

"This study demonstrates that a combination of the bnAbs teropavimab and zinlirvimab together with lenacapavir can sustain viral suppression for six months in selected people with HIV," the researchers concluded.
A phase II clinical trial (NCT05729568) will start this year to see whether viral suppression can be maintained when the regimen is continued for a longer time with multiple twice-yearly doses.

Speaking at a conference press briefing, Eron said, "We've gone from asking patients to wake up every four hours to take zidovudine [AZT], to combination treatment with 15 to 20 pills a day, to now having the opportunity to give therapy every six months."
References
Eron J et al. Lenacapavir with bnAbs GS-5423 and GS-2872 dosed every 6 months in people with HIV. Conference on Retroviruses and Opportunistic Infections, Seattle, abstract 193, 2023.