Adolescent-centred interventions lead to increase in viral suppression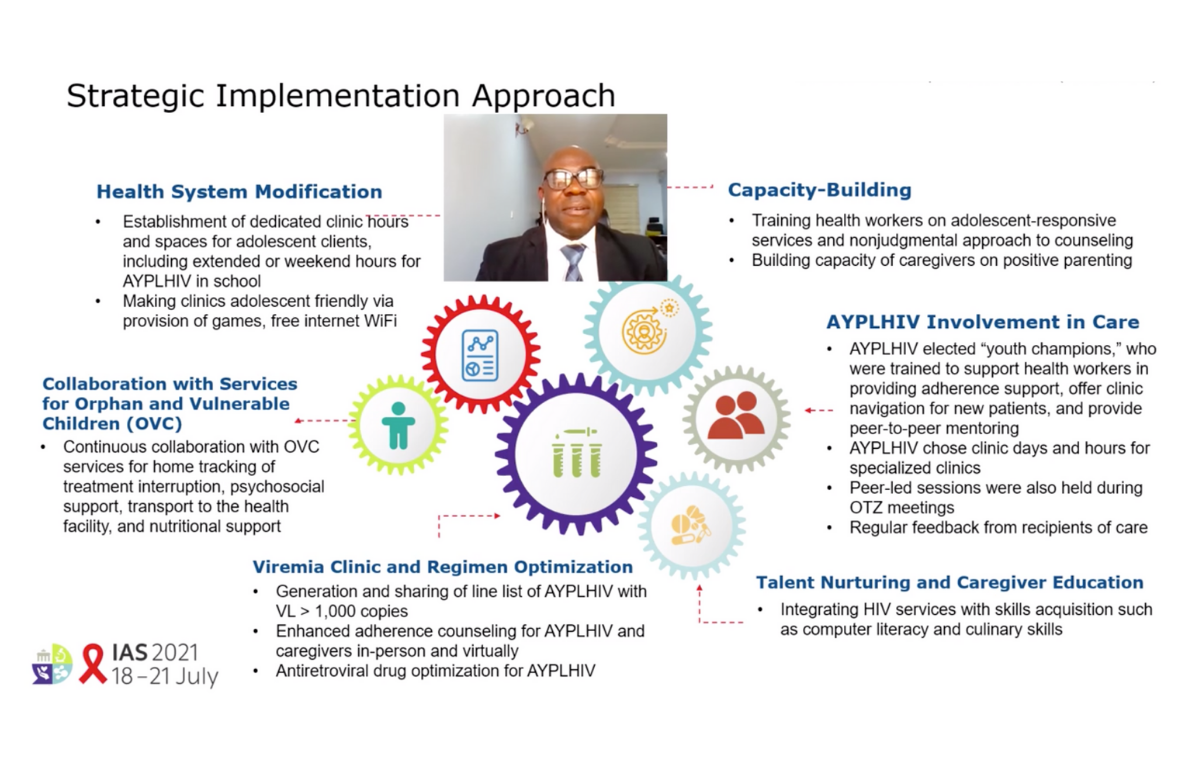 Targeted community-based interventions in Namibia and Nigeria aimed at the specific needs of adolescents and young adults living with HIV proved to be successful in improving outcomes including viral suppression.
The results were presented to the 11th International AIDS Society Conference on HIV Science (IAS 2021).
Across the sub-Saharan African region, only around 43% of adolescents with HIV are engaged in care.
In Namibia, 25 treatment facilities took part in a collaborative effort to improve viral suppression among adolescents and young adults between August 2018 and December 2020. Strategies included the use of high viral load registers (to monitor those who had not achieved viral suppression, implemented at all sites), enhanced adherence counselling (80% of sites), directly observed therapy (52%), pill boxes (32%), initiating or strengthening existing teen adherence clubs (64%), and ensuring timely switching of antiretroviral therapy regimen if needed (all sites).
While only 407 adolescents and young adults had achieved viral suppression at the start of the study (44%), this increased to 719 (74%) by the end of 2020.
In Nigeria, 33 health facilities took part in an intervention in 2020. Strategies included adolescent-focused case management, peer support, behavioural interventions to target adherence issues and rewards designed to appeal to these age groups.
Additionally, 66 adolescents and young adults were trained as youth champions, helping to provide adherence support, assisting new patients and providing peer mentoring.
Viral suppression significantly increased by the end of the intervention period for all age groups. By September 2020, it was at 82% among those aged 10 to 14 (a 15-percentage-point increase), 83% among those aged 15 to 19 (a 31-percentage-point increase) and 85% among those aged 20 to 24 (a 17-percentage-point increase).
---
Homeless people with HIV prefer flexibility, in-person care and incentives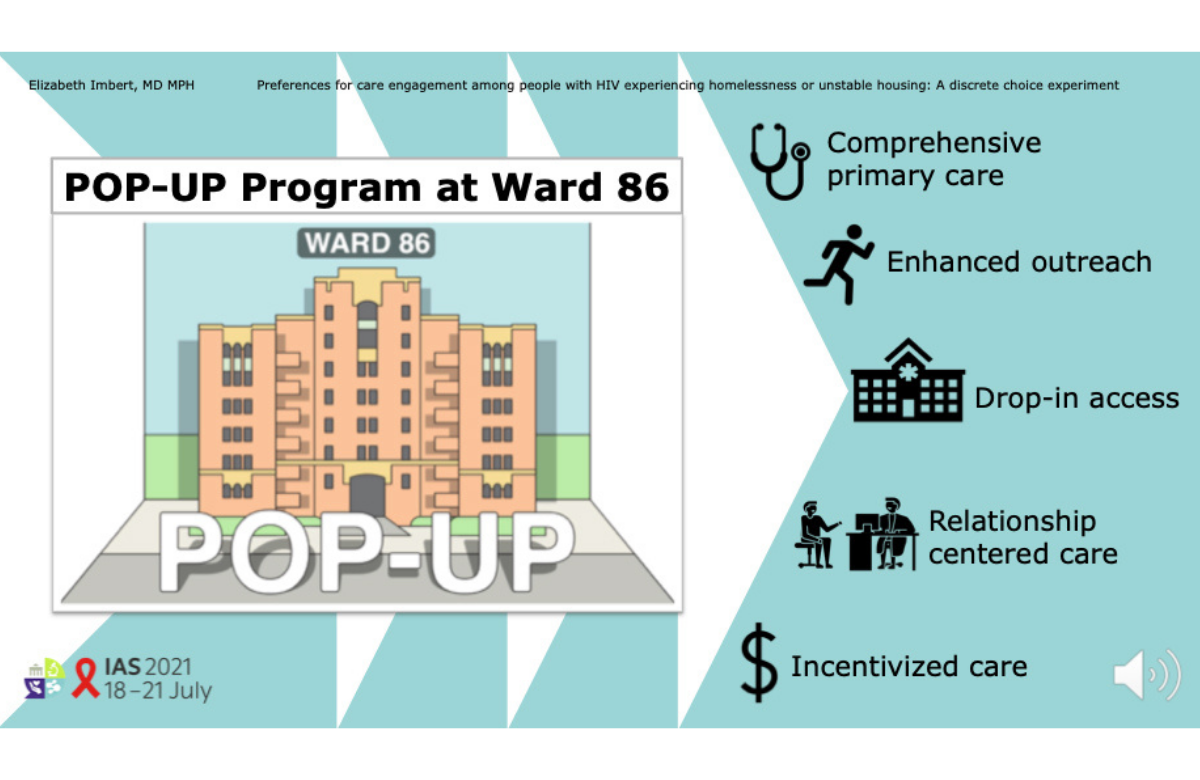 People experiencing homelessness or unstable housing differ in the types of HIV care they prefer, with a majority favouring flexibility while about a third wanted to consistently see the same provider, according to a study presented at IAS 2021. Telemedicine, which many HIV clinics have adopted due to COVID-19, was not a popular option.
People living with HIV in San Francisco have good treatment outcomes overall, with 75% of all HIV-positive individuals having an undetectable viral load, but this falls to 39% among people experiencing homelessness.
A team from the University of California, San Francisco, has previously reported on person-centred care for people experiencing homelessness. In this study, they evaluated strategies for improving care engagement among homeless and unstably housed people with HIV.
Between July and November 2020, 115 participants took part in a survey. Four in 10 said they recently lived outdoors, over half said they had recently had a phone lost or stolen and over half reported using methamphetamine daily.
The researchers identified different care preferences among the survey participants. While 68% favoured flexible care, 32% said they preferred to see the same provider. The respondents strongly preferred drop-in visits over scheduled appointments, and they wanted in-person care rather than video or phone consultations. All respondents favoured incentives such as grocery store gift cards for receiving care.
---
Twice-a-year injected drug shows promise for first-line HIV treatment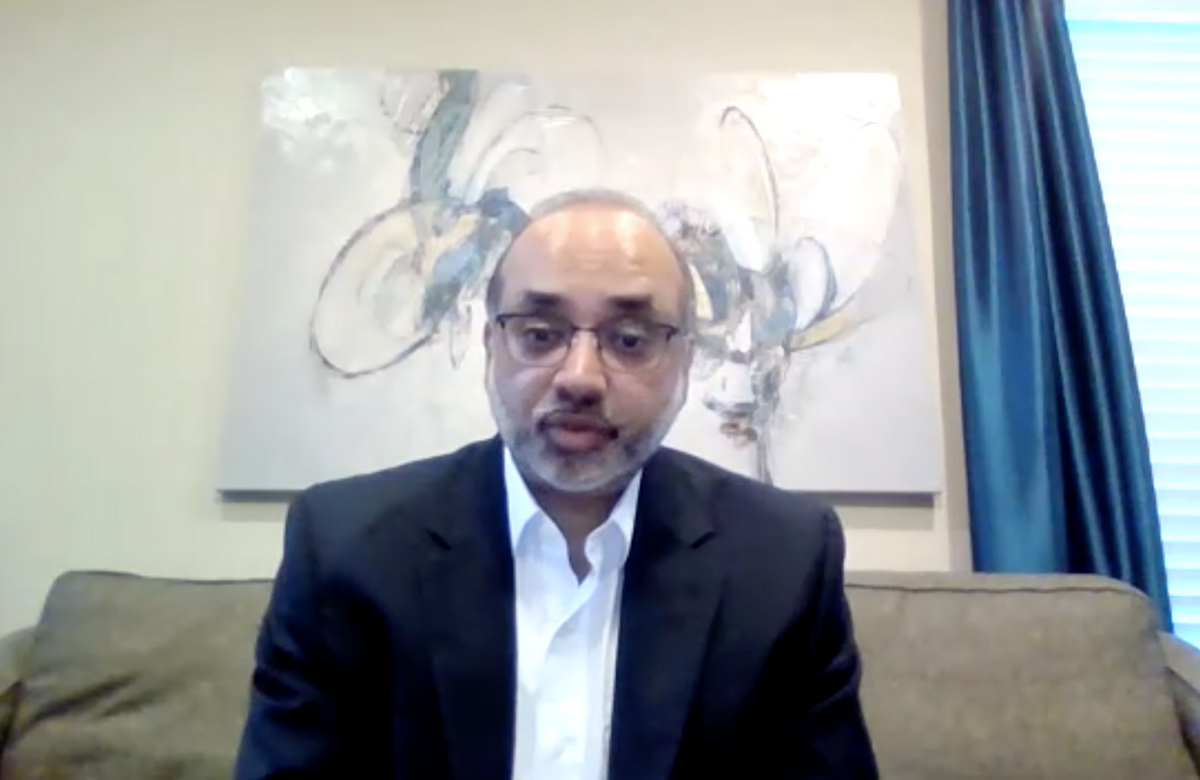 Early results from a small study presented to IAS 2021 suggest that twice-a-year injections of lenacapavir, an experimental HIV capsid inhibitor, can be used as part of a combination regimen for people starting HIV treatment.
Professor Samir Gupta of Indiana University presented the first 28 weeks of efficacy and safety results from the study, which enrolled 182 people who were starting HIV treatment for the first time, with CD4 counts over 200. At the start of the study, 15% had a viral load over 100,000. The average age of participants was 29; 7% were women and 52% were Black.
The participants were split into four groups. To form a comparison group, 25 participants received daily oral bictegravir and emtricitabine/tenofovir alafenamide (Descovy). In a second group, 52 people received oral lenacapavir and Descovy.
The other two groups received oral lenacapavir and Descovy for two weeks and then switched to lenacapavir taken as a subcutaneous (under the skin) injection in the belly. At 28 weeks, if their viral load was under 50, they were switched to either lenacapavir and tenofovir alafenamide alone (52 people) or lenacapavir and bictegravir (53 people).
At 28 weeks, all 25 people in the comparison group had a viral load under 50. Ten people in the groups taking lenacapavir (oral or injected) did not, meaning that their overall viral suppression rate was 94%. However, eight people did not have a viral load result available and one had left the study at day two. Gupta commented that if the participants with missing viral load data turn out to have suppressed viral load, this would imply 99% efficacy for injected lenacapavir.
There were no serious side effects. The most common side effect was swelling, redness or pain at the site of injection and 11% experienced nodules (a small lump under the skin at the injection site) and/or induration (hardening of the skin).
Gupta said he felt that the results justified taking lenacapavir forward into studies combining it with islatravir as an injection-only regimen.
Details of a separate study investigating lenacapavir for people with multidrug-resistant HIV was included in yesterday's bulletin.
---
Increased cardiovascular risk for people with HIV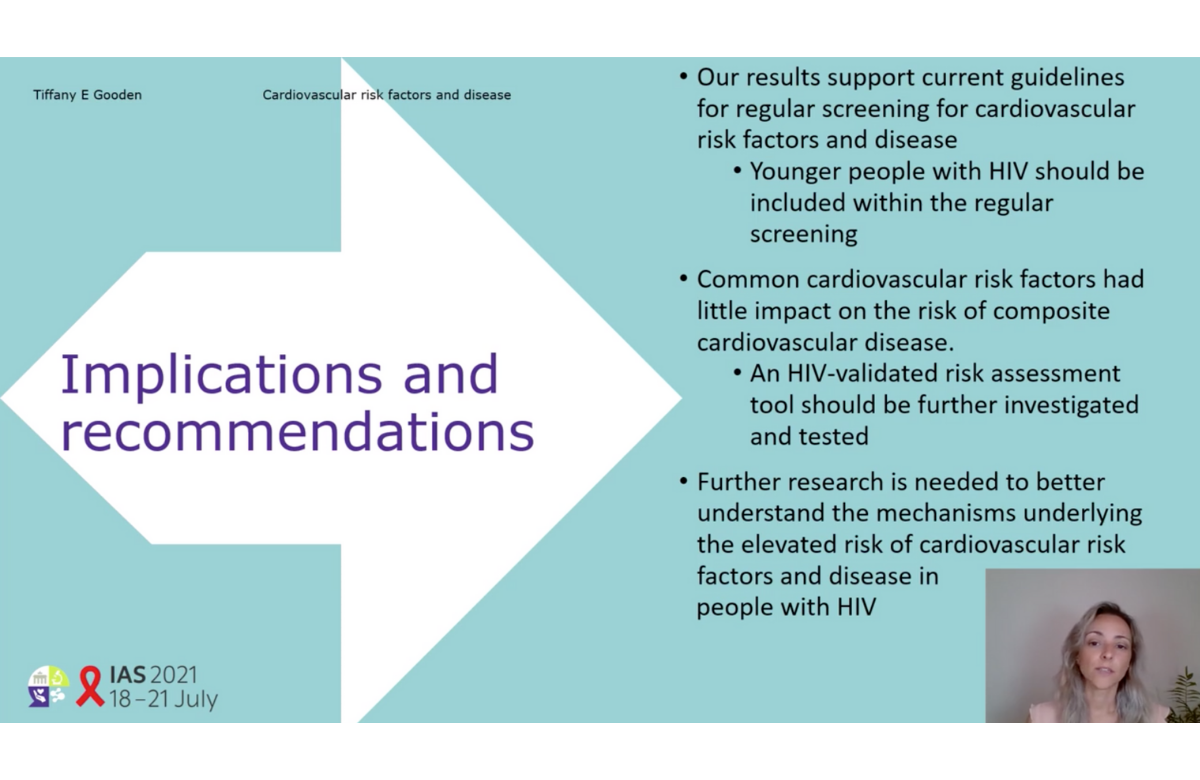 People living with HIV have more cardiovascular risk factors and are at heightened risk of cardiovascular disease, IAS 2021 heard this week. This was the case across all age groups.
These results may sound unsurprising, as increased risk of cardiovascular disease and associated risk factors in people living with HIV have been reported by prior studies. However, many studies come from the US where health behaviours and healthcare access differ from other high-income countries and most were conducted over a decade ago.
Researchers at the University of Birmingham, UK, set out to identify the risk of cardiovascular disease in people with HIV living in the UK, including stroke, myocardial infarction, peripheral vascular disease, ischaemic heart disease and heart failure. They used data from an anonymised database of electronic records from general practices (primary care settings).
Over the study period of 2000-2020, 9233 HIV-positive people were matched to 35,721 HIV-negative people. The average age was 41 and one-third of participants were women. The groups were broadly similar in terms of body mass index, smoking status and co-morbidities. However, more of the HIV-positive participants were Black or living in deprived neighbourhoods.
The study revealed that people living with HIV had a 54% increased risk for cardiovascular disease overall. In terms of individual conditions, people with HIV had a 49% higher risk of stroke and a 59% increased risk of ischaemic heart disease.
A further analysis looked at the risk of cardiovascular disease in subgroups – such as age, gender and smoking status. This demonstrated a higher risk of cardiovascular disease in people living with HIV, irrespective of key demographics.
Presenting the results, Tiffany Gooden highlighted the need to include regular screening for cardiovascular risk factors and disease among younger people living with HIV, and to establish a risk assessment tool that is validated in people with HIV.
---
Few HIV infections among PrEP users in Brazil and Mexico, but challenges in Peru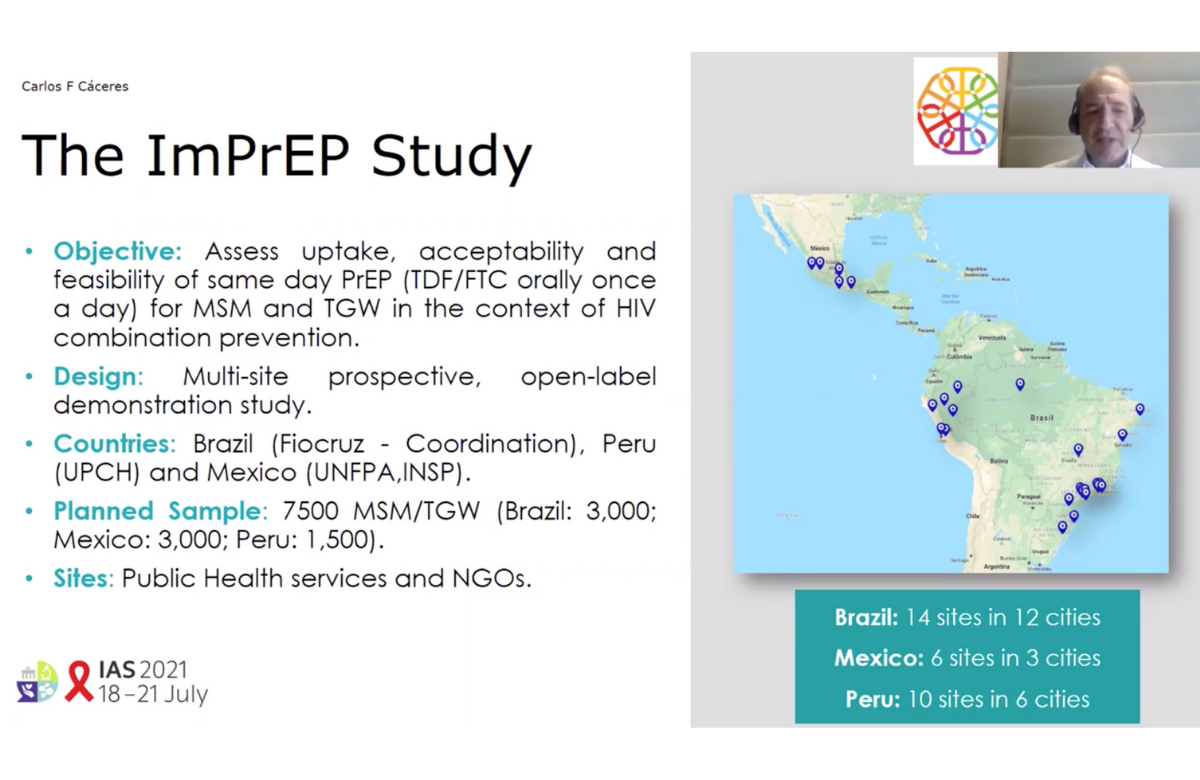 While people using PrEP (regular medication to prevent HIV infection) in Brazil and Mexico had low numbers of new HIV infections, there were a high number of new infections in Peru, according to updates from a large Latin-American PrEP demonstration project, presented to IAS 2021 this week.
The ImPrEP study has been carried out in 24 cities in Brazil, Peru and Mexico since 2018. While the main purpose is to look at PrEP uptake, adherence and the impact on HIV incidence among men who have sex with men (MSM) and trans women, additional analyses have investigated factors that predict who goes on to acquire HIV (seroconversion) and barriers to accessing PrEP.
A total of 10,410 participants had been recruited by April 2021: 4165 in Brazil, 3360 in Mexico and 2885 in Peru. Of these, 84 acquired HIV (an overall incidence of 0.75%). Incidence was low in Brazil (0.31%) and Mexico (0.44%). Nearly two-thirds of infections occurred in Peru, where the incidence was 2.42%.
Presenting the results, Professor Carlos Cáceres of the Universidad Peruana Cayetano Heredia gave a few possible reasons for the higher number of infections in Peru, such as a higher proportion of young participants, more trans women, lower levels of education, lower PrEP adherence and fewer participants who came specifically looking for PrEP. He also stated that the Peruvian sites tend to serve mainly female sex workers and lower income MSM and trans women, in comparison with the sites in Brazil and Mexico, which tend to serve a broader array of key populations.
A sub-study investigated barriers and challenges to PrEP adherence by interviewing ten MSM and four trans women in Peru. Those who discontinued PrEP tended to have multiple sexual partners and low perceived HIV risk. Many of these participants engaged in sex work. Despite reports of intermittent condom use, they showed a distinct preference for condoms, based on the protection they gained against both HIV and sexually transmitted infections with just one method. PrEP-related difficulties included challenges with maintaining the daily regimen, using combined forms of prevention and overcoming side effects.
A second sub-study found that there was low awareness of event-driven PrEP (taking PrEP before and after sex, rather than every day) in all three countries. After a brief explanation of event-driven PrEP, around a quarter of participants reported interest in switching to it. Among those not interested, comfort with daily PrEP, concerns about the difficulty of the event-driven regimen and anxiety over HIV risk were cited as primary reasons.
---
Mixed feelings about disengaged patients among healthcare workers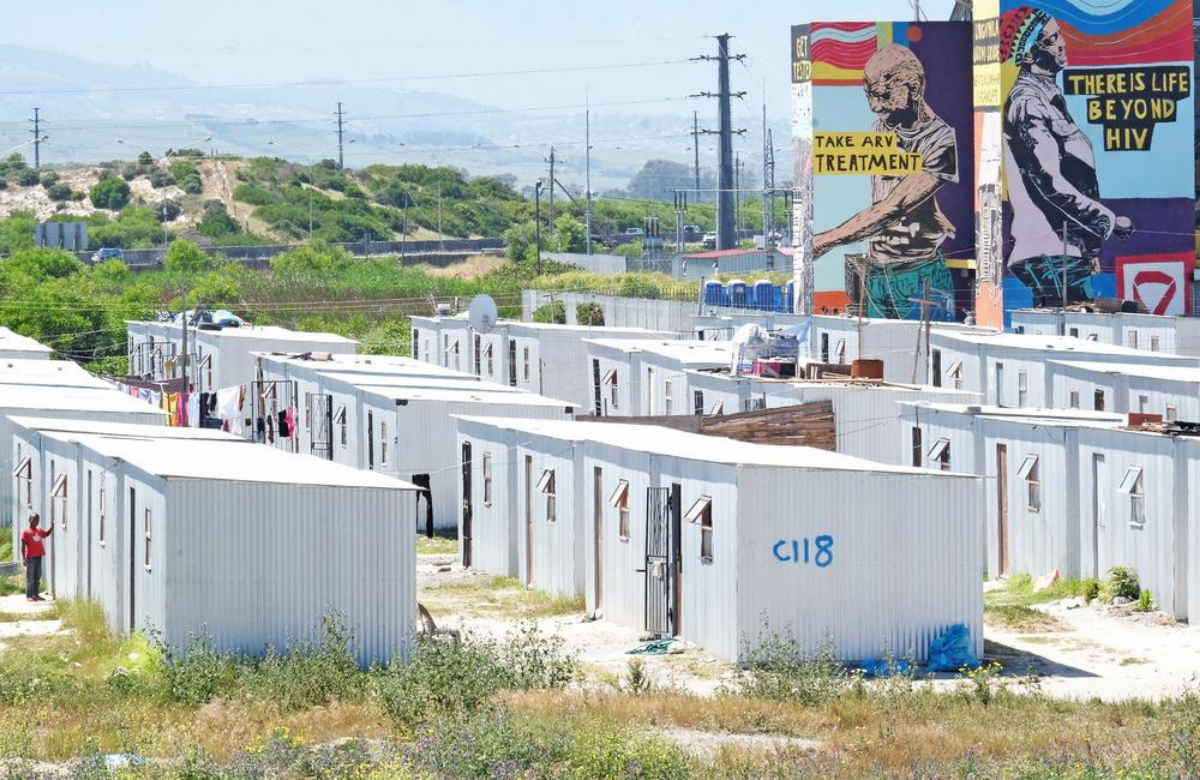 A study presented to IAS 2021 sought to understand healthcare workers' perspectives on patients who disengage from antiretroviral therapy in South Africa. Results showed that healthcare workers had contradictory feelings, ranging from empathy to anger.
Research has shown that negative attitudes from healthcare workers impact adherence to HIV treatment. However, previous studies haven't focused on the perspectives of healthcare workers or their understanding of HIV care disengagement.
In this study, researchers interviewed 30 people working at a primary healthcare clinic in Khayelitsha, Cape Town. They had all worked at the clinic for at least one year and interacted with patients participating in a pilot programme designed to support retention among people returning to HIV care after an interruption.
The first theme that emerged from the interviews was that disengagement was a threat to individual and public health and deserved attention. The second theme was empathy for patients, such as understanding that disengagement was often due to factors outside of a patient's control, such as mental health challenges.
The final theme identified was anger. This stemmed from increased workloads from the high medical and psychosocial needs of patients who disengaged from care, as well as a belief that patients weren't prioritising their health.
The study's authors call for more interventions, training, and support to help healthcare workers navigate the contradictory feelings that can arise from working with patients who disengage from HIV treatment.
---
Scientific analysis from Clinical Care Options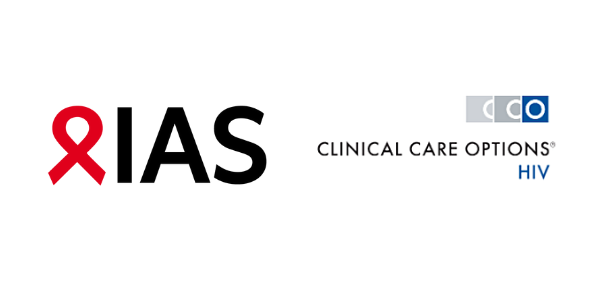 Clinical Care Options is the official provider of online scientific analysis for the IAS 2021 conference through capsule summaries, downloadable slides, rapid expert webinars, and ClinicalThought commentaries.
Clinical Care Options will be hosting three live, interactive, webinars for HIV healthcare professionals on 22 and 23 July. Professor Chloe Orkin (Queen Mary University, London), Dr Daniel R. Kuritzkes (Brigham and Women's Hospital, Boston) and Professor Babafemi Taiwo (Feinberg School of Medicine, Chicago) will provide a rapid update from the recent IAS scientific meeting and answer questions.