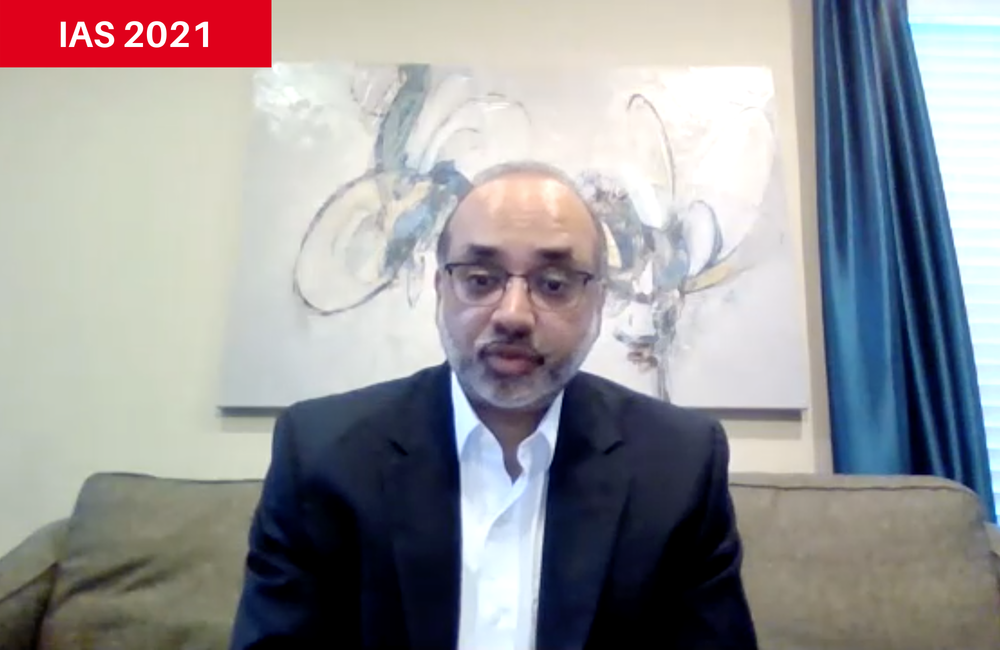 Early results from a small study suggest that twice-a-year injections of lenacapavir, an experimental HIV capsid inhibitor, can be used as part of a combination regimen for people starting HIV treatment, the 11th International AIDS Society Conference on HIV Science (IAS 2021) heard today.
On Saturday, aidsmap reported on CAPELLA, a study of lenacapavir in treatment-experienced people failing other regimens. Today, Professor Samir Gupta of Indiana University presented the first 28 weeks of efficacy and safety results from CALIBRATE, a study with 182 people new to HIV treatment, with baseline CD4 counts over 200. In these studies, lenacapavir was taken as a subcutaneous (under the skin) injection in the belly.
In CALIBRATE, the average age of participants was 29; 7% were women and 52% were Black. Fifteen per cent had an HIV viral load of over 100,000 at baseline.
The participants were split into four groups. Twenty-five people, as a comparison group, received daily oral bictegravir plus emtricitabine/tenofovir alafenamide (brand name Descovy).
In a second group, 52 people received a year of lenacapavir tablets plus emtricitabine/tenofovir alafenamide (TAF).
The other 105 people started on two weeks of oral lenacapavir and emtricitabine/TAF tablets then started on injected lenacapavir. If, at the 28 week mark, at the time of their second lenacapavir injection, they had a viral load under 50, they were switched either to lenacapavir plus TAF alone (52 people) or lenacapavir plus bictegravir (53 people). Dr Gupta commented that this switch was dependent on the opinion of the study's Data and Safety Monitoring Board (DSMB) and the DSMB agreed that the trial data justified this simplification.
At 28 weeks, all 25 people in the bictegravir/emtricitabine/TAF comparison arm had a viral load under 50.
However, ten people in the groups taking lenacapavir (oral or injected) did not, meaning that their overall viral suppression rate was 94%.
Eight of them were people who did not have a viral load result available at week 48: three in the group taking oral lenacapavir/emtricitabine/TAF throughout, three in the group taking lenacapavir injections and switching from emtricitabine/TAF to TAF (6%), and two in the group switching to bictegravir (4%).
This left two people in the group taking lenacapavir injections and switching to bictegravir. One of them left the study at day two, so had to be counted as a viral failure.
The other, however, looks like a breakthrough infection on injected lenacapavir (and oral emtricitabine/TAF, which they had been taking up until then).
This patient started with a viral load just over 100,000. On lenacapavir plus emtricitabine/TAF it decreased briefly to about 3000, during the oral lead-in phase, but then on injected lenacapavir rebounded to the region between 20,000 and 100,000. At their 22nd week, the patient was placed on an oral regimen of dolutegravir, zidovudine, lamivudine, and tenofovir disoproxil (TDF) and reached a viral load below 50 by week 30.
At week 10 they had been given a resistance test. This revealed two resistance mutations in their HIV's capsid gene at positions 67 and 70, which between them reduced their virus's sensitivity to lenacapavir 20-fold. They also developed the M184V mutation against emtricitabine.
Professor Gupta commented that if the patients with missing viral load data did turn out to be fully suppressed, this single failure would imply 99% efficacy for injected lenacapavir; but only the full viral load results at week 54 would reveal if this was the case.
No-one experienced a serious drug-related adverse event. The sole serious laboratory abnormality was raised liver enzymes in a participant taking co-trimoxazole (Bactrim, Septrin) to prevent PJP pneumonia. 
The proportion of patients reporting the injection site reactions of swelling, redness or pain was around 17% for each of these reactions. However, 11% each experienced nodules (a small lump under the skin at the injection site) and/or induration (hardening of the skin). Two participants discontinued the study due to induration, with both cases classed as mild (grade 1).
There were some cases of lowered kidney function but these were more common in the bictegravir/emtricitabine/TAF comparison group. There were also cases of raised creatinine kinase and blood glucose in patients on lenacapavir but these were attributed to reaction to strenuous exercise in the former case and to diabetes in the latter.
Gupta said he felt that the results so far justified taking lenacapavir forward into studies combining it with islatravir as an injection-only regimen. Future studies need to recruit a greater proportion of women and questions of its use for PrEP remained to be settled. However, CALIBRATE was not designed as a licensing trial and there will be further studies combining it with other drugs.