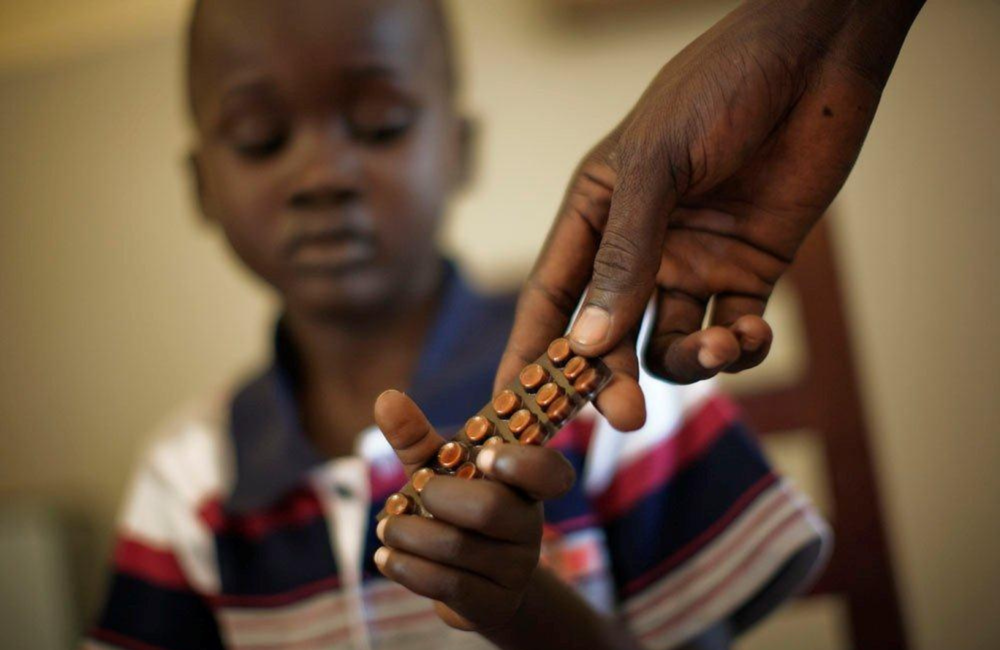 Priorities for the development of new HIV medications for children include a complete dolutegravir-based regimen than can be mixed with water, an improved protease inhibitor for second-line treatment and injectable cabotegravir for infant prophylaxis. Looking further forward, a World Health Organization group recommends the development of new technologies such as skin patches that would make adherence easier and investigation of broadly neutralising antibodies for infants.
The research and development of HIV treatment and prevention options for children lags 7 to 12 years behind that of adults. There is limited availability of age-appropriate formulations of many antiretroviral medications. Perhaps as a result, there is a drastic difference in antiretroviral therapy (ART) coverage and viral suppression between children and adults living with HIV. In 2020, 54% of 1.7 million children living with HIV (younger than 15 years) were on ART compared to 74% of adults, and 40% of children had an undetectable viral load compared to 67% of adults. Different age groups have different issues that hinder access. For instance, many babies and young children find tablets and bitter syrups difficult to swallow, while adolescents may find daily adherence challenging, so long-acting technologies may offer a solution. However, the paediatric antiretroviral drug market remains small and the reduced rates of vertical transmission and fewer numbers of infants born with HIV have led to reduced investments in research and development.
Every two to three years, the World Health Organization's Paediatric Drug Optimisation for HIV (PADO-HIV) group brings stakeholders and experts together to identify priority products and define research gaps to increase access to HIV drugs and formulations for children. The priorities set by the PADO-HIV group are intended to guide funders, drug developers and researchers on the formulations most needed in low- and middle-income countries. The priorities identified during the group's fifth meeting, held last autumn, are reported in The Lancet HIV.
Prioritised drugs and combinations 
The medium-term priority list (three to five years) consisted of four items: new formulations and combinations of existing daily oral medications and one long-acting injectable. Some of the items were retained from the previous list, published in 2019.
The only newly added item on the list is long-acting injectable cabotegravir to prevent vertical transmission after birth (infant prophylaxis). Current guidelines recommend six weeks of daily ART for infants exposed to HIV and a long-acting form may have adherence advantages. With the efficacy levels reported by the HPTN-083 and HPTN-084 trials, the PADO-HIV group anticipates increased roll-out of injectable cabotegravir. Long-acting agents such as cabotegravir have the potential to be delivered using implants, which would require fewer clinic visits and improve adherence in adolescents. These implants may also be used to deliver contraceptives alongside HIV medication which may benefit young woman. 
Dolutegravir was first identified as a priority by PADO-HIV in 2014, and in 2016 they prioritised the development of a formulation that is dispersible (it can be mixed with water), scored (allowing accurate dosing) and can be used by infants over four weeks of age who weigh over 3kg. This formulation became available in 2020, and WHO now recommends a dolutegravir-based regimen as the preferred first- and second-line treatment for all children and adolescents. The PADO-HIV 5 priority list keeps the development of a dispersible formulation of the dolutegravir/lamivudine/abacavir combination from the previous list. This formulation, investigated in the IMPAACT-2019 trial, is currently at an advanced stages of development and is expected to play a crucial role in delivering first-line treatment to children.
Currently, children who do not respond to a dolutegravir-based regimen are recommended to switch to lopinavir/ritonavir, a boosted protease inhibitor. Darunavir/ritonavir, another boosted protease inhibitor, is likely to have advantages in terms of effectiveness, tolerability, and pill burden. It has therefore been retained from the PADO-HIV 4 list and is currently being studied in children weighing more than 14kg in the UNIVERSAL and CHAPAS-4 trials.
Tenofovir alafenamide is also retained in the new list, combined with lamivudine or emtricitabine as a dual combination, and also combined with dolutegravir as a triple combination. Although tenofovir alafenamide is no longer prioritised for adults due to side effects (weight gain and raised lipids) when used in combination with integrase inhibitors, these effects haven't been observed in children so far. Moreover, in contrast to adults, children are not recommended to take tenofovir disoproxil fumarate due to bone toxicities. Therefore, tenofovir alafenamide-containing regimens are still prioritised for children to give access to tenofovir-containing treatment backbone to all ages. The UNIVERSAL study is looking into the safety of tenofovir alafenamide and its pharmacokinetics in children: how the drug is absorbed, metabolised, and distributed in the body as well as its excretion from the body.
Drugs and new delivery models with potential interest 
The long-term watch list (five to ten years) consisted of four items: two investigational antiretrovirals (ARVs), broadly neutralising antibodies (bnAbs) and microarray patches.
Lenacapavir and islatravir are both long-acting antiretrovirals that were added to the list last year. Like cabotegravir, lenacapavir is a long-acting injectable, while islatravir is an oral regimen with the potential for daily and weekly dosing for treatment and prevention. Although both medications are considered promising for infant prophylaxis, they haven't been studied in children under 12 yet. In Decembeer 2021, the FDA placed a hold on islatravir trials due to potentially dose-related decreases in participants' total lymphocyte and CD4 counts,  but some trials are about to restart. 
Broadly neutralising antibodies (bnAbs) were prioritised in the previous watch list. The AMP trials have shown that these novel agents have the potential for offering new treatment and prevention options, with injections every few months. No serious side effects or interactions with ARVs have been recorded in adults, but several bnAbs may need to be combined to be effective. They may also be suitable for infant prophylaxis, as they are quickly absorbed when injected under the skin in new-born babies. In addition, in babies born with HIV "bNAbs could offer therapeutic advantages by potentially reducing the viral reservoir, enhancing acquired immunity, and, in the future, provide a pathway to functional cure," the group notes. Three different bNAbs, all injected directly under the skin, are being studied in two IMPAACT studies in HIV-exposed neonates and young infants. One of these bNAbs is also being investigated in the Tatelo study where it is injected intravenously in combination with another broadly neutralising antibody.
The last item on the watch list are microarray patches, also known as microneedle patches, a new drug delivery technology which delivers ARVs subdermally. Similar to a bandage, they are applied on top of the skin to painlessly deliver drugs into the skin. Microarray patches have the potential to be used for treatment and prevention. They may be most feasible for young children, as smaller patches and doses are required compared to adolescents and adults. These patches can also be administered by caregivers outside the health care setting, reducing the burden of clinic visits. However, further research is needed to identify the suitable ARVs for this new delivery method and skin reactions in different age groups.
Research gaps
The PADO-HIV groups notes that there is not enough evidence on the use of existing medications in pre-term infants and in babies born underweight. More research is needed to determine the safety and optimal dosage of ARVs that are already on the market to improve access to available medications in this population. The authors also noted that although this edition of PADO-HIV did not specifically focus on adolescents, the inclusion of adolescents in adult phase II and III clinical trials remains important.
The PADO HIV-5 priority list includes "formulations previously identified as important and now at an advanced stage of development, as well as novel formulations reflective of a new era of HIV treatment, including drugs that are longer acting and require less frequent administration," the group says. "Looking ahead, approaches to treatment and prevention are expected to evolve, with novel drug classes, combinations of long-acting antiretrovirals and bNAbs, and new delivery systems such as microarray patches, injectable formulations, and implants."