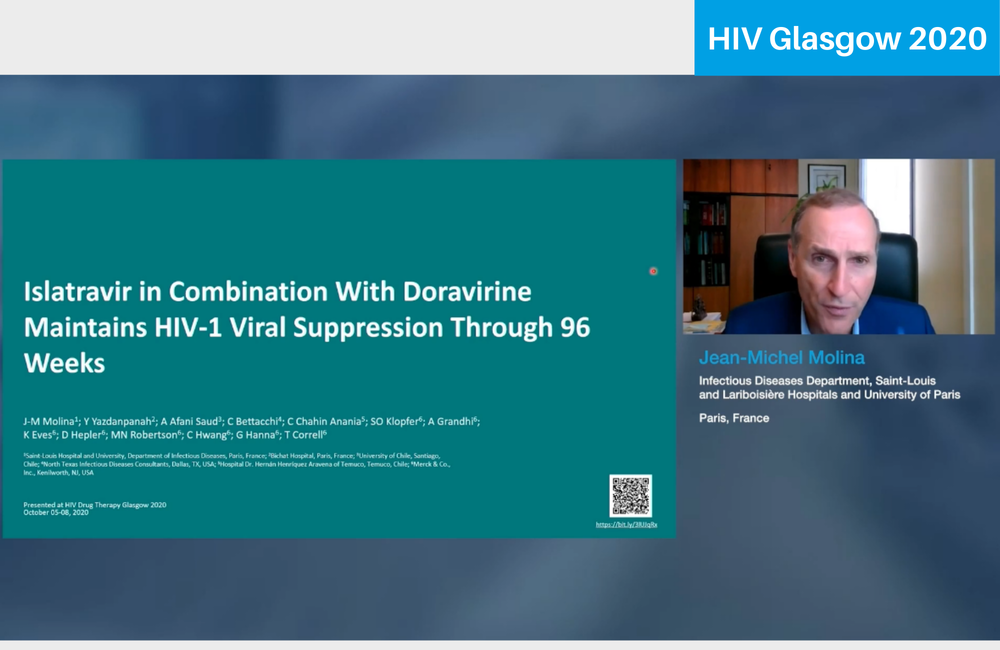 Islatravir, the first of a new class of antiretrovirals, continued to demonstrate high potency and good tolerability at 96 weeks when combined with doravirine (Pifeltro), researchers reported at the virtual HIV Glasgow conference this week.
At week 96 after starting treatment, 90% of people treated with the selected dose of islatravir plus doravirine had undetectable HIV viral load, showing that the combination works at least as well as a standard three-drug regimen.
Islatravir (formerly known as MK-8591 or EFdA), from Merck, is a first-in-class nucleoside reverse transcriptase translocation inhibitor with multiple mechanisms of action. Besides acting as a defective building block to halt construction of new chains of DNA, it also works at a later step in the viral replication process.
Prior studies showed that islatravir has a long half-life, suggesting it may have the potential to be taken once weekly for HIV treatment or even less often for pre-exposure prophylaxis (PrEP).
Professor Jean-Michel Molina of the University of Paris presented the latest findings from a phase IIb study evaluating the safety and efficacy of islatravir plus the non-nucleoside reverse transcriptase inhibitor doravirine versus a three-drug regimen of doravirine, tenofovir disoproxil fumarate and lamivudine, the components of the Delstrigo single-tablet regimen.
This randomised, double-blind trial enrolled 121 previously untreated people with no known antiretroviral resistance. More than 90% were men, three-quarters were white and the median age was 29 years. About a quarter had a viral load above 100,000 at baseline, and the median CD4 cell count was approximately 450. People with active hepatitis B or C co-infection were excluded.
During Part 1 of the study, participants were randomly assigned to receive one of three doses of islatravir (0.25mg, 0.75mg or 2.25mg) plus doravirine and lamivudine, or else Delstrigo, for 24 weeks. During Part 2, those who achieved an undetectable viral load on the islatravir triple combination stopped lamivudine and stayed on islatravir plus doravirine as a two-drug maintenance regimen through week 48. After that, everyone assigned to islatravir was switched to the selected 0.75mg dose.
Molina presented results from the primary analysis at 48 weeks at the 2019 International AIDS Society Conference on HIV Science in Mexico City. This week he presented updated results with an additional year of follow-up.
At 96 weeks, 86.2% of people assigned to the 0.25mg dose, 90.0% assigned to the 0.75mg dose and 67.7% assigned to the 2.25mg dose of islatravir had HIV RNA below 50 copies/ml. The combined efficacy for all islatravir arms combined was 81.1%, about the same as the 80.6% in the Delstrigo arm.
In all three islatravir dose groups combined, 10.0% of participants experienced virologic failure (a viral load of 50 copies/ml or above) compared with 6.5% in the Delstrigo arm.

CD4 counts, which had risen by 100 to 200 cells/mm3 at week 48, continued to increase through week 96, exceeding 700 cells/mm3 in all but the islatravir 2.25mg group.
Additional details about virologic failure were presented in a poster at the conference. Two people each in the low and intermediate islatravir dose groups experienced viral rebound during treatment, as did one person taking Delstrigo. In the high-dose islatravir group, there was one rebounder and one non-responder who never achieved viral suppression. All had low-level viral loads below 80 copies/ml and none met the criteria for resistance testing. Five of the seven people with virologic failure had a high viral load (above 100,000 copies/ml) at baseline. Only one additional participant experienced virologic failure between weeks 48 and 96.
Treatment continued to be safe and well tolerated. Fewer people experienced drug-related adverse events in the combined islatravir arms (7.8%) than in the Delstrigo arm (22.6%). Only two islatravir recipients and one Delstrigo recipient stopped treatment for this reason. No additional serious adverse events were reported in any group between weeks 48 and 96.
The most common adverse events in the islatravir arms were headache, vitamin D deficiency, nausea, joint pain and diarrhoea. Vitamin D deficiency was about three times more common in the islatravir arms compared with the Delstrigo arm (10.0% vs 3.2%), but diarrhoea was more common with Delstrigo (7.8% vs 19.4%). Another conference poster showed that people taking islatravir plus doravirine had no notable decline in kidney function.
Prof. Molina noted that islatravir is now undergoing testing in a comprehensive clinical development programme. This includes phase III studies of treatment-naive people (NCT04233879), heavily treatment-experienced people (NCT04233216) and people with viral suppression who are switching from other regimens (NCT04223778 and NCT04223791). A phase II study of children and adolescents is also planned (NCT04295772).
In addition, islatravir is being studied for pre-exposure prophylaxis and post-exposure prophylaxis. Early studies suggest that a long-acting islatravir implant could provide protection for a year.
Merck also presented findings at the conference from a study of its investigational long-acting non-nucleoside reverse transcriptase inhibitor MK-8507. Presenter Dr Wendy Ankrom said MK-8507 is a potential partner for islatravir, and the company plans to test the combination using once-weekly dosing.
References
Molina JM et al. Islatravir in combination with doravirine maintains HIV-1 viral suppression through 96 weeks. HIV Glasgow 2020, abstract O415.
Orkin C et al. Analysis of protocol-defined virologic failure through 96 weeks from a phase II trial (P011) of islatravir and doravirine in treatment-naïve adults with HIV-1. HIV Glasgow 2020, abstract P047.