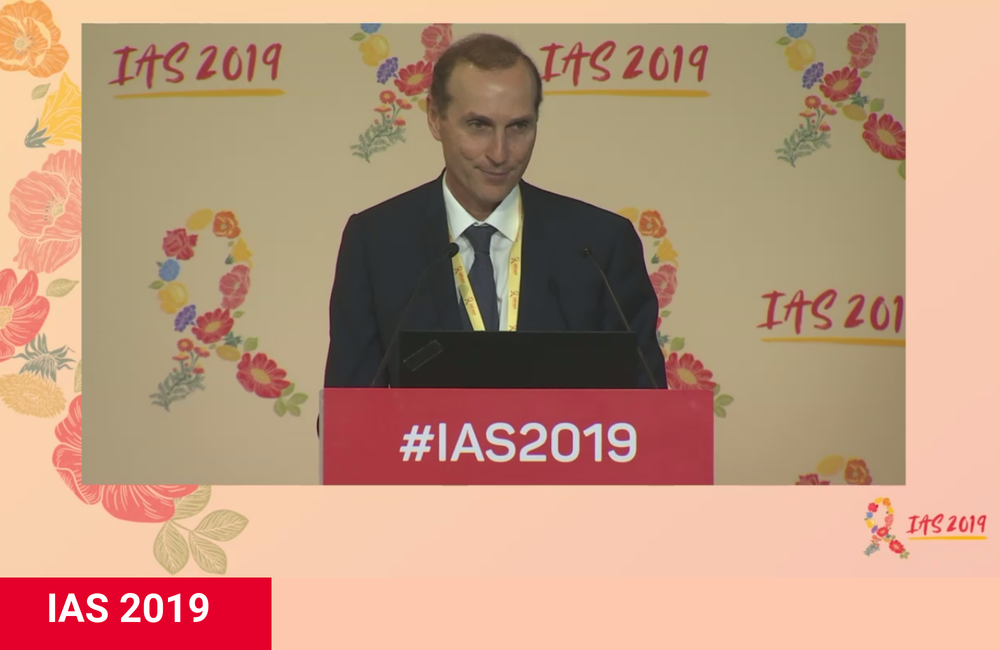 Islatravir, the first nucleoside reverse transcriptase translocation inhibitor, plus the recently approved non-nucleoside reverse transcriptase inhibitor doravirine (Pifeltro) may offer a potent and well-tolerated two-drug regimen for HIV maintenance therapy, according to a study presented yesterday at the International AIDS Society Conference on HIV Science (IAS 2019) in Mexico City.
This dual combination at the optimal dose suppressed viral load as well as a three-drug regimen of doravirine, tenofovir disoproxil fumarate (TDF) and lamivudine, which comprise the Delstrigo single-tablet regimen.
Islatravir, formerly known as MK-8591 or EFdA, is a first-in-class nucleoside reverse transcriptase translocation inhibitor with multiple mechanisms of action. It not only halts construction of new DNA chains by acting as a defective building block, it also works at a later step in the process, making it active against HIV with resistance mutations. Prior studies showed that islatravir has more than 10-fold greater potency than other approved antiretrovirals, is active at low doses and has a long half-life in the body.
Dr Jean-Michel Molina of the University of Paris presented findings from a phase IIb study evaluating the safety and efficacy of islatravir plus doravirine versus Delstrigo.
This randomised, double-blind trial enrolled 121 previously untreated people with no known antiretroviral resistance. More than 90% were men, three-quarters were white and the median age was 28 years. About a quarter had a viral load above 100,000 copies/ml at baseline. People with active hepatitis B or C co-infection were excluded.
During part one of the study, lasting 24 weeks, participants were randomly assigned to receive one of three doses of islatravir (0.25mg, 0.75mg or 2.25mg) plus doravirine and lamivudine, or Delstrigo. During part two, those who achieved an undetectable viral load (below 50 copies/ml) on the three-drug combination dropped lamivudine and stayed on islatravir and doravirine as a two-drug regimen through week 48. Some people who had slower viral suppression remained longer on three-drug therapy.
At 24 weeks, 89.7%, 100.0% and 87.1% of people using the 0.25mg, 0.75mg and 2.25mg doses of islatravir, respectively, had HIV RNA below 50 copies/ml and were therefore eligible for part two, as did 87.1% of those taking Delstrigo.
At 48 weeks, 89.7%, 90.0% and 77.4% of people taking the respective islatravir doses maintained viral suppression, as did 83.9% of those on Delstrigo. A very small number of people in any study arm experienced virological failure. Those who did had low-level viral loads between 50 and 80 copies/ml, and none met the criteria for resistance testing.
CD4 counts rose by about 200 cells/mm3 in the 0.25mg and 0.75mg islatravir groups and in the Delstrigo group, but by about 100 cells/mm3 in the 2.25mg group.
Treatment was generally safe and well-tolerated. About 8% of people taking islatravir – but none in the lowest-dose arm – experienced drug-related adverse events, as did 19% of participants in the Delstrigo group. Serious adverse events were uncommon. Two people in the highest-dose islatravir arm and one in the Delstrigo arm discontinued treatment due to adverse events.
"Results demonstrate that islatravir plus doravirine has the potential to be a potent two-drug regimen and supports further study in phase III," the researchers concluded.
"These results provide evidence for the antiviral properties of islatravir in combination with doravirine as a potential once-daily dual regimen for people living with HIV-1," Molina said. "There is a continuing need for additional efficacious therapeutic regimens for the treatment of people living with HIV-1, and islatravir warrants further study."
Merck indicated that it plans to embark on phase III trials of the islatravir plus doravirine combination in diverse patient populations. Islatravir alone is also being evaluated in a long-acting implant for pre-exposure prophylaxis (PrEP). Another study presented at the conference showed that it was safe and can potentially maintain protective drug levels for more than a year.
References
Molina JM et al. MK-8591 at doses of 0.25 to 2.25 mg QD, in combination with doravirine establishes and maintains viral suppression through 48 weeks in treatment-naïve adults with HIV-1 infection. Tenth International AIDS Society Conference on HIV Science, Mexico City, abstract WEAB0402LB, 2019.
View the abstract on the conference website.
Update: Following the conference presentation, this study was published in a peer-reviewed journal:
Molina JM et al. Islatravir in combination with doravirine for treatment-naive adults with HIV-1 infection receiving initial treatment with islatravir, doravirine, and lamivudine: a phase 2b, randomised, double-blind, dose-ranging trial. The Lancet HIV, 8: e324-e333, June 2021. https://doi.org/10.1016/S2352-3018(21)00021-7