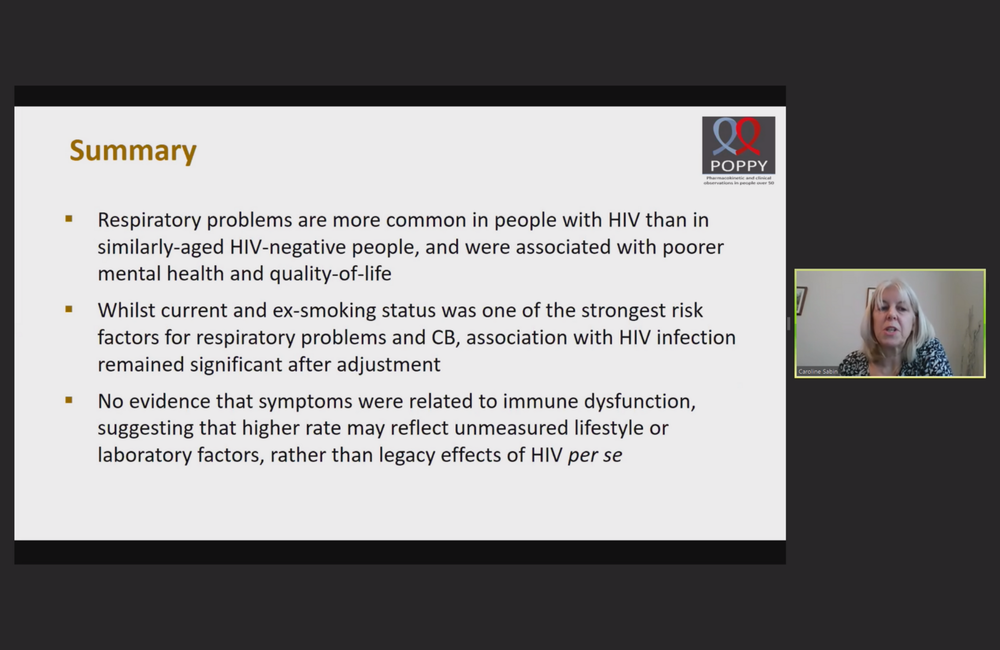 There are higher rates of poor respiratory health in people ageing with HIV than in carefully matched HIV-negative people, with symptoms strongly associated with worse mental health and quality of life. Professor Caroline Sabin presented these data from the POPPY study to the virtual British HIV Association (BHIVA) conference yesterday.
Higher rates of respiratory problems, including chronic obstructive pulmonary disease (COPD), have previously been reported in people with HIV, although the reasons for this are not clear. Smoking is the most important risk factor for poor respiratory health, and this is more common in people with HIV than the general population, while recreational drug use can also contribute.
People living with HIV, especially those who had previously spent time without HIV treatment or with a low CD4 count, may also be more vulnerable due to legacy effects of untreated HIV or having had a respiratory infection (such as pneumonia or tuberculosis) in the past.
POPPY is an observational, cross-sectional study involving three groups of people:
older people living with HIV, aged over 50
younger people living with HIV, aged below 50
older HIV-negative controls, aged over 50.
The HIV-negative control group were mostly recruited at sexual health clinics and community settings in order to provide a group with similar demographic and lifestyle factors to the older group of people with HIV. They were matched in terms of age, ethnicity, sexual orientation and geography.
Respiratory symptoms were assessed by self-report, rather than clinical evaluation. Participants completed the St George's Respiratory Questionnaire for COPD, a validated questionnaire which asks about coughing, shortness of breath, wheezing, chest trouble, and their impact on daily life. Individuals who cough and bring up phlegm on most days are assessed as having symptoms that are consistent with chronic bronchitis.
Depressive symptoms and quality of life were also assessed using validated questionnaires.
Data were available for 315 older people with HIV, 152 younger people with HIV and 152 HIV-negative controls. Participants were predominantly male (80%), White (87%) and well educated. Body mass index was comparable between the groups (median 25.7).
While current smoking was most common in the group of younger people with HIV, a total of between 55 and 61% of each group were current- or ex-smokers. Recreational drug use was also most common in the younger people with HIV and least common in the older HIV-negative controls.
Symptom scores were 17.7 for older people with HIV, 17.5 for younger people with HIV and 9.0 for older HIV-negative people. To put these figures in context, previous general population studies have found scores of 7.6 for healthy men, 22.5 for men with COPD and 32.8 for men with asthma. Women's scores tend to be somewhat lower.
In the POPPY study, symptoms were more common in men, White people, smokers, ex-smokers, recreational drug users and those with less education. However, the researchers could not identify any HIV-related factors such as CD4 count, lowest ever CD4 count, CD8 count, viral load or past AIDS events that were associated with respiratory symptoms.
After adjustment for these other factors that may influence the results, older people with HIV had 119% higher symptom scores than HIV-negative controls (p = 0.0001).
Symptoms suggestive of bronchitis were found in 14% of older people with HIV, 9.2% of younger people with HIV and 3.3% of older HIV-negative people. Bronchitis symptoms were more common in current- and ex-smokers, but again there was no consistent association with HIV-related factors. After adjustment, both younger and older people with HIV were around four times more likely to have bronchitis than the HIV-negative controls.
The lack of a link between respiratory problems and immune dysfunction (at the time of the survey or in a patient's history) surprised the researchers. It suggests that the higher rate of respiratory problems in people with HIV "may reflect unmeasured lifestyle, demographic or laboratory factors rather than specific disease effects or legacy effects of HIV disease per se."
However, the researchers found very strong associations between respiratory symptoms, mental health and quality of life. Those with respiratory symptoms, including bronchitis symptoms, reported more symptoms of depression, low energy, problems doing some physical activities, restrictions on social life, and so on.