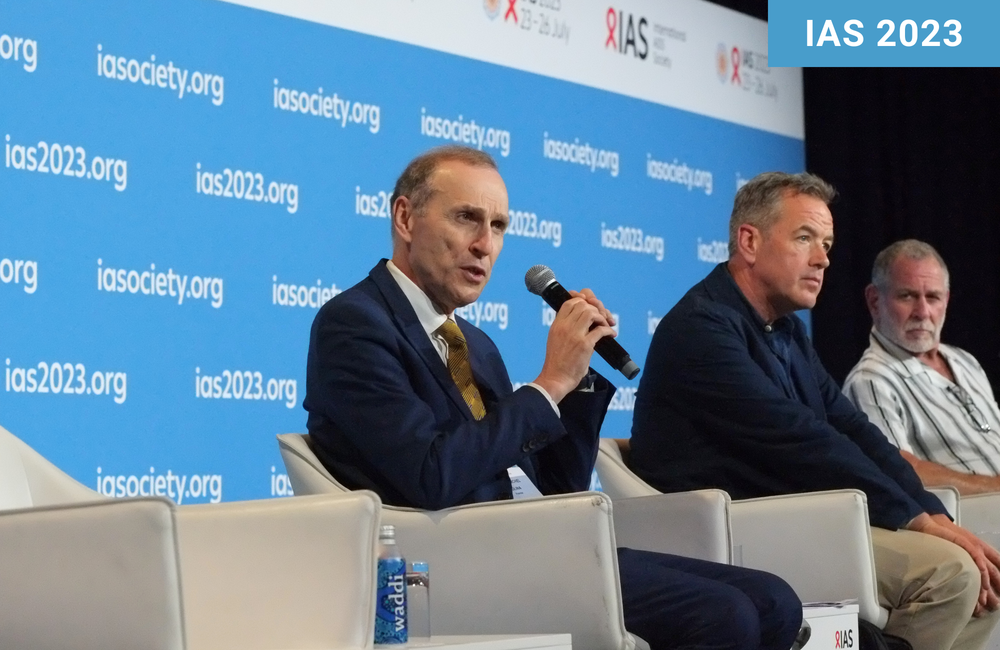 People who used lenacapavir (Sunlenca) pills when injections were temporarily unavailable maintained viral suppression with no safety concerns, according to study results presented this week at the 12th International AIDS Society Conference on HIV Science (IAS 2023).
Long-acting injectable HIV treatment can offer greater convenience than daily pills, potentially leading to better adherence. However, when people take antiretrovirals less often, it is even more critical that they do not miss any doses. Yet this could happen if an individual does not have access to a provider who can provide an injection on schedule, for example, due to travel.
Commenting on the study findings, Dr Anton Pozniak of London's Chelsea and Westminster Hospital suggested that it could be a good idea for people on long-acting injectables to keep a supply of the oral version on hand, "because life's not perfect."
Lenacapavir, the first HIV capsid inhibitor, has a long half-life in the body, allowing it to be administered by subcutaneous injection just once every six months. It also comes in an oral formulation that is used as an initial loading dose before starting injections and can be used for temporary 'bridging' if injections must be interrupted.
The drug, from Gilead Sciences, works differently than older antiretrovirals and remains active against HIV that has developed resistance to other drugs. In August 2022, the European Commission approved lenacapavir for treatment-experienced people with multidrug-resistant HIV who cannot otherwise construct a fully suppressive regimen.
The approval was supported by results from the phase II/III CAPELLA trial, which is evaluating lenacapavir for highly treatment-experienced people. At study entry, the median age of participants was 52 years, they had been living with HIV for 24 years on average and they had used a median of 11 drugs. A majority had advanced immune suppression with a CD4 count below 200.
An initial cohort of 36 participants was randomly assigned to add either oral lenacapavir or placebo pills to their failing regimen for 14 days, at which point everyone was offered lenacapavir injections administered every six months plus an optimised background regimen. Another 36 people in a non-randomised cohort received lenacapavir plus an optimised background regimen from the outset. At the 2022 Conference on Retroviruses and Opportunistic Infections (CROI), researchers reported that after a year of treatment – meaning two lenacapavir injections – 83% of people in the randomised cohort had a viral load below 50. This rose to 94% for those with two or more active drugs in their background regimen but fell to 67% for those with none.
Lenacapavir also shows promise for first-line treatment, though it is not yet approved for this indication. The phase II CALIBRATE trial enrolled 182 previously untreated people with a median age of 29 years. They were randomly assigned to receive one of two regimens containing lenacapavir injections every six months plus one other antiretroviral, an all-oral regimen containing lenacapavir pills plus two other antiretrovirals or a standard three-drug single-tablet regimen. As reported at CROI 2022, viral suppression rates after a year of treatment were comparable across all four groups, ranging from 85% to 92%.
In December 2021, the US Food and Drug Administration put a clinical hold on studies of lenacapavir due to safety concerns about the glass vials used for the injectable formulation. The hold was lifted in May 2022 after Gilead switch to a different type of glass.
During the hold, CAPELLA and CALIBRATE participants were unable to receive lenacapavir injections and instead took once-weekly lenacapavir pills (300mg), giving researchers an unplanned opportunity to evaluate the oral bridging strategy.
Among the 72 participants in CAPELLA, 57 used oral bridging, as did 82 of the 105 CALIBRATE participants in the two injectable lenacapavir arms. Some people did not need oral bridging because their next injection was not scheduled during the hold period. The median time on oral lenacapavir was 18 weeks, but some took the pills for up to 30 weeks. According to pill counts, most people achieved at least 95% adherence while on oral lenacapavir.
All of the CALIBRATE participants maintained viral suppression throughout the oral bridging period, as did most CAPELLA participants who had an undetectable viral load when they switched to the pills. Of the 11 people with a detectable viral load at the time of the switch, three achieved viral suppression while taking the pills, and none saw a notable rise in viral load. CD4 counts remained stable or increased during this period.
However, one CAPELLA participant with an undetectable viral load who missed two doses of oral lenacapavir experienced viral rebound (above 50). This individual developed a lenacapavir resistance-associated mutation, but nonetheless regained viral suppression with no change to their background regimen after resuming the injections. This could suggest that the resistance mutation impaired viral fitness, said Professor Jean-Michel Molina from the University of Paris Cité, France.
Lenacapavir pills were generally safe and well tolerated, Molina reported. Overall, side effects during the oral bridging period were similar to those seen with lenacapavir jabs, but without injection site reactions. However, a few participants experienced treatment-related diarrhoea.
In a related analysis, Gilead scientists assessed the pharmacokinetics of lenacapavir during the oral bridging period. In both CAPELLA and CALIBRATE participants, lenacapavir levels remained above target levels previously found to be effective (four times the in vitro 95% effective concentration) until injections were resumed.
"These results indicate that lenacapavir 300mg oral [once weekly] provides adequate concentrations to bridge lenacapavir dosing in participants who may miss their [every six months] subcutaneous injections," the researchers concluded.
"In people who are receiving subcutaneous lenacapavir, sometimes treatment has to be interrupted. We found that oral bridging with lenacapavir in those individuals – including those who have multidrug-resistant HIV – not only is feasible but is also effective," Molina said. Given these findings, he advised, "People on a long-acting regimen should keep some oral drugs in case they cannot get their injection at the right time."
This strategy is already used for people who know they will miss a scheduled dose of injectable cabotegravir (Vocabria) and rilpivirine (Rekambys ), which is administered every other month. In that case, two separate pills must be taken once daily until injections resume. Lenacapavir pills only need to be taken once weekly.
While lenacapavir is the longest-acting antiretroviral to date, there are currently no other drugs that can be given at such a long interval. But at this year's CROI, researchers reported that lenacapavir plus two broadly neutralising antibodies could potentially be a combined for a complete twice-yearly regimen.
References
Ogbauga O et al. (Molina JM presenting) Lenacapavir oral bridging maintains efficacy with a similar safety profile when SC LEN cannot be administered. 12th International AIDS Society Conference on HIV Science (IAS 2023), Brisbane, Australia, abstract OAB0205, 2023.
View the study abstract on the conference website.
Singh R et al. Pharmacokinetic bridging with oral Lenacapavir for missed subcutaneous Q6M dosing. 12th International AIDS Society Conference on HIV Science (IAS 2023), Brisbane, Australia, poster TUPEB07, 2023.
View the details of the poster on the conference website.