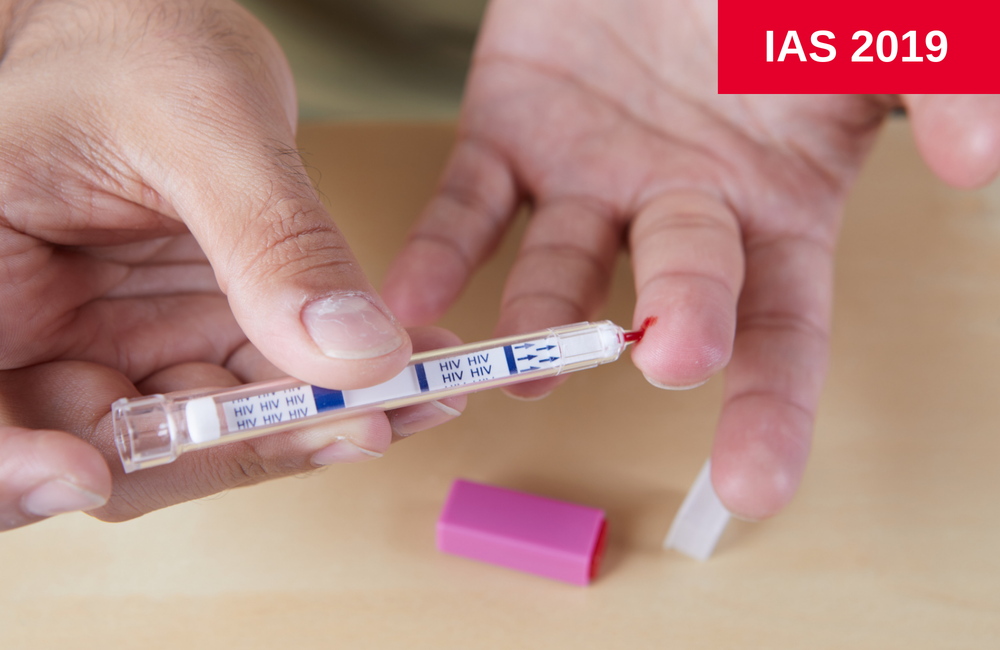 HIV self-tests (home tests) frequently give false-negative results when used by people with diagnosed HIV who are taking antiretroviral therapy, with implications for the messaging around self-testing, according to a South African study presented at the 10th International AIDS Society Conference on HIV Science (IAS 2019) in Mexico City yesterday.
Testing programmes report significant numbers of people who have already been diagnosed re-testing, sometimes as part of a process of re-engaging with care but often because of doubts about the initial diagnosis. In the South African context, there are significant numbers of bogus practitioners who claim to cure individuals. With increasing discussion of 'undetectable = untransmittable', an emerging reason is due to misunderstanding of the nature of an undetectable viral load.
"'Undetectable' doesn't mean that you have reverse-seroconverted," commented Dr Mohammed Majam of the Wits Reproductive Health and HIV Research Institute, who presented the study.
As self-testing programmes scale up, there are more opportunities for people to test, but without any interaction with healthcare professionals who might be able to explain the meaning of a result or arrange follow-up testing. Self-testing is attractive to many people precisely because of its confidentiality.
The danger is that people who want to reconfirm their status get an indeterminate or non-reactive result (i.e. a false negative) or low-reactive (indeterminate) result and stop taking their antiretroviral therapy.
The World Health Organization already recommends that people living with HIV on antiretroviral therapy refrain from performing self-tests due to the risk of obtaining false-negative results.
How often do false negatives occur?
Samples from 100 people taking part in two clinical trials were tested with one oral fluid-based and five blood-based rapid diagnostic tests:
OraQuick (2nd generation)
BioSURE (2nd generation)
Atomo (3rd generation)
Advanced Quality (3rd generation)
ABON (3rd generation)
INSTI (Biolytical) (3rd generation)
Four are self-tests that are being considered for the South African market, while the other two (Advanced Quality and ABON) are very widely used rapid tests in the country.
The results were actually read and interpreted by two nurses, who were blinded to which tests was being used and to each other's results, but not to the fact that all samples came from people with HIV.
Two-thirds of the participants were women, and they had been on antiretroviral therapy for between 1 and 19 years (mean 7 years).
Nine of the 100 HIV-positive participants had at least one non-reactive result on at least one assay. Of all 600 tests performed, there were 16 non-reactive results as well as 74 low-reactive results. (A low-reactive result is difficult to interpret, with a faint line showing on the device, and should prompt re-testing). The two nurses sometimes had a different interpretation of whether the result was non-reactive or low-reactive.
But several participants had non-reactive (false-negative) results on multiple tests, with perfect agreement between the two nurse readers. One study participant was non-reactive on three of the tests, low-reactive on one and reactive on two. Another was non-reactive on four and low-reactive on two.
There is likely to be confusion among people using self-tests to confirm their HIV status. "If you did four tests on self-testing devices and all said you were non-reactive, what would you think?" Majam asked.
Non- and low-reactive results were more frequent with the ABON, Atomo and OraSure devices. In terms of patient characteristics, there was no clear relationship between time on HIV treatment or viral load and the risk of having a false-negative result.
False-negative results have serious implications for HIV self-testing programmes., Majam concluded. Messaging to discourage people with diagnosed HIV from re-testing with these kind of devices should be reinforced.
References
Majam M et al. False negative HIV rapid test results among people living with HIV on antiretroviral therapy in Johannesburg, South Africa: Implications for HIV self-testing roll out. 10th International AIDS Society Conference on HIV Science, abstract MOAD0202, 2019.