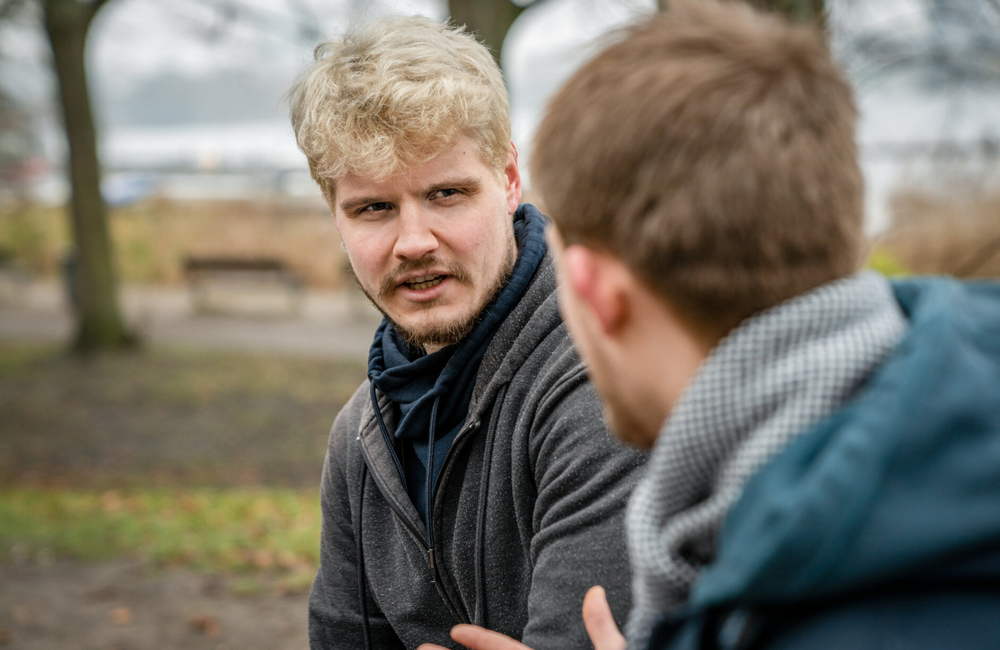 Peer support provided at outpatient clinics in Norway improves health outcomes, addresses the diverse needs of people living with HIV and improves wellbeing. In a qualitative study recently published in BMC Health Services Research, Anita Øgård‐Repål from the University of Agder and colleagues reported that peer support plays a key role in personalising outpatient clinic services.
Due to stigma, people living with HIV may lack social support from their friends and families. Social support provided by a peer with similar personal experiences can reduce anxiety and depression, while increasing resilience to HIV stigma. It can also improve ART adherence, retention in care, and viral suppression. In most countries, peer support is provided outside of healthcare settings through non-governmental organisations, networks of people with HIV or informally.
Five outpatient clinics implemented  a peer support programme during 2019 and 2020. Healthcare providers at these clinics informed patients about the peer support programme and arranged a meeting between peers. Ongoing, flexible and individualised peer support, inspired by the UK's national standards or peer support in HIV, was provided thereafter. Peer supporters were chosen from clinic users, received formal training on providing peer support and were paid as independent consultants.
In-depth interviews were conducted with six women and ten men accessing HIV care and peer support at these clinics to understand their experience with the peer support programme. The ages of the participants ranged from 30 to 58, with a mean age of 44 years.
Disclosure & emotional support
Many of the interviewees were not open about their HIV status, which shaped their need for peer support. Some participants preferred not to share their HIV status with their family to protect them:
"I do not want to share my illness with them. We have a great relationship as a family. I do not want them to be afraid of me."
While others kept their HIV status private to protect themselves:
"When it comes to HIV, it is like their reaction is that of disgust and fear. It is not an inspiration for disclosure, I must say. Thus, I am glad I am not open about having HIV."
Some participants shared their positive experiences with disclosure and the support they get from their friends:
"When it comes to friends, there are not so many questions... They ask if everything is okay, but there is no such thing as feeling sorry for me, which is the most important thing. This is not what I want. I have someone to talk to who can listen. This is often what you need... to get things off your chest, and I get that support."
While others expressed that the support, they received from their family was not enough:
"They are as supportive as you might expect them to be. HIV is no issue. When HIV is the pertinent topic, they are as supportive as one might expect them to be, considering the naivety of heterosexual adults, because they have very little knowledge. "
The authors note that disclosure seemed to determine the level of emotional support received from peers and more peer support was needed in the absence of support from friends and family.
Sense of belonging
While non-disclosure increased the feeling of being alone and the need for peer support, talking to peers living with HIV provided a sense of belonging. It offered an opportunity for participants to share their worries with others living with HIV.
"It gave me an understanding in a completely different way, and it made it less scary. It became easier to grasp. When you hear that they recognise what you feel... they tell you that it is completely normal to feel like this. You then understand why you feel it. "
Sharing common or similar experiences and emotions with other people with HIV created a mutual support environment.
"It is good to have someone to relate to who has some of the same struggles. The help often goes both ways. Our conversation probably also helps peer supporters. Thus, I think it is important to be able to have someone to talk to and someone to share it with, so you do not sit in this dark pit alone. Because it is a scary place to be in."
Reassurance of worth
Some participants shared how HIV diagnosis has affected their sense of worth and how being with peers helped.
"There are many times I feel I do not deserve to be as healthy as I am now. However, at the same time, you need to talk to the people who understand you. It is hard to accept. I have accepted a lot in my life. I have a diagnosis. I have some bad days, and then, it is good to be able to talk about everything, right; it is not just about the HIV diagnosis, but about everything."
Discussing these issues with peers normalised participants' emotions and made them feel less like outsiders.
"It is important that I am part of society. I need to be part of a network in Norway. To have a normal life without people pointing out that I have HIV and should thus not come near me. Therefore, I choose not to tell people outside the hospital. When I come here, I feel normal; it is like therapy. That is important to me. I want people to treat me as normal and not be afraid."
Guidance
By sharing their experiences and practices, peer supporters also provided guidance to their peers on managing their daily lives with HIV:
"Hearing the same information provided by healthcare providers repeated by peers increased the credibility of the information."
"They tell me stuff I probably want to know if I knew what to ask. We might have different causes, but at least we know. We are still the same in taking medications. We have common experiences and questions. So, that is what I needed, because I do not want to search for my questions online."
This exchange of experiences and knowledge was deemed crucial by the participants. Hearing the same information provided by healthcare providers repeated by peers increased the credibility of the information and improved participants' ability to self-manage their health.
"They say you can live a good life with HIV; you just have to take medication. Life is not over. The doctor has told me several times that you do not have to believe that you will die right away. However, this is not understood inside here [pointing to the head and heart]. I believed the doctor came to my house and gave me a death certificate. I had a very nice doctor, but I believed nothing of what he said. However, when I got to talk to someone living with HIV, I realised that it worked. Then, I remembered all the information I got from the healthcare professionals after meeting others with HIV."
Some participants found it easier to talk about certain topics with their peers living with HIV than with the healthcare providers.
"I need to discuss about how they cope with depression and what are their plans of disclosure; do they have to tell everyone or do they have to be open about it, or not, because you know... me coming out that I have HIV... I ask myself whether I need to. I have survived being quiet for eight years."
A safe place
For many participants, confidentiality was an important issue. For these participants, the clinics were the only safe place to discuss HIV and having peer meetings at the outpatient clinics ensured their confidentiality was maintained.
"The hospital is experienced as a safe environment for all involved because it is a place. I think that this is important. You get to talk in peace. If you meet at a cafe, you cannot be as open or honest. Sitting in a closed room makes it much easier to share feelings. Therefore, offering an HIV-infected person to meet a peer can be valuable because you can avoid ending up in the dark as I did all alone, without anyone to talk to."
Some participants said that living in small communities or in rural areas made it harder to access support outside clinics. They emphasised the importance of flexibility of the content, time, and place of the peer support services.
"It depends on how secretive each individual is. The healthcare professionals and peer supporters ask if you want to meet someone at the hospital or if you want to meet in the city. I think it should be a flexible service based on each individual. To begin with, I think it is important that you meet a peer supporter together with the healthcare professionals. Further, everyone has been asked what they prefer."
Conclusion
The authors note that this is the first study investigating the experiences of people living with HIV with peer support in outpatient clinics in a Scandinavian, low-prevalence, high-income country. In Norway, most non-governmental organisations are in bigger cities and are connected to religious organisations. This leaves the outpatient clinics as the only place where all people living with HIV can access equal services regardless of their faith, gender identity, and sexual orientation.
The authors emphasise that "personalised peer support with routine medical care is superior to a routine clinic follow-up in improving the health outcomes of people living with HIV". They highlight "the necessity of embedding peer support in outpatient clinics to equalise peer support opportunities for people living with HIV, overcoming barriers in contacting non-governmental organisations in a culture of non-disclosure."