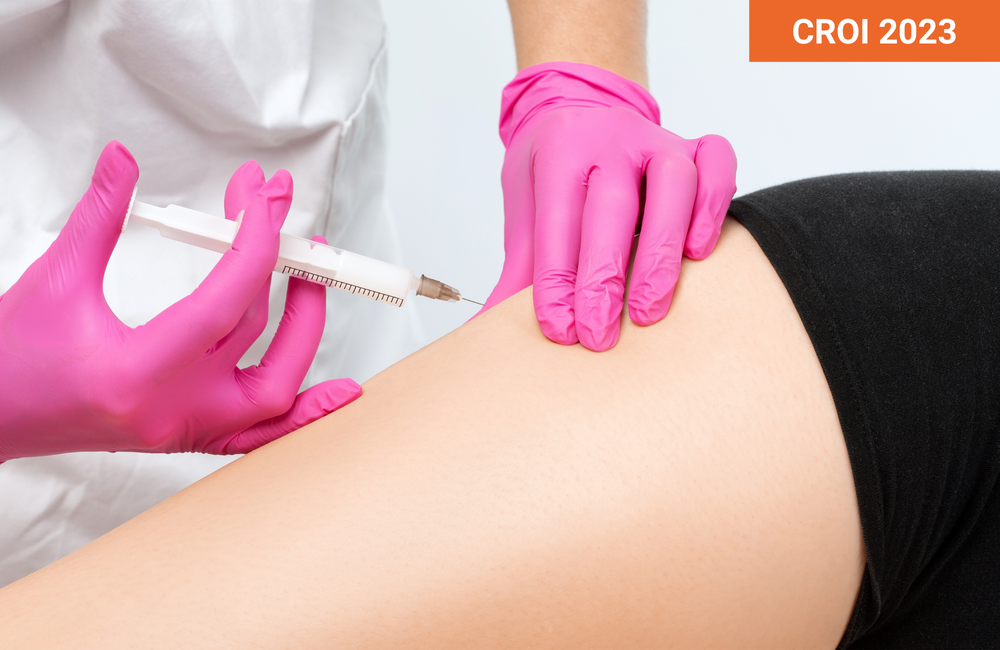 Injections of long-acting cabotegravir (Vocabria) and rilpivirine (Rekambys) in the thigh may be an option for people who cannot have buttocks injections, or want a break from them, according to study results presented at the 30th Conference on Retroviruses and Opportunistic Infections (CROI 2023) in Seattle last month.
Injectable cabotegravir, an integrase inhibitor from ViiV Healthcare, plus Janssen's NNRTI rilpivirine is the first complete antiretroviral regimen that does not require daily pills. It involves two separate intramuscular injections in the buttocks administered by a health care provider. The US Food and Drug Administration has approved both monthly and every-other-month administration schedules, but European regulators have only authorised the less frequent regimen. The jabs contain a relatively large volume of liquid compared with a typical vaccine.
As previously reported, the phase III ATLAS and FLAIR trials showed that monthly injections of cabotegravir and rilpivirine led to sustained viral suppression both for people who switched from a standard oral regimen with an undetectable viral load and as first-line therapy after achieving initial viral suppression using oral drugs. The follow-up ATLAS-2M study showed that administering the injections every other month works as well as once-monthly dosing. Another study presented at CROI showed that the long-acting regimen also worked well for people starting injections without viral suppression, although this indication is not yet approved.
In a study presented at last year's International AIDS Conference, researchers from ViiV and GlaxoSmithKline evaluated the pharmacokinetics and tolerability of administering cabotegravir and rilpivirine in the outer side of the thigh rather than the buttocks. That study, which enrolled 15 healthy HIV-negative adults, found that people who received thigh injections of 600mg cabotegravir plus 900mg rilpivirine (the standard doses when using the every-other-month schedule) had drug concentrations well above active levels and within the range seen with buttocks injections. Injection site reactions, such as pain, swelling, induration (hardness) and redness, were common. These were usually mild or moderate and lasted about a week. Systemic side effects were uncommon, and there were no serious adverse events.
With evidence that thigh injections are feasible for healthy volunteers, European and North American researchers went on to test this approach for people living with HIV. Dr Franco Felizarta, a private practice physician in California, and colleagues evaluated the pharmacokinetics, safety, tolerability and efficacy of thigh injections of cabotegravir and rilpivirine in a subgroup of ATLAS-2M participants who had received buttocks injections for at least three years during the trial.
The analysis included 118 participants. More than 80% were white, 62% were men and the median age was 48 years. They switched to thigh injections for four months on the same schedule they were initially randomised to: 400mg cabotegravir plus 600mg rilpivirine once monthly (54 people) or 600mg cabotegravir plus 900mg rilpivirine every other month (64 people). Most people received cabotegravir jabs in the left thigh and rilpivirine in the right thigh. After four months, they went back to buttocks injections.
Plasma trough concentrations (the lowest drug level in the blood between doses) remained well above active levels for both the monthly and every-other-month regimens. In the every-other-month group, maximum drug concentrations and the area under the curve (a measure of total drug exposure) were statistically higher with thigh versus buttocks injections. In the once-monthly group, there were no significant differences. Overall, the differences in drug concentrations between thigh and buttocks injections "were not considered clinically relevant," according to the researchers. What's more, all participants maintained an undetectable viral load.
Again, injection site reactions were common, occurring after about 40% of the monthly injections and about 60% of the every-other-month jabs, which required a larger volume. Pain was most frequently reported (33% and 52%, respectively), and one person stopped thigh injections due to pain. More than 90% of the reactions were mild or moderate, but 4%-7% reported more severe (grade 3) reactions. The median duration of reactions was about three days.
Overall, nearly one third of participants said they preferred thigh injections, about 60% preferred buttocks injections and about 10% had no preference. The most commonly cited reasons for preferring thigh injections were convenience or easy access and less pain during or after the injection. Those who preferred buttocks injections also said the main reason was less pain during or after the jabs along with less muscle pain or stiffness when walking or doing other physical activity.
These results support rotational or short-term thigh administration of injectable cabotegravir and rilpivirine for people with an established buttocks regimen, the researchers concluded. They added that further analyses will be done to assess the potential for earlier or ongoing thigh injections.
Speaking at a CROI recap in San Francisco, Dr Hyman Scott of the city's Department of Public Health noted that buttocks injections can be a problem for transgender women with gluteal implants. Other people may have different contraindications or may simply want a periodic break from buttocks jabs.
This and another study presented at the International AIDS Conference, which evaluated a high-concentration formulation of cabotegravir that reduces the volume of the injections, suggest that long-acting therapy could potentially be self-administered. So far, uptake of injectable cabotegravir and rilpivirine for HIV treatment, and of cabotegravir injections alone for pre-exposure prophylaxis (PrEP), has been limited. Enabling people to administer the jabs themselves at home instead of visiting a clinic every six months could make these options more attractive.
References
Felizarta F et al. Thigh injections of cabotegravir + rilpivirine in virally suppressed adults with HIV-1. 30th Conference on Retroviruses and Opportunistic Infections, Seattle, abstract 519, 2023.