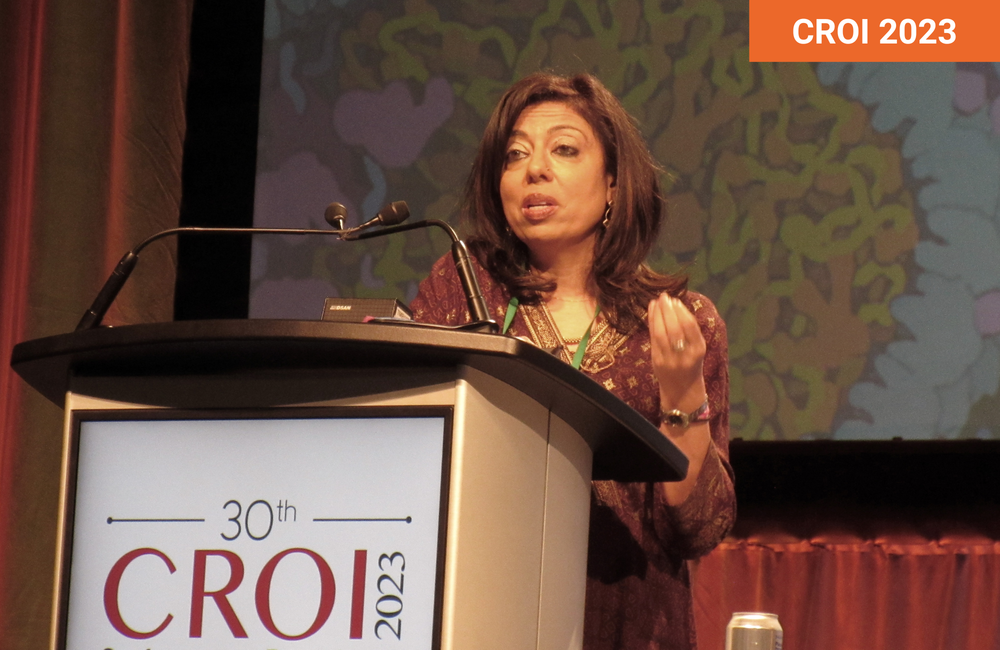 Long-acting cabotegravir and rilpivirine injections may be a feasible option for people who struggle to stay engaged with traditional HIV care and have been unable to maintain viral suppression on oral antiretroviral therapy, according to a report presented on Tuesday at the 30th Conference on Retroviruses and Opportunistic Infections (CROI 2023) in Seattle.
"For those of us treating HIV on a daily basis, we know that some patients have challenges taking pills, including substance use, housing and food insecurity and stigma," said Professor Monica Gandhi, medical director of the Ward 86 HIV clinic at Zuckerberg San Francisco General Hospital. "We tried the long-acting regimen in adherence-challenged patients – even those with viraemia – and saw high success rates that were equivalent to those in clinical trials."
But some experts caution that this approach might not work for people who do not have the same level of support offered by Gandhi's clinic.
"These are highly significant findings as this is the first study to evaluate cabotegravir plus rilpivirine in a viraemic population and to show excellent levels of viral suppression in this small group," Professor Chloe Orkin of Queen Mary University of London, who led one of the pivotal clinical trials of the long-acting regimen, told aidsmap. "It is important to note that this study took place in a clinic where people were fully supported. What is needed is longer follow-up for this cohort and for this research to be reproduced in other clinics."
Injectable cabotegravir (Vocabria), a new integrase inhibitor from ViiV Healthcare, plus Janssen's NNRTI rilpivirine (Rekambys) is the first complete antiretroviral regimen that does not require daily pills. In the United States and Canada, the two drugs are marketed together as Cabenuva. The treatment involves two intramuscular injections in the buttocks administered by a healthcare provider once monthly or every other month.
As previously reported, two phase III trials showed that dual injections of cabotegravir and rilpivirine led to sustained viral suppression. The ATLAS study evaluated the regimen as maintenance therapy for treatment-experienced people who switched to the injectables with an undetectable viral load on an oral regimen. Orkin's FLAIR study enrolled previously untreated people, but they were started on an oral regimen and achieved viral suppression before switching to the injections.
Both the European Medicines Agency and the US Food and Drug Administration have approved cabotegravir and rilpivirine only for people whose HIV is currently suppressed on a stable oral regimen. But the long-acting injectables may also work well for those without viral suppression, the new study suggests.
Gandhi's team first conducted a pilot study to assess whether injectable cabotegravir and rilpivirine in the context of extensive support could be an option for people who have been unable to achieve or maintain viral suppression due to adherence challenges. That study included about 50 patients at Ward 86, a safety-net HIV clinic that serves mostly low-income people with public insurance, many of whom are dealing with substance use, mental health problems and unstable housing.
At last summer's International AIDS Conference, they reported initial results for about 50 patients, showing that everyone who switched to the injections with an undetectable viral load maintained viral suppression, while 80% of those with detectable HIV at baseline achieved viral suppression, some for the first time.
This set the stage for the implementation of SPLASH, the Special Program on Long-Acting Antiretrovirals to Stop HIV. This project offers extensive support including case managers, phone or text reminders of upcoming injection visits, follow-up for those who miss injection appointments and in some cases, street-based nursing services. Gandhi explained that if a person misses an injection, clinic staff will call them and even go to look for them in the community. Participants are given gift cards as an incentive for attending appointments.
At CROI, Gandhi reported results for a larger group of 133 people who started long-acting cabotegravir and rilpivirine between June 2021 and November 2022. Unlike the pivotal trials of the regimen, participants did not need to have viral suppression at baseline and they were not required to start with an oral lead-in before commencing injections. They initially received monthly injections, but those who maintained viral suppression for six months could switch to every other month. At first, people with minor integrase inhibitor or rilpivirine resistance mutations could join, but the criteria were later tightened.
Most participants (88%) were men, 8% were cisgender women and 4% were transgender women. The median age was 45 years. Most were Latino (38%) or White (32%) and 16% were Black. Only a third had stable housing, with the rest being unstably housed (58%) or homeless (8%). A majority reported active substance use – including one third who reported current stimulant use – and 38% had a major mental illness.
When they entered the programme, 76 people already had an undetectable viral load on their existing oral regimen. A majority of the 57 people who had detectable HIV had never achieved viral suppression with oral therapy. Not surprisingly, those with unsuppressed virus had a lower median CD4 T-cell count than the former group (about 200 versus about 600), and some people with uncontrolled HIV had advanced immune suppression.
Overall, 74% of participants received their injections on time. Again, all 76 people with undetectable HIV maintained viral suppression after switching to cabotegravir and rilpivirine injections. The more exciting news is that 55 of the 57 people with a detectable viral load were able to achieve viral suppression, comparable to the response rates in the pivotal trials.
The two people who did not achieve viral suppression had minor resistance mutations, which is what led the team to tighten the entry criteria. But both were unable to take oral antiretrovirals before or since, so trying the injectables was deemed worthwhile.
During the discussion following the presentation, several people pointed out that this approach might not be applicable for patients without viral suppression who do not have access to such intensive support.
San Francisco offers excellent HIV care, and the city provides extensive services for people experiencing homelessness. Unlike many other US states, California covers cabotegravir and rilpivirine through its Medicaid provision and AIDS Drug Assistance Program. And Ward 86 is able to leverage funding from the national Ryan White HIV/AIDS Program to cover case management and social workers.
Elsewhere, barriers may preclude the approach used in this study. For example, Dr Laura Waters of the NHS Mortimer Market Centre in London commented that the UK only allows every-other-month dosing of injectable cabotegravir and rilpivirine, not the monthly regimen, which would be riskier if people are late or miss a dose.
Professor Joseph Eron of the University of North Carolina at Chapel Hill wondered what sort of evidence it would take to convince regulators and guidelines committees that the approach is feasible, given that randomised controlled trials might not be possible for a population that can't take oral therapy.
Professor Babafemi Taiwo of Northwestern University in Chicago, who moderated the session, asked audience members whether they had ever prescribed injectable cabotegravir and rilpivirine for patients without viral suppression, and about two dozen raised their hands. He said he thinks we do not yet have enough evidence, but this approach is "a new paradigm that's worth exploring."
One commenter recalled that early in the AIDS epidemic, clinicians "did a lot of things without a lot of data and saved a lot of lives."
New strategies for making antiretroviral treatment more accessible are sorely needed. While the UK claims a viral suppression rate of 98%, only two-thirds of people diagnosed with HIV in the US have achieved viral suppression and rates are even lower in some other countries.
"We need innovations for this population if we want to end the HIV epidemic," Gandhi said. "If used creatively and used boldly, long-acting antiretroviral treatment could really make a dent in the epidemic."
References
Gandhi M et al. High virologic suppression rates on long-acting ART in a safety-net clinic population. Conference on Retroviruses and Opportunistic Infections, Seattle, abstract 518, 2023.