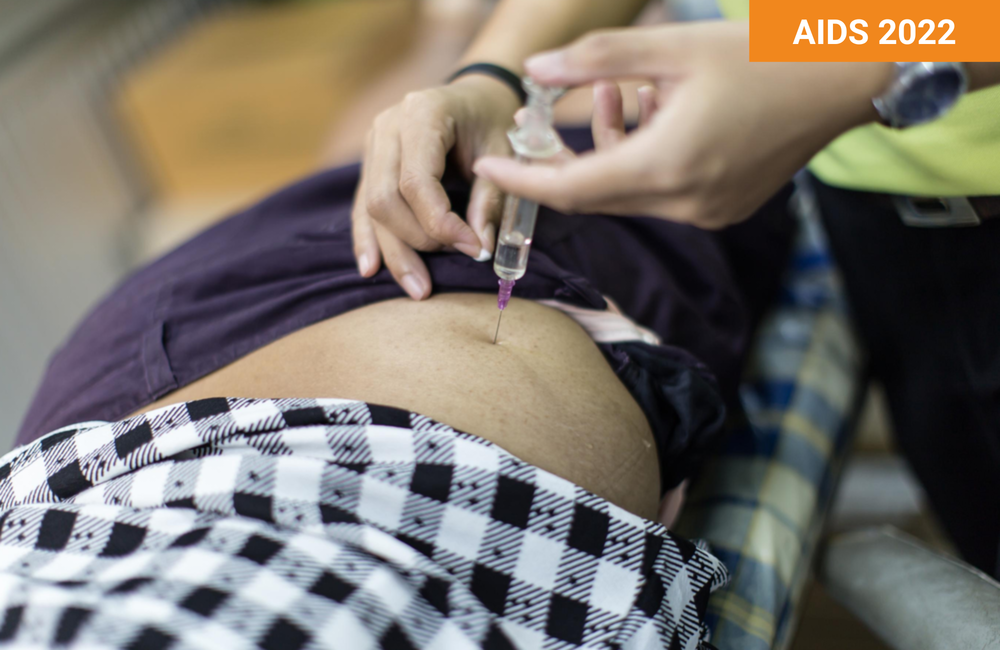 Long-acting cabotegravir and rilpivirine injections may be an option for people with HIV who have been unable to achieve viral suppression due to suboptimal treatment adherence, according to a study presented at the 24th International AIDS Conference (AIDS 2022) and published in Clinical Infectious Diseases.
Injectable cabotegravir (Vocabria), a new integrase inhibitor from ViiV Healthcare, plus Janssen's NNRTI rilpivirine (Rekambys) is the first complete antiretroviral regimen that does not require daily pills. In the United States and Canada, the two drugs are marketed together as Cabenuva. The treatment involves two intramuscular injections in the buttocks administered by a healthcare provider once monthly or every other month.
As previously reported, two phase III clinical trials showed that dual injections of cabotegravir and rilpivirine led to sustained viral suppression. The ATLAS study evaluated the regimen as maintenance therapy for treatment-experienced people who had a stable undetectable viral load on a standard oral regimen. The FLAIR study enrolled previously untreated people, but they were started on an oral regimen and achieved viral suppression before switching to the injections.
Both the European Medicines Agency and the US Food and Drug Administration (FDA) have approved injectable cabotegravir and rilpivirine only for people whose HIV is currently under control on a stable antiretroviral regimen and who have no resistance to the two drugs. The FDA further excludes those with a prior history of treatment failure.
While injectables have often been described as having advantages for people who find adherence challenging, the requirement to already be virally suppressed has limited the uptake of cabotegravir and rilpivirine.
Dr Katerina Christopoulos of the University of California at San Francisco and colleagues conducted a pilot study to assess whether injectable cabotegravir and rilpivirine could be an option for people who are unable to achieve or maintain viral suppression due to challenges adhering to oral antiretroviral therapy.
The demonstration project was done at San Francisco General Hospital's Ward 86 HIV clinic. This is a safety-net clinic for low-income people living with HIV who are uninsured or have public insurance, serving more than 2400 patients. About 10% have chronic unsuppressed HIV, a group with high rates of substance use, mental illness and homelessness. In 2019, Ward 86 started the POP-UP programme to provide care for unstably housed people who struggle to engage with traditional HIV care.
The analysis included 51 people who started the long-acting regimen at Ward 86 between June 2021 and April 2022. Of these, 39 had at least two follow-up injection visits. A majority (24 people) had viral suppression and a high CD4 count (median 706 cells) when they started the injections, but 15 had a detectable viral load and substantial immune suppression (median 99 CD4 cells).
Most participants included in this analysis were men, save for one transgender and two cisgender women. The median age was 46 years; none were under 30. About 60% were described as "non-white," meaning mostly Black or Latino; three were monolingual Spanish speakers. Just over 40% were homeless or unstably housed and half reported current stimulant use. People with rilpivirine resistance were excluded, but one had an integrase inhibitor resistance mutation (N155H).
Participants in the pilot project typically start the injections without an oral lead-in period using cabotegravir and rilpivirine pills, which has been shown to be safe and effective. Viral load testing is performed monthly, with resistance testing done at the second injection visit if it remains detectable. Participants who maintain viral suppression after half a year of monthly injections may switch to the every-other-month schedule, which was found to be equally effective in the ATLAS-2M trial. People who expect to miss an injection visit by more than seven days are advised to take their previous oral regimen until injections resume.
The programme offers various types of support. Participants can drop into the Ward 86 clinic for their injections at any time on the designated day. A bilingual pharmacy technician calls or sends text messages to remind people of upcoming visits or to follow up if they miss an appointment. If a person cannot be contacted, staff attempt to reach them in person. Clinic staff develop individualised plans for people without viral suppression, which may include community-based support, case managers, home care, street-based nursing services and financial incentives for visits and blood draws. Two people experiencing homelessness received their injections and viral load monitoring at a community clinic or from a mobile harm reduction van.
Of the 24 people who started injectable cabotegravir and rilpivirine with an undetectable viral load, 100% maintained viral suppression after a median of six injections, consistent with outcomes in the ATLAS and FLAIR studies.
Of the 15 people who started the injections with a detectable viral load, 12 (80%) achieved and maintained viral suppression after a median of six injections, and the other three had at least a 2-log decline in viral load. Two of these individuals had been living with HIV for more than ten years and had never previously achieved viral suppression, the study authors noted. One of them -- the person with the baseline resistance mutation -- has now had an undetectable viral load for more than eight months.
Overall adherence was good. Most participants (87%) attended all injection appointments on time. One person was late for one injection and two were late for two injections. One man travelled to his home country and took oral antiretrovirals while he was away. All of them still had viral suppression after the delayed visits. One other person was seven days late for an appointment at the data cut-off for this analysis.
"The injectable regimen might not be an option for people without viral suppression who do not have access to such intensive support."
Injectable cabotegravir and rilpivirine was safe and generally well tolerated. Injection site reactions were mostly mild to moderate, but one person developed cellulitis at the injection site. No one decided to stop the injectable regimen due to side effects.
"This small demonstration project of long-acting injectable antiretroviral therapy in a diverse group of patients with high levels of substance use and marginal housing demonstrated promising early treatment outcomes, including in those with detectable viremia due to adherence challenges," the study authors concluded.
They noted that five participants were receiving other long-acting injections (psychiatric medications or naltrexone to manage alcohol or opioid use disorders), highlighting the promise of leveraging attendance at other injection visits to deliver long-acting HIV treatment.
The researchers acknowledged that the injectable regimen might not be an option for people without viral suppression who do not have access to such intensive support. This approach goes beyond the EMA and FDA indications for long-acting cabotegravir and rilpivirine, and it warrants caution as inconsistent use could lead to dual NNRTI and integrase inhibitor resistance that limits other treatment options.
San Francisco offers excellent HIV care, and the city provides extensive services for people experiencing homelessness. What's more, this programme was able to overcome some of the drawbacks of the American health care system. Unlike many other US states, California covers cabotegravir and rilpivirine through its Medicaid programme and its AIDS Drug Assistance Program.
"Ward 86 is a special place, hardly representative of most HIV, ID [infectious disease] or primary care clinics," Dr Paul Sax of Brigham and Women's Hospital in Boston wrote in a blog post about the study. "They have tons of dedicated on-site resources to enhance the care of their difficult-to-reach patient population. This includes doctors, nurses, pharmacists, social workers—a veritable army of people available to support and chase down people who might go astray while on HIV therapy….How many of us HIV providers have access to this kind of wraparound care? In other words, if you're in a standard ID or HIV clinical practice, don't try this at home quite yet."
"Up to this point, our options for people who won't take oral ART [antiretroviral therapy] have been highly limited," he continued. "The alternative to trying this might be an HIV-related death. And no one in 2022 should die of AIDS without our doing everything we possibly can to get them on antiretroviral therapy. Even if that includes an unapproved use of cabotegravir and rilpivirine."