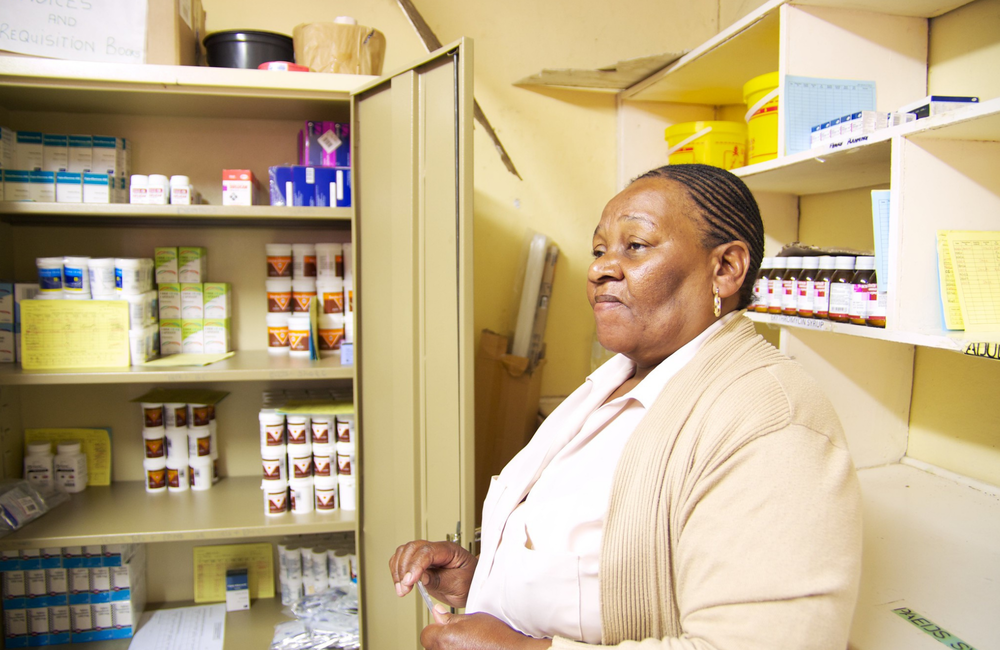 The majority of South African HIV patients could be switched to the World Health Organization's recommended first-line regimen if the country adopts advice from leading doctors. This would allow most people currently on the antiretroviral drug tenofovir to stay on that medication while adding dolutegravir and lamivudine to their HIV treatment regimen.
South Africa runs the world's largest HIV treatment programme. Of the 5.4-million people on antiretroviral treatment as of June, roughly 60% are already on the country's first-line dolutegravir-based regimen, according to local news organisation Spotlight.
But this proportion could skyrocket if the government adopts recent guidance issued by the Southern African HIV Clinicians Society that would remove barriers for access and represent the strongest guidance yet around 'recycling' tenofovir in patients.
In 2019, South Africa adopted dolutegravir / lamivudine / tenofovir (TLD) as its preferred first-line regimen, replacing a regimen known as TEE or tenofovir / emtricitabine / efavirenz for most adults and children starting treatment over the age of 10.
Existing TEE patients were allowed to make the shift to TLD, provided their HIV viral load was suppressed, meaning that the level of the virus in their blood had fallen to less than 50 copies / mL. Patients who were failing TEE were not transitioned to TLD because experts feared recycling tenofovir  as part of a new regimen could fuel resistance to the drug.
Instead, these patients were switched to a second-line regimen of zidovudine / lamivudine / dolutegravir.
Updated HIV treatment guidance released in May by the Southern African Clinicians Society would greatly simplify antiretroviral therapy in the country. The guidelines recommend that people whose TEE regimen is failing can switch to TLD, as more studies show it is possible to recycle tenofovir between regimens. The update guidance also eliminates viral suppression and testing as a prerequisite for starting TLD in adults and children older than ten years — a requirement that can translate into months' long delays in switching patients.
Although about 75% of adults on antiretrovirals had received at least one viral load test in the past year, doctors and nurses may have to wait a month or more to deliver the results to patients who usually come once a month or every three months to collect medication, explains Professor Moherndran Archary, a paediatric infectious disease specialist with the University of KwaZulu-Natal who helped draft the society's guidelines.
"A clinician may do the viral load and then they may not see may not that patient the next month, and then no one switches the patient," he says. "This guidance removes one additional stop or blockage in terms of that transition."
The society is expected to meet with the South Africa's National Health Department to discuss its new guidance. If adopted nationally, the guidelines would enable the majority of the country's HIV patients on treatment to switch to the World Health Organization-preferred regimen of TLD.
University of Cape Town Infectious Disease Professor Graeme Meintjes tweeted that the guidelines represent a major paradigm shift.
"For the vast majority of people on antiretroviral therapy in South Africa, TLD is the appropriate treatment," he wrote, "Well-tolerated, safe and effective [and] will improve treatment outcomes."
Concepts like 'first' and 'second' line treatment increasingly outdated
The Southern African HIV Clinicians Society update draws on recent results from the NADIA, ARTIST and VISEND studies that show it is possible to safely reuse tenofovir in first and second-line regimens for patients. 
The shift goes against decades of conventional thinking that it was impossible to switch out a single antiretroviral drug within a regimen or reuse medicines in first and second-line treatment without risking the emergence of drug resistance.
"Traditional teaching has been that drugs like tenofovir couldn't be recycled between first and second line therapies — you'd have to change it out for another drug, typically zidovudine (AZT)," explains University of the Witwatersrand infectious diseases specialist Dr Jeremy Nel who co-authored the new guidelines as part of a panel of society experts. 
Twice-daily AZT is relatively poorly tolerated, requires more monitoring and is more expensive than TDF, Nel adds.
"Finding that you can safely and effectively retain tenofovir from first to second lines not only upends our traditional virological assumptions in HIV but also allows for better outcomes for the patient and cost savings to the healthcare sector," he says.
In its treatment update, the Southern African HIV Clinicians Society notes that evidence supporting the recycling of tenofovir and also lamivudine between regimens is increasingly making traditional terms like 'first' and 'second' line regimens confusing and inaccurate.
"There are so many different and overlapping choices for first- and second-line therapies," Nel explains, "For example, first-line therapy may now refer to either TEE or TLD and – following NADIA and VISEND -- TLD can also be second-line therapy."
It may be better just to name specific regimens rather than trying to talk in terms of 'first-line' or 'second-line', he says. Updated terminology from the World Health Organization is expected soon.
Healthcare workers remain wary of recycling tenofovir
Despite mounting evidence of tenofovir's effectiveness as a recycled drug, healthcare workers in South Africa have been sceptical, Moherndran Archary says.
"There's a fair degree of resistance and disquiet among clinicians — both nurses and doctors — around that switch," says Archary, who explains that a hesitancy to switch patients to TLD when it would mean swapping out a single drug is perhaps understandable given decades of thinking around HIV treatment.
"We've ingrained it into our healthcare workers that you never do a one-drug switch… and then we come along and say it's okay," he says. "It's a bit confusing for them and they're a bit uncertain."
Archary says this uncertainty among clinicians has played a part in slowing down the country's dolutegravir rollout, along with concerns about weight gain and birth defects. Still, the society's new guidelines contain the strongest and clearest language around the dolutegravir switch yet, based on new evidence.
The United States President's Emergency Plan for AIDS Relief (PEPFAR) supports almost half of Africa's national HIV treatment programmes and is strongly encouraging countries to adopt TLD. Most countries in Africa have now shifted to dolutegravir-based regimens, says Dr Lazarus Momanyi, who is a technical advisor for Kenya's National AIDS and STI Control Programme.
Kenya transitioned to TLD as a first-line regimen in 2017 – two years earlier than South Africa - and more than 90% of Kenyan adults on HIV treatment now take dolutegravir. However, Kenya's  treatment guidelines do not include the reuse of tenofovir except in cases where a patient is living with HIV and hepatitis B, because tenofovir is also active against hepatitis B.
Historically, the Southern African Clinicians Society's guidelines have been held up as best practice in the region, so it's possible that more countries may now consider recycling tenofovir and this will help more people receive dolutegravir-based regimens.