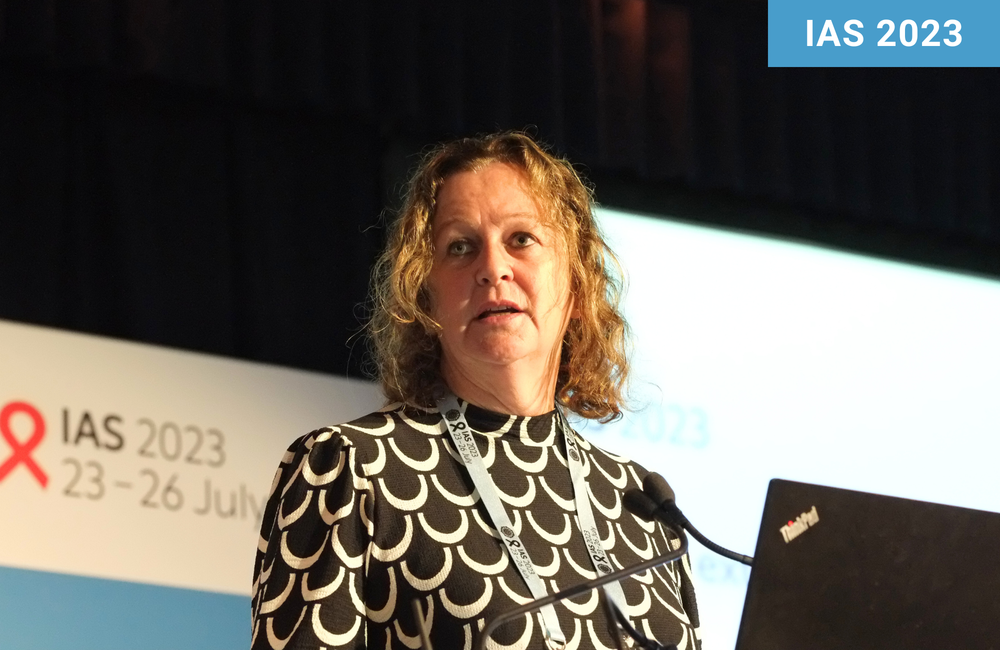 While there is a path to injectable PrEP becoming available in the next five years, the widespread use of injectables to treat people living with HIV in low- and middle-income countries is unlikely in the near future. The combination of injectable cabotegravir and rilpivirine has only been approved by a handful of countries, it's not clear whether rilpivirine will be available as a generic, and the regimen has complexities which make it less attractive than the preferred oral regimens.
But injectable HIV treatment could have a future in the global south, particularly when other long-acting products are developed, experts said at the 12th International AIDS Society Conference on HIV Science (IAS 2023) last week.
Almost all the countries which have approved cabotegravir / rilpivirine for treatment are in the high-income world, including in Europe, North America and east Asia. While drug regulators in the upper-middle income countries of Argentina, Botswana and Russia have approved cabotegravir / rilpivirine, so far there is limited access in practice. It has not been approved in any lower-middle or low-income countries, and whatever the strength of a nation's economy, the drugs' high price tag is a barrier to widespread use.
Current World Health Organization (WHO) guidelines – influential in the global south – recommend dolutegravir-based regimens, both as first-line treatment and for people changing treatment who weren't previously prescribed dolutegravir. With high rates of viral suppression in the 26 million people now on dolutegravir, there would have to be a compelling argument for a more complex drug to take its place.
When considering switching to injectable antiretroviral therapy (ART), Dr Carolyn Bolton Moore of the Centre for Infectious Disease Research in Zambia said officials in high-prevalence settings need to take a public health approach that will help curtail their countries' epidemics, rather than fine-tuning the care provided to each patient.
"Why would we switch to long-acting ART?" she asked. "To put it simply, for viral suppression." A new drug would also need to be more robust, easier to take, have fewer side effects, and be feasible and acceptable – and affordable.
"I want a one size fits all approach," she said. "I want one drug that can be used in a simple standardised algorithmic approach, with all my patients, across the population, regardless of their gender, their age, their co-morbidities or their risk factors."
However, there isn't yet enough data to recommend cabotegravir / rilpivirine during pregnancy, to children and adolescents, or to people with hepatitis B co-infection. Some of the regimen's complexities include starting people on oral ART and then switching to the injectables once they are virally suppressed, having systems to ensure patients come in for injections on time, and having access to oral versions of the drugs to cover periods when people can't attend.
"The patents on rilpivirine end by 2027, so generic production will soon be possible."
Programmes will also need access to testing for resistance and viral load. The regimen is more likely to fail in people with pre-existing resistance to the drug class rilpivirine belongs to (not uncommon, due to past use of efavirenz). Failure of the injectable treatment should be quickly identified through regular viral load testing, to prevent the development of resistance. The cost of these diagnostics will need to be added to the cost of the drugs, Dr Bolton Moore said.
Although progress on making injectable cabotegravir for PrEP available in low- and middle-income countries is slow and dogged by controversy, injectable PrEP seems to have better prospects than injectable ART. Studies clearly show injectable PrEP to have a greater impact than oral PrEP and it has therefore been adopted in WHO guidelines. In March, it was announced that three generic manufacturers are starting work on producing lower cost versions of the injections; these could potentially be available in three to five years' time.
While there are plans for the generic production of cabotegravir, it's not clear whether injectable rilpivirine will be available as a generic. (The single drug cabotegravir is sufficient for use as PrEP, but the combination of cabotegravir and rilpivirine is needed for treatment.) The patents on both the oral and injectable forms of rilpivirine end by 2027, so generic production will soon be possible, said Lobna Gaayeb of the Medicines Patent Pool. But in the absence of WHO recommendations for its use or large treatment programmes signalling their interest, generic companies may hesitate to invest in the long process of building their capacity to produce it.
Even if the financial barriers to cabotegravir / rilpivirine are removed, the combination may struggle to find its place in a world where the push is to de-medicalise the delivery of ART and integrate it with other healthcare services.
Many people receive their ART refills from lay providers, including peers and community health workers, in community settings. These visits may only be once every three to six months, with consultations with a nurse every six months. In contrast, cabotegravir / rilpivirine injections need to be given by a trained healthcare worker every two months.
The two-monthly schedule also does not align with the dosing intervals of other products it would ideally be provided together with, such as injectable contraceptives or gender-affirming hormones, said Dr Jakkrapatara Boonruang of the Institute of HIV and Research Innovation in Thailand. As rilpivirine must be stored in a fridge, it will be harder to provide in mobile clinics and in many community health facilities.
But it seems likely that cabotegravir / rilpivirine will be the first injectable or long-acting antiretroviral to be available. Lenacapavir, a six-monthly injection, has recently been licensed and the hunt is on for something other than daily pills to pair it with. Other long-acting agents are in development, and perhaps there will be one with a profile that more closely corresponds with what's needed in the global south.
Despite having described many of the difficulties associated with cabotegravir / rilpivirine, Carolyn Bolton Moore did not want to sit and wait for the ideal product to emerge. She pointed out that two decades ago there was uncertainty and scepticism about providing oral ART in Africa, but those challenges had been overcome. She called for pilot projects that would implement cabotegravir / rilpivirine in different ways, track their results and learn real-world lessons.
So injectable ART may arrive on a small scale, at a handful of research sites, rather than being widely available.
"Let's do the demonstration projects, let's start small, let's be responsible, let's be aware of the concerns, but whatever we do, let's keep moving," she said.
References
Moore C. Implementation of LA-ART in low-middle-income countries in adults and adolescents: Possibilities and expectations of populations. 12th IAS Conference on HIV Science, Brisbane, symposium SY19, 2023.
View the details of this session on the conference website.
Boonruang J. The Case of Thailand: LAI ART for Key Populations. 12th IAS Conference on HIV Science, Brisbane, satellite SAT017, 2023.
View the details of this session on the conference website.
Innovations and implementation of long-acting antiretroviral therapy. 12th IAS Conference on HIV Science, Brisbane, symposium SY19, 2023.
View the details of this session on the conference website.
Enabling the ecosystem to accelerate HIV treatment optimization: Reflecting on what's worked, what hasn't, and looking ahead. 12th IAS Conference on HIV Science, Brisbane, satellite SAT010, 2023.