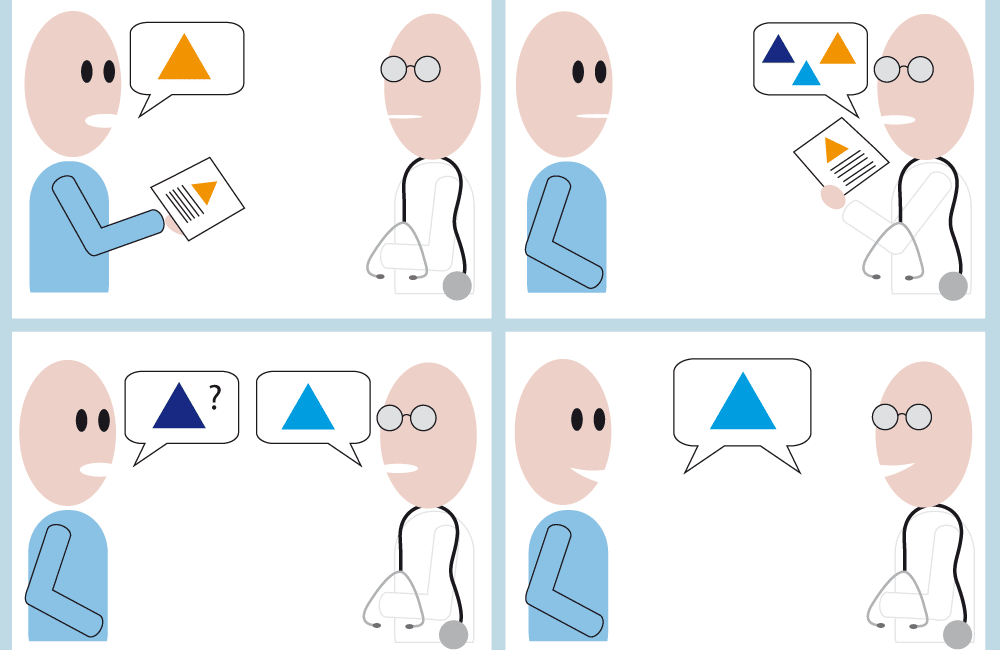 This weekend marked the 30th anniversary of the first case reports of PCP pneumonia in five young men in California – the first recorded cases of the disease that came to be known as AIDS. It therefore seems a pertinent time to take a look back over how far the world of HIV has come in the last 30 years, and how NAM has responded to the changing epidemic, and the changing needs of people living with HIV. Here we look back on the resources we've developed to help people talk to their doctors more confidently.
1987 – NAM is born
NAM was founded in 1987 by Peter Scott, who was then working on the London Lesbian and Gay Switchboard. His aim was to create a source of calm, authoritative and trustworthy information amid the hysteria and panic.
The 'National AIDS Manual' was a ring binder that brought together all the proven, scientific and evidence-based information available about HIV and AIDS at the time and was an important tool for medical professionals to help them effectively manage and treat their patients. Today, that vision is as strong as ever. NAM has grown and evolved alongside the epidemic, always responsive to the needs of our users and there for those who rely and depend on us to keep them informed.
1992 – HIV Treatment Update newsletter (then called AIDS Treatment Update)
Since the first drug for the treatment of HIV was approved in 1987 there has been a clear need for accurate information for patients, and health professionals, about treatment; what they should expect from drugs, side-effects, how to take the drugs and, later on, what drug regime was right for them.
HIV Treatment Update was created to help people become familiar with their treatment options, and to encourage communication between people with HIV, and doctors.
Since 1992 it has changed its name, changed its design and been overseen by several editors. Now in its 206th edition, the newsletter continues to bring the latest developments in treatment to people with HIV and remains a source of information that thousands of people worldwide rely on to keep them informed.
1996 – Patient information booklets
At the heart of NAM's work is the belief that access to information changes lives. NAM developed our popular booklets range in order to turn often complicated and scientific concepts into easy-to-digest information that would enable people living with HIV to fully understand their treatment and manage their condition effectively.
NAM now has a range of 14 patient information booklets, and has developed the national Free Booklet Scheme through which clinics and organisations can receive the entire range of our booklets and leaflets for free to give out to people living with HIV. Last year alone NAM distributed over 123,000 booklets and basics leaflets to clinics.
1998 – www.aidsmap.com launched
With the arrival of the World Wide Web came the opportunity for people around the world to access NAM's authoritative and evidence-based information hub.
Starting as a simple website listing treatment information for professionals, aidsmap.com now holds vast databases of news, information, conference reports and global listings of HIV and AIDS services that are visited millions of times each year by people affected by, or working with, HIV from all over the world.
2004 - Living with HIV
Alongside treatment management, people also had to work out how to manage their day-to-day lives with HIV. In order to provide information covering practicalities such as disclosure, healthy living, employment and benefits, NAM created Living with HIV – the first book of its kind to give information about the reality of life with HIV. Including personal stories from people living with HIV, the book was hugely successful and has now been made into a sub-site www.namlife.org. The site houses a wealth of information about the medical and social aspects of living with HIV and a huge collection of personal stories.
2009 – the basics range
Having identified a need for very simple, basic information resources, explaining key issues surrounding HIV, NAM worked with professionals and individuals to develop the basics range – a series of illustrated factsheets aimed primarily at people with low literacy levels, or people who do not speak English as their first language.
The series has proven to be a great success and, as part of the Free Booklet Scheme, NAM has distributed over 150,000 leaflets across the UK to date.
2010 – www.aidsmap.com relaunch
Last year saw NAM undertake a complete redevelopment of the website. Listening to feedback from users, we addressed some key issues to ensure aidsmap.com continues to be a valuable resource into the future. With a fresh design, new tools, deeper content and easier accessibility, aidsmap.com has become a truly global, interactive hub for high-quality information on HIV and AIDS.
There is no doubt that both the HIV epidemic, and NAM, have evolved significantly in past 30 years. People's information needs have diversified, information has become more widely available and advances in treatment have been staggering, but the one thing that has remained constant is NAM's commitment to providing evidence-based, accurate and impartial information to anyone who needs it.
The 30-year anniversary is not only an important opportunity to look back and see how far we have come in the fight against HIV, but a time to look forward and remain focused on the work ahead. At a time when diagnoses of people infected with HIV in the UK have almost doubled in the last decade, it is important to appreciate that now is not the time to sit back, but to gain strength and encouragement from the amazing advances in treatment that have occured so far, and to work towards a healthy and happy future for everyone living with HIV. 
If you would like to support NAM's work, please visit our donation pages. To help NAM continue this progress and make a real difference to the experience of people living with HIV for the next generation, you may wish to visit our pages on how to leave a gift in your Will.