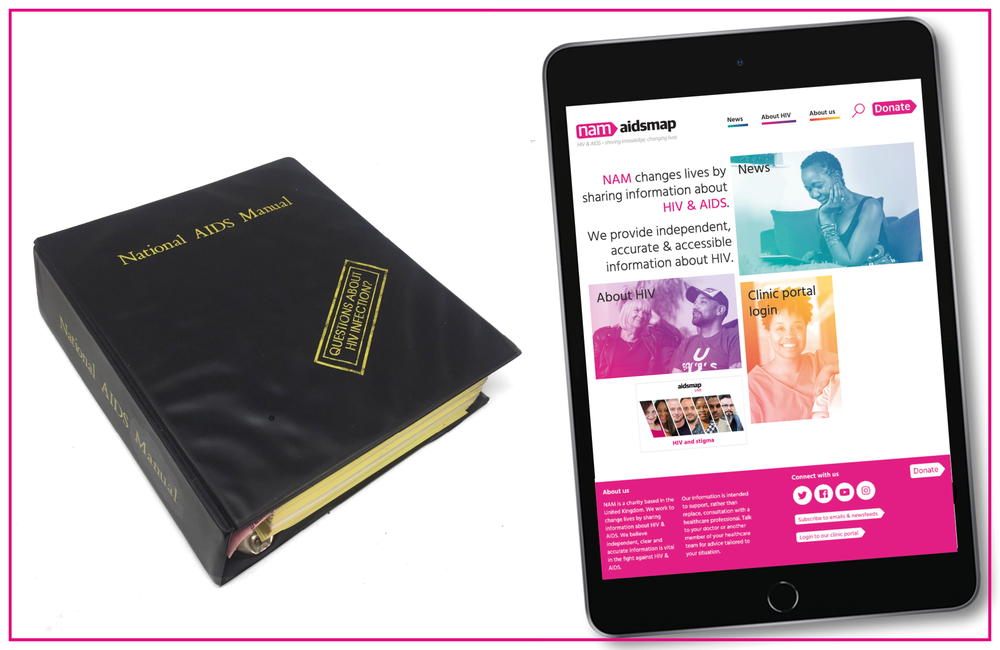 The first AIDS case in the UK was reported in December 1981. Three years later there were just over 100 cases, almost all of them among gay and bisexual men; over 40 of them had died. At a time when homophobia in the UK was deeply entrenched it was unclear when, or if, the government would take action.
In 1987, with a still relatively small but significant number of cases observed among heterosexual people, the UK government launched its first AIDS campaign. Billboards across the country proclaimed the message, 'Don't Die of Ignorance'. The posters were accompanied by TV and cinema ads, featuring icebergs (the threat is what you can't see) and gravestones. Every household in the country received a leaflet, containing some information about how the virus was passed on and what symptoms to watch out for.
Volunteers at London's Lesbian and Gay Switchboard were surprised and unprepared to find themselves listed in the leaflet as a source for more information. They scrambled to ensure that they had the resources to answer the huge volume of calls they were receiving with accurate and reliable information. They built a folder of information, updating it as new scientific reports came in. This information was so valuable that they started to share it with other helplines, gay or straight, across the country. This ringbound folder became the National AIDS Manual, later abbreviated to NAM.
Thirty-five years later NAM continues to provide independent, accurate and accessible information about HIV. In those early days there were no effective treatments; now someone who is diagnosed promptly and has secure access to HIV medication can expect to live for about as long as someone who does not have the virus. Back then condoms were cautiously advised as a way of preventing HIV transmission during sex; now PrEP, when taken correctly, offers near complete protection while effective treatment reduces the risk of sexual transmission from someone living with HIV to zero. Back then we reached thousands with our printed information, updates mailed or faxed to our partners; now we reach millions of people every year through our website aidsmap.com, as well as through our large range of digital resources.
"NAM is the go to resource for person centred accessible information on HIV. It's supportive of the community of people with HIV and is a fantastic resource for online interpretation particularly of conference data and updating people on policy". Dr Tristan Barber
"NAM is an invaluable resource. As a clinician, it gives me peace of mind to know that after I've talked to a patient about a particular issue, I can then signpost them to NAM for further information that is accurate and easy to understand." Dr Rageshri Dhairyawan
In the early days of NAM, our writers were mainly young gay men, driven by an urgent need to protect their communities. Now our writers reflect the diversity of the global community of people affected by HIV. Our editorial meetings include writers from Asia, Africa, the Americas as well as Europe; they include people who acquired HIV during sex, or from drug use or who were born with the virus. That diversity of experience make these meetings vibrant and visceral. The energy in those meetings powers through the organisation and all of the services that we provide.
With funding challenges, failures in healthcare systems that have been further exacerbated by the global COVID pandemic, and the persistent prevalence of stigma, we remain frustratingly far from NAM's vision of a world where HIV is no longer a threat to health or happiness. However, I am frequently honoured to hear from individuals how much we have supported them. Many times I have been told that our accessible information has led to changes, in thinking about treatment or in adjusting to a positive HIV diagnosis, that has been life-saving.
"I cannot tell you how profoundly aidsmap educated me. So thank you so much, hope you stay strong, and funded, because we need you".
"aidsmap is a major reason why I'm alive, healthy and working today. Thank you to everyone who's working there now and contributed in the past."
As someone living with HIV, it is a privilege to be a part of an organisation that fights for the health and for the rights of people with HIV the world over, that stands firm against the challenges that this virus, and attitudes towards it, present.
The United Kingdom has set itself a goal of ending new HIV transmissions within the country by 2030. The goal is ambitious but it is also achievable, with the right level of support and resource. Other countries and regions are adopting similar ambitious goals. The end to this epidemic is imaginable. Access to accurate, reliable information is central to this target; it is as essential now as it was at the time of NAM's founding, 35 years ago.
Together we rise to meet the challenge.