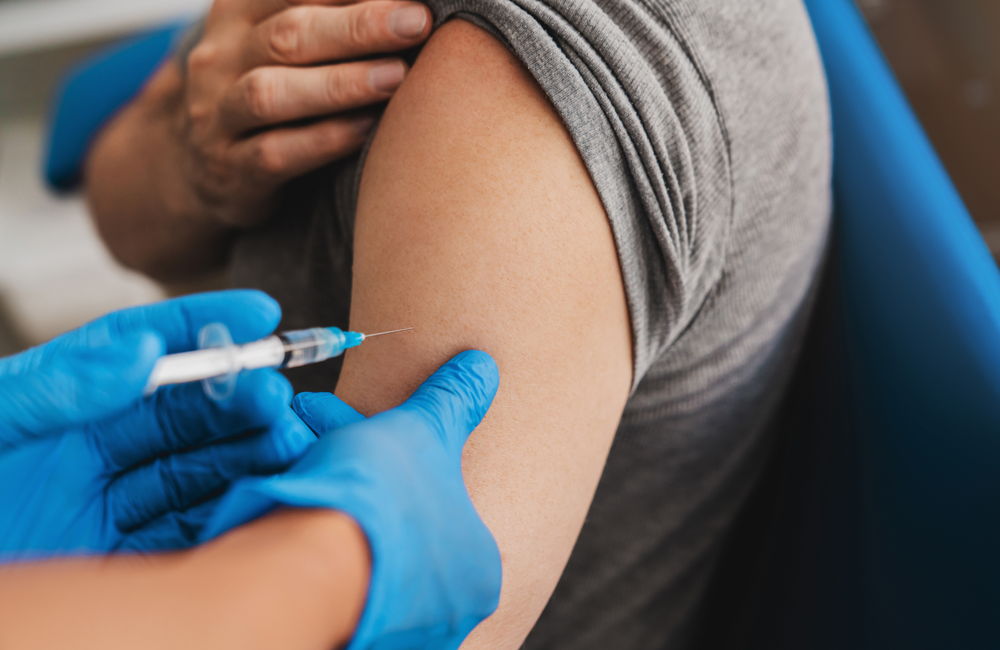 An outbreak of monkeypox continues to spread in the UK and worldwide, and cases have now been reported in dozens of countries where the virus is not known to be endemic. While anyone can get monkeypox through close personal contact, most cases identified so far have been among gay, bisexual and other men who have sex with men.
As aidsmap previously reported, the UK Health Security Agency (UKHSA) reported the first case in the current outbreak on 7 May. As of yesterday, UKHSA has identified 1235 confirmed cases in the UK, most of them in England and 77% of those in London. Most (96%) are men who have sex with men. Of the cases with available information about gender, five are women. Most of those affected are in their thirties or early forties.
According to the latest joint surveillance bulletin from the European Centre for Disease Prevention and Control and the World Health Organization (WHO), 4177 monkeypox cases have been identified in 31 countries in Europe as of 28 June. Worldwide, the US Centers for Disease Control and Prevention has tallied more than 5,300 confirmed cases in non-endemic countries as of June 30, a total that does not include ongoing outbreaks in West and Central Africa. Along with the UK, the largest numbers have been reported in Spain, Germany, France, Portugal, the United States and Canada.
Gay and bisexual men are more connected to sexual health services and more likely to get symptoms checked out, but this 'ascertainment bias' is unlikely to fully explain the predominance of cases in this population. Because of limited testing and the challenges of contact tracing when people have sex with casual or anonymous partners or physical contact at large gatherings, many experts think the current case counts do not reflect the full extent of the outbreak.

"The monkeypox outbreak in the UK continues to grow, with over a thousand cases now confirmed nationwide," said UKHSA incident director Dr Sophia Makki. "We expect cases to continue to rise further in the coming days and weeks."
Monkeypox background
Monkeypox, which is related to smallpox but less severe, can cause flu-like symptoms (e.g. fever, fatigue, muscle aches), swollen lymph nodes and a rash anywhere on the body. In the current outbreak, many men have presented with lesions on the genitals or in the anal area. The sores, which may be painful or itchy, typically start out as flat red spots and progress to firm, raised lesions that fill with clear fluid and then pus. They may resemble chickenpox or common sexually transmitted infections such as herpes or syphilis.
Monkeypox has an incubation period of up to three weeks before symptom onset, and the illness usually lasts two to four weeks. It is considered infectious until the sores heal completely and scabs fall off.
The monkeypox virus is transmitted through close personal contact, including skin-to-skin contact, kissing and via respiratory droplets at close range. However, it does not spread through the air over longer distances like the coronavirus that causes COVID-19. The virus can also spread via clothes, bed linens and surfaces that have been in contact with from fluid from sores. It is not yet known whether monkeypox is directly sexually transmitted through semen or vaginal fluid, but it does spread via contact with sores during sex.
Monkeypox vaccination
Smallpox vaccination can prevent monkeypox too. Because the virus has a long incubation period, vaccines can be used both as post-exposure prophylaxis for up to two weeks after exposure and as pre-exposure prophylaxis for people who may come into contact with the virus.
Routine smallpox vaccination was discontinued after the disease was eradicated in 1980. People over the age of 50 or so who were previously vaccinated may have some protection against monkeypox, but immunity may have waned over time. Some cases in the current outbreak are people old enough to have been vaccinated as children.
A safe nonreplicating smallpox and monkeypox vaccine (Imvanex or Jynneos) is administered as two doses, four weeks apart. An older live virus vaccine (ACAM2000) is administered via a scarification process with a multipronged needle. But this vaccine can cause adverse side effects, especially in immunocompromised people, and it is not considered safe for people living with HIV. The UK and other countries maintain stockpiles of the older vaccine in case of bioterrorism.
Monkeypox can be contained through ring vaccination, or targeted vaccination of close contacts of known or suspected cases. Because contact tracing can be difficult or incomplete, a broader strategy involves vaccinating people with a high likelihood of having been exposed, for example gay and bisexual men with multiple recent sex partners and those who attended venues or events where the virus was known to be present. An even broader approach is vaccinating individuals at high risk in communities where the virus is circulating.
UKHSA's monkeypox vaccination strategy, released on 21 June, recommends offering the Imvanex vaccine to men considered to be at higher risk of exposure. This includes gay and bisexual men and transgender people who have multiple sex partners, participate in group sex, use 'sex on premises' venues such as saunas or backrooms, or have recently had a bacterial sexually transmitted infection. The criteria would be similar to those used to assess eligibility for HIV pre-exposure prophylaxis (PrEP), but without regard to HIV status.
"The 56 Dean Street clinic received 100 calls on one day asking about the vaccine."
So far, many people with monkeypox in the UK have reported having a sexually transmitted infection in the past year (54%) and ten or more sexual partners in the past three months (32%). While 28% are living with HIV, 74% of the HIV-negative people have used PrEP.
While the exact number of gay and bisexual men and trans people eligible for monkeypox vaccination in the UK is unclear, UKHSA estimates it to be around 40,000, while other experts believe the true figure to be higher. Another 5000 frontline healthcare workers, primarily in sexual health clinics, will be eligible. Vaccination is not recommended for people who already have monkeypox symptoms, as infection is presumed to confer natural immunity.
During a recent webinar, UKHSA indicated that it has obtained 20,000 doses of Imvanex. These are being allocated to sexual health clinics based on the number of eligible clients, with around 12 clinics (mostly in London) being prioritised for the first batch. The 56 Dean Street clinic was among the first to start monkeypox vaccination. Lead clinician Dr Alan McOwan said the clinic received 100 calls on one day in late June asking about the vaccine.
UKHSA hopes to receive a second batch of 20,000 Imvanex doses in July and a larger delivery in September. As doses are in short supply, eligible gay, bisexual and trans people will initially only receive their first dose, with the second being provided when new stocks arrive.
The vaccine was only being manufactured for stockpiling prior to the new monkeypox outbreak, so it will take time to ramp up production to meet the growing global demand. It is not available through high street pharmacies or online retailers.
"Our extensive contact tracing work has helped to limit the spread of the monkeypox virus, but we are continuing to see a notable proportion of cases in gay, bisexual and other men who have sex with men," said UKHSA head of immunisation Dr Mary Ramsay. "By expanding the vaccine offer to those at higher risk, we hope to break chains of transmission and help contain the outbreak."
At this time, vaccination is not indicated for the population at large. While it is expected that monkeypox will reach beyond the currently affected social and sexual networks—for example, to caregivers, women who have sex with gay or bi men and household members, including children—many experts predict that it will not spread widely in the general population.
For this reason, and because it is not currently causing severe illness in heavily affected groups, the WHO last week declined to declare monkeypox a public health emergency of international concern (PHEIC). But the agency is keeping tabs on the evolving outbreak and will continue to re-evaluate its status.
"This is clearly an evolving health threat that my colleagues and I in the WHO Secretariat are following extremely closely," WHO director-general Dr Tedros Adhanom Ghebreyesus said in a statement. "It requires our collective attention and coordinated action now to stop the further spread of monkeypox virus using public health measures including surveillance, contact-tracing, isolation and care of patients, and ensuring health tools like vaccines and treatments are available to at-risk populations and shared fairly."
Public health advice
As the vaccination effort ramps up, health officials urge anyone with a rash or other possible monkeypox symptoms to seek medical care, get tested and avoid sex, other close contact and social gatherings until the results are known. Those who think they might have been exposed should self-monitor for symptoms.
"If you are attending large events over the summer or having sex with new partners, be alert to any monkeypox symptoms so you can get tested rapidly and help avoid passing the infection on," Dr Makki advised. "If you are concerned that you may have monkeypox, don't go to events, meet with friends or have sexual contact. Instead, stay at home and contact 111 or your local sexual health service for advice."
"Most people with monkeypox recover without treatment, but some people have required hospitalisation for pain management."
People who test positive for monkeypox are advised to isolate for three weeks, which health officials acknowledge could be difficult without financial support. Wearing a well-fitted mask can help prevent transmission to household members and caregivers during face-to-face contact. Although it is not known whether the virus is transmitted in semen, UKHSA recommends that people with monkeypox use condoms for eight weeks after infection as a precaution.
Most people with monkeypox recover without treatment, and there have been no deaths in non-endemic countries so far. But the sores can leave scars, some patients have required hospitalisation for pain management and people with severe disease can develop complications.
Severe illness is more likely in children, pregnant people and immunocompromised individuals. People on antiretroviral therapy with well-controlled HIV do not appear to be at greater risk, but those with unsuppressed HIV and a low CD4 count may have worse outcomes. In severe or high-risk cases, certain antiviral medications used to treat smallpox can be used for monkeypox as well.
As health officials work to contain the outbreak, many in the LGBT community are concerned that a disease that primarily affects gay and bisexual men could trigger the same kind of stigma seen with HIV. Acknowledging who is most affected is important for targeting education and resources, but stigma could discourage people from seeking care, and calling it a 'gay disease' could lead others to wrongly assume they're not at risk.
"We encourage everyone, regardless of their sexuality, to be vigilant about new spots, ulcers and blisters," said Alex Sparrowhawk of Terrence Higgins Trust. "We are continuing to closely monitor the latest data in order to play our part in providing the latest guidance and health information on monkeypox, to empower the communities most affected to best protect their health."
References
Update: This article was revised on the day of publication, to include the latest data on reported cases in the UK.