21 July 2021

|

News from IAS 2021
Contents
Lower CD4 count and unsuppressed HIV raise risk for severe COVID-19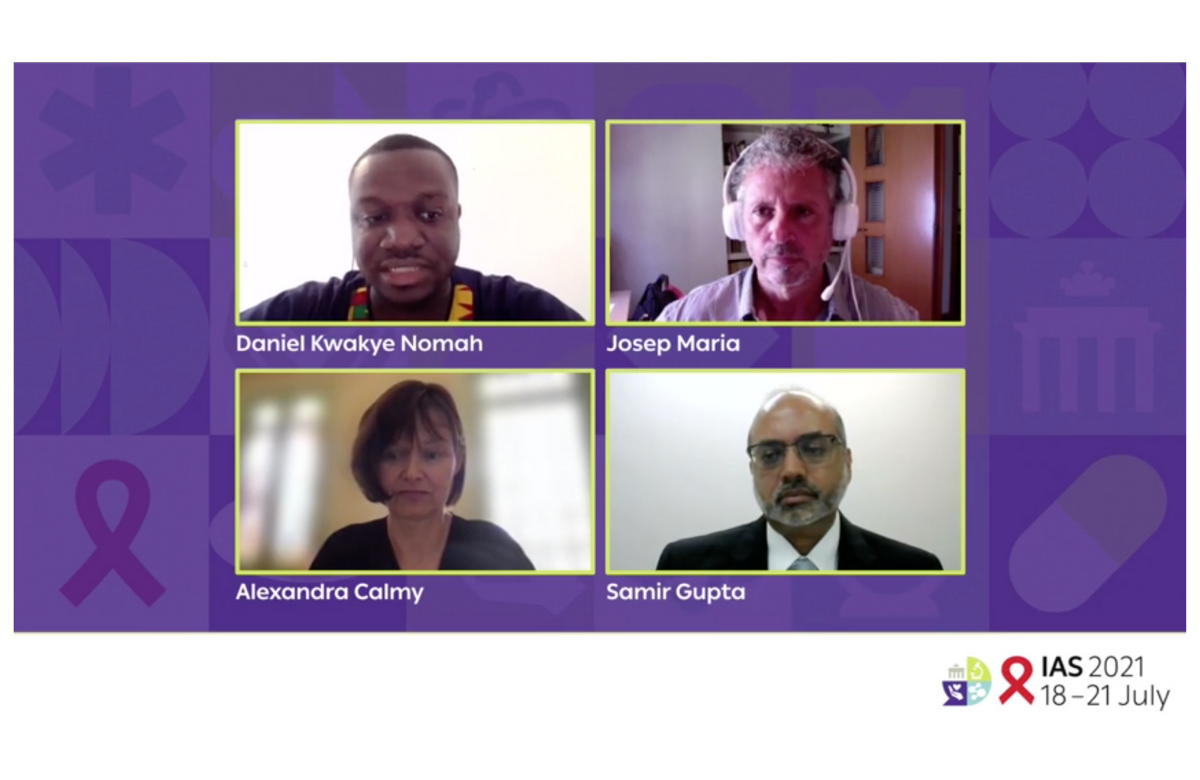 A detectable viral load together with a CD4 count below 500 put people with HIV at greater risk of severe COVID-19, a study of COVID-19 cases in 16 Spanish hospitals has found.
The results were presented to the 11th International AIDS Society Conference on HIV Science (IAS 2021).
The study also found that having multiple co-morbidities – conditions such as high blood pressure, cardiovascular disease, chronic kidney disease or cancer – greatly raised the risk of a severe outcome, confirming findings from other studies in people with HIV and the general population.
Several large studies have shown that people with HIV have an increased risk of severe COVID-19 and dying from COVID-19, including a large study by the World Health Organization presented at IAS 2021.
To investigate the impact of factors such as viral load, immune suppression or underlying health conditions on the risk of severe COVID-19 outcomes for people with HIV, researchers looked for COVID-19 cases among the 13,142 people receiving HIV care in Catalonia.
The cohort is predominantly male (81%), middle-aged (median age 47 years), virally suppressed (81%) and living with at least one underlying condition. Median CD4 count is 692.
The researchers identified 749 people (5.7%) diagnosed with COVID-19 up to 15 December 2020. Of these, 103 were admitted to hospital, including seven admitted to an intensive care unit. Thirteen people admitted to hospital died of COVID-19.
People with HIV were more likely to be diagnosed with COVID-19 if they were migrants, gay or bisexual men, or if they had at least four co-morbidities.
People with HIV aged 75 or over were three and a half times more likely to have severe COVID-19 outcomes (hospitalisation or death) compared to younger people. Migrants had a higher risk of severe COVID-19 outcomes too.
The researchers found that whereas CD4 count did not affect the risk of severe COVID-19 in people with suppressed viral load, in people with detectable viral load, a CD4 count below 500 was associated with an increased risk of a severe outcome.
Presenting the study, Dr Daniel Nomah concluded that the risk factors highlighted in the study should be used to prioritise people with HIV for COVID-19 vaccination, with people who have unsuppressed viral load and low CD4 counts, as well as those with a high number of co-morbidities, in special need of vaccination.
PrEP failures rare in African programmes, but some occur despite good adherence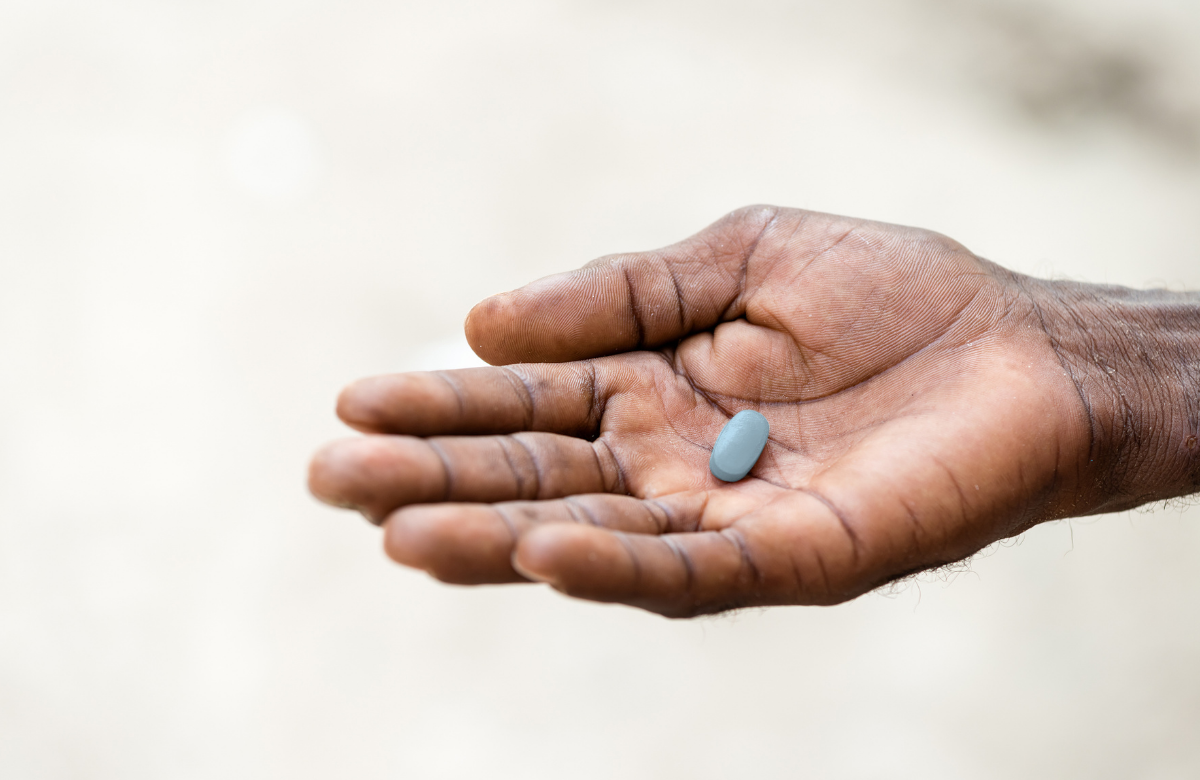 A study presented to IAS 2021 is the first to investigate drug levels and drug resistance in people who acquire HIV despite taking PrEP (regular medication to prevent HIV infection) in the real-world setting of four African countries' rapidly expanding PrEP programmes.
The study found 229 cases of HIV infection among an estimated 104,000 people taking PrEP in South Africa, Kenya, Zimbabwe and Eswatini. While there may be some under-reporting, this does suggest that HIV infections in people taking PrEP are proving to be rare. The majority of HIV infections occurred in people who had been on PrEP for more than three months.
Drug resistance genotyping was performed for 118 people who provided suitable samples. Of these, 55% had no drug resistance mutations, 22% had mutations to drugs in the NNRTI class (not used in PrEP) and 23% (27 people) had resistance mutations to emtricitabine or tenofovir (the drugs used in PrEP).
Researchers can't be sure whether these mutations arose as a result of taking PrEP or were in the HIV that people acquired. The proportions who had resistance to PrEP drugs and NNRTIs was considerably higher than the rate of resistance reported in previous studies of people newly diagnosed with HIV in the region.
The most surprising finding was that while people who acquired HIV and did not have drug resistance tended also to have low levels of tenofovir in their blood – indicating poor adherence – the people with drug resistance appeared to have good adherence. In the group who had drug resistance, 78% had tenofovir levels consistent with taking four to seven doses a week – which should be enough to prevent HIV.
One possible explanation is that people could have acquired HIV during a period of poor adherence or drug supply interruption, but at the point they were tested and diagnosed they had good adherence. Presenting the findings, Dr Urvi Parikh said the study will evaluate viral load in people diagnosed with HIV, as very high viral loads would tend to indicate recent infection.
Long-acting injectable HIV treatment is feasible, even during COVID-19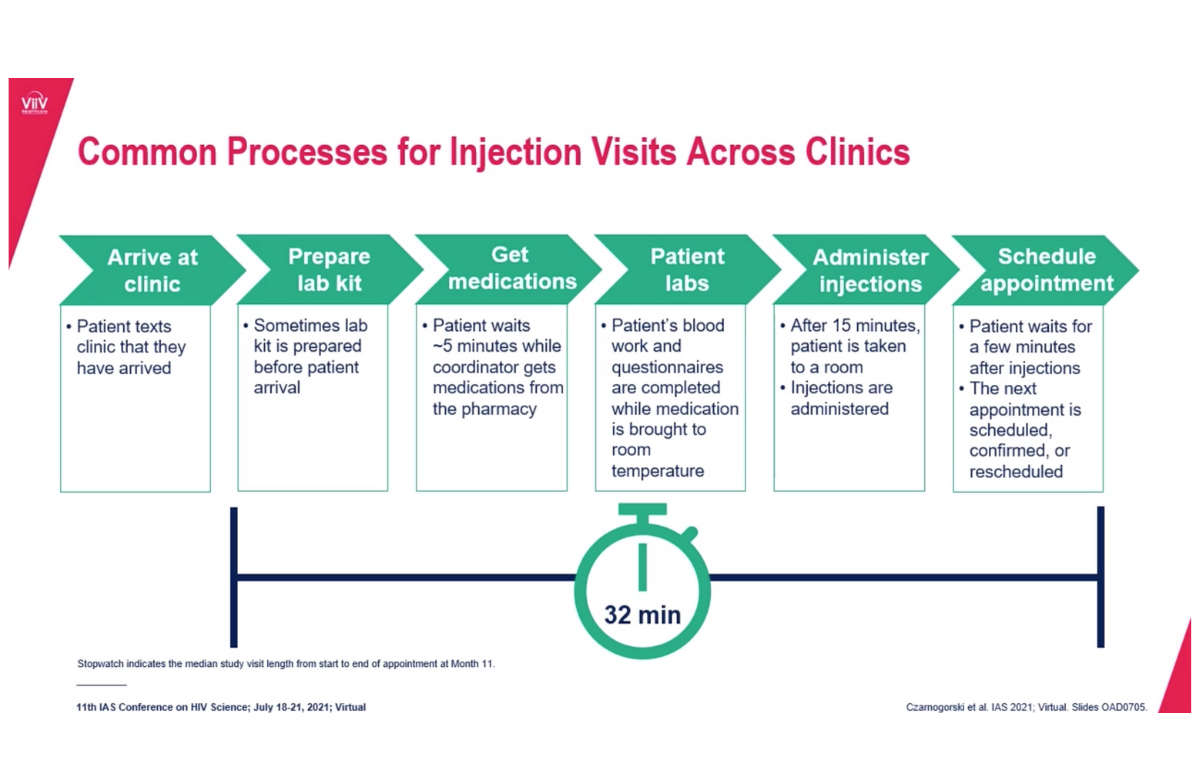 The long-acting injectable HIV medications cabotegravir (Vocabria) and rilpivirine (Rekambys), which are administered by a healthcare provider once a month or every other month, can be successfully implemented in health practices in the United States, according to a study presented at IAS 2021. Providers and people with HIV encountered few barriers to giving or receiving the injections despite changes in health services during COVID-19.
In January 2020, the US Food and Drug Administration approved the combination (sold in North America as Cabenuva) for monthly administration. It was approved by the European Medicines Agency in October 2020 for monthly or bimonthly administration.
This study looked at the implementation of the injectable regimen in US clinical practice settings.
Twenty-four healthcare staff members and patients at eight clinics completed a number of surveys over the first 12 months of implementation. Overall, healthcare staff and recipients found the injectable regimen acceptable and feasible.
Perceived feasibility declined somewhat at month 4, but rose by month 12, as clinics established procedures and became accustomed to giving the injections. This occurred despite disruptions related to COVID-19.
Asked about strategies that facilitated successful implementation, healthcare staff cited good staff communication, teamwork and use of a web-based treatment planner. A typical process for preparing for and administering the injections took about half an hour. A majority of staff members (70%) said that monthly visits provided other benefits to patients such as improved engagement with healthcare providers.
Among the more than 100 people receiving the injections who were surveyed, more than 90% preferred having the injections to their previous daily oral therapy.
Multiple African countries improved HIV treatment access during COVID-19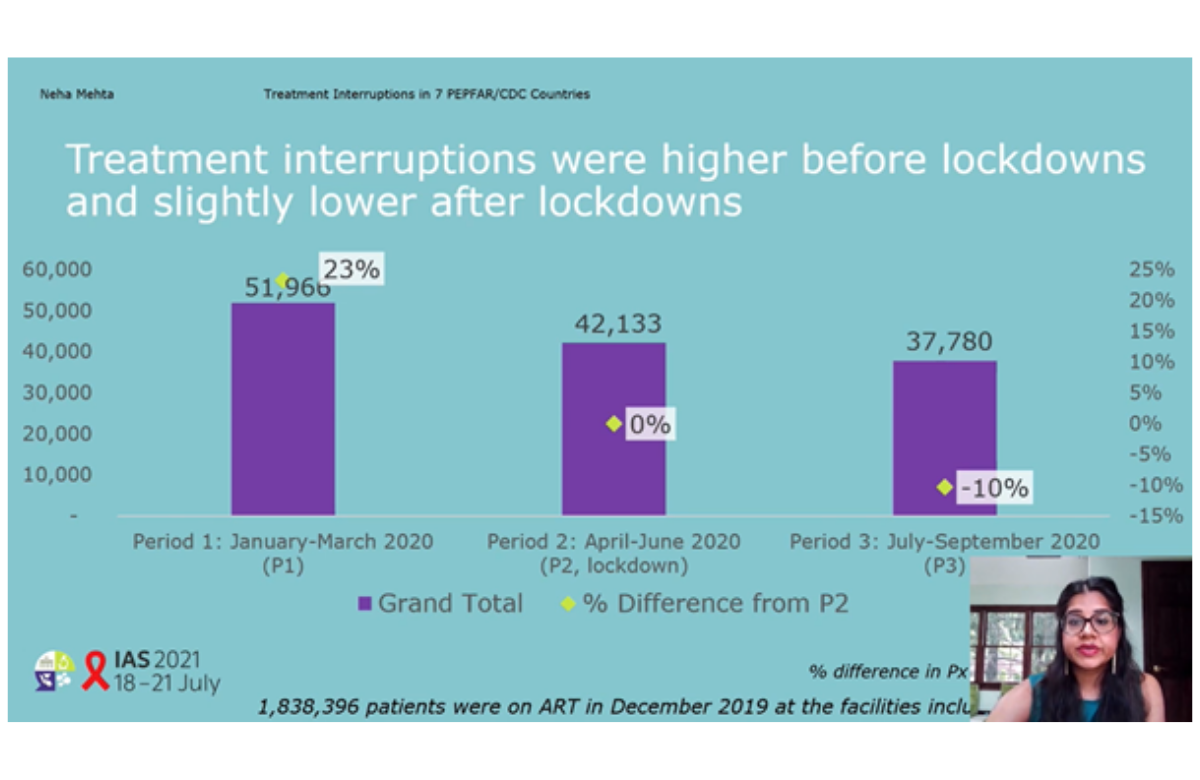 Fewer people living with HIV in six sub-Saharan African countries experienced interruptions to their HIV treatment during and after COVID-19-related lockdowns than before the pandemic hit, according to a study presented to IAS 2021.
Early modelling of the impact of COVID-19 predicted that people living with HIV would struggle to access their treatment due to national lockdowns, restricted travel, and overwhelmed healthcare systems.
In this study, researchers conducted an evaluation of treatment interruption data from Botswana, Eswatini, Namibia, Rwanda, Uganda, Zambia, and Zimbabwe.
They reviewed HIV treatment programme data, comparing numbers of patients experiencing treatment interruption in the months with the most restrictive COVID-19 measures (April-June 2020) with the three-month periods before lockdown (January-March 2020) and after lockdown (July-September 2020).
Approximately 2.8% of patients included in the study experienced treatment interruptions before lockdown, 2.3% during lockdown, and 2.06% after lockdown. Overall, 23% more patients experienced HIV treatment interruptions before lockdown than during lockdown.
Results varied by country, but the level of treatment interruption after lockdown was either lower than during lockdown or remained lower than before lockdown in all the countries assessed, except Botswana.
HIV treatment services used strategies such as providing treatment refills in alternative facilities and within the community, dispensing medications for longer periods e.g. six months rather than three, and implementing social distancing and mitigation measures in clinics.
Viral suppression in Uganda improved by more viral load tests, done faster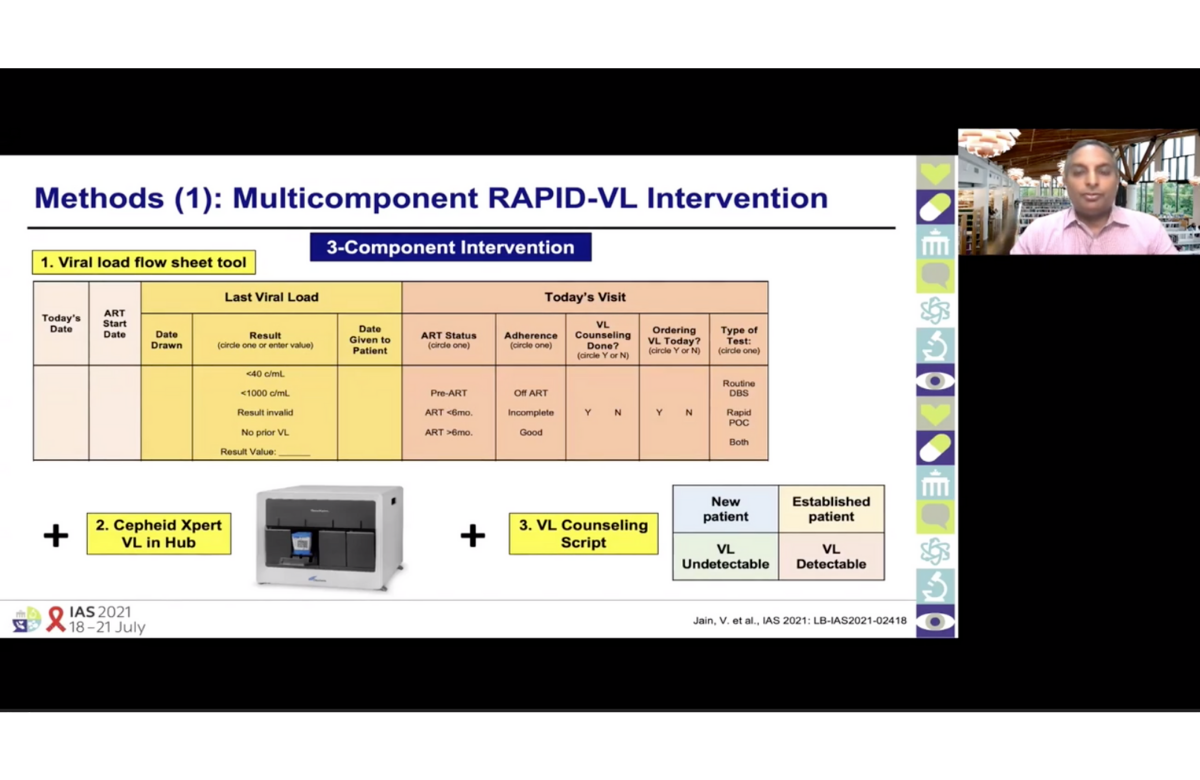 Simple measures to improve the ordering and turnaround of viral load tests in Uganda significantly improved viral suppression after one year, IAS 2021 was told this week.
Although viral load testing is well-established in Uganda's HIV treatment programme, its uptake could be improved and turnaround times from ordering the test to the patient receiving the result can be up to two months.
Twenty clinics took part in a trial in which they were randomised either to continue with standard procedures or to test a package of interventions.
The interventions were: a sheet in patients' files requiring doctors to specify the last viral load of the patient and whether a test was ordered; availability of rapid results from a Cepheid Xpert device at a local hub; scripts to use with patients when talking about viral load in various situations; and regular feedback to clinics on their performance.
The study recruited participants from four groups at higher risk of poor outcomes without timely viral load testing (pregnant and breastfeeding women, children and adolescents, people with detectable viral load and people overdue for viral load tests) as well as adults not at high risk. Outcomes were compared between the year prior to the study and the intervention period (2018-2020).
Average viral load test turnaround time fell by 67 days in the intervention clinics but remained unchanged in the control group. Half of all results were received in less than one day. Guideline-compliant viral load ordering improved significantly in the intervention clinics.
Viral suppression also improved in the intervention clinics. After one year, 83% of participants in the intervention clinics had an undetectable viral load, compared to 76% in the control group clinics.
---
Connect with us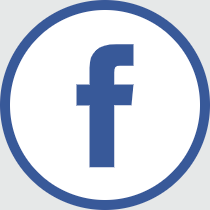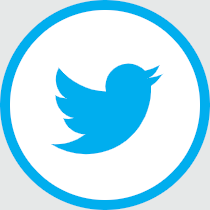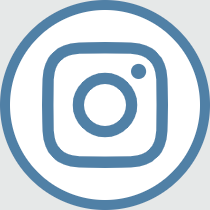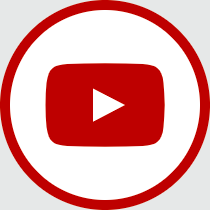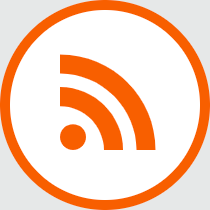 ---
Official conference partners

NAM's news coverage of IAS 2021 has been made possible thanks to support from Gilead Sciences Europe Ltd and ViiV Healthcare.