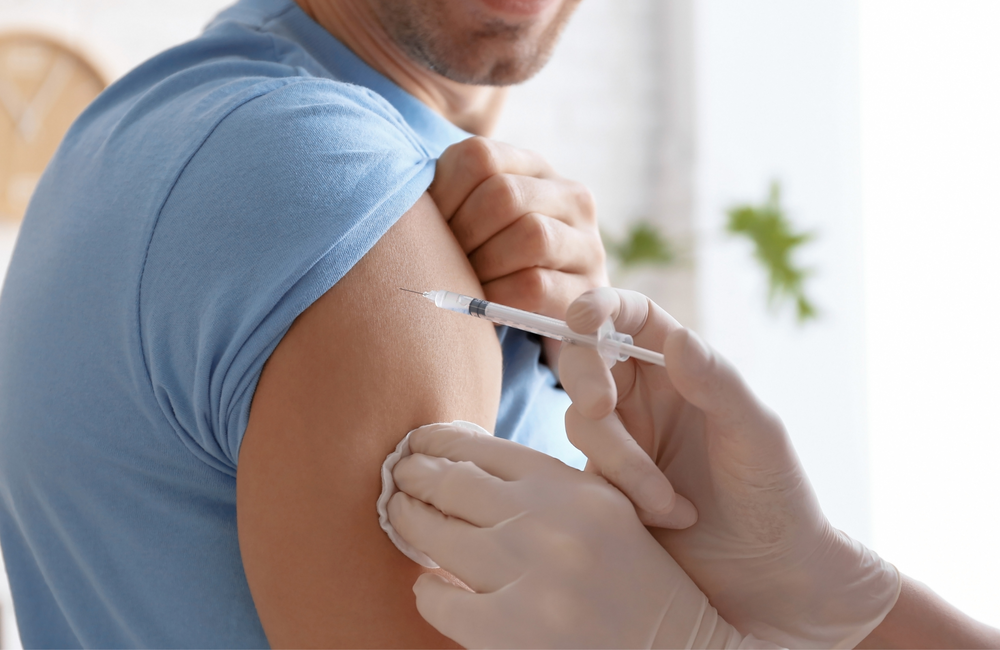 The MVA-BN smallpox and monkeypox vaccine, sold as Imvanex in Europe and Jynneos in the United States, has now been widely rolled out in several countries, but questions remain about its effectiveness in real-world use.
A recent US analysis suggests that men who received the vaccine were about 14 times less likely to develop monkeypox, but experts say more research is needed before relying on vaccination alone to curb the monkeypox outbreak.
The ongoing monkeypox outbreak in non-endemic countries has slowed dramatically in Europe and the US after peaking in late summer. As of 10 October, the UK Health Security Agency (UKHSA) has identified 3673 confirmed or probable cases, including 121 reported in the previous month. As of 12 October, the US Centers for Disease Control and Prevention (CDC) has tallied 27,022 cases in the US and more than 72,400 cases worldwide. Five months into the outbreak, monkeypox still overwhelmingly affects men who have sex with men.
The UK, which saw the first cases of this outbreak in May, was among the first to report that it had turned a corner. In late August, the World Health Organization reported that new cases had fallen by 21% worldwide. But some areas, including Latin America, continue to see high numbers of new cases.
Health officials and advocates attribute the decline to multiple factors, including natural immunity after infection, vaccination and behaviour change. A recent CDC survey found that about half of gay, bisexual and other men who have sex with men said they had made changes such as having fewer sex partners. The latest UKHSA technical report notes that two STIs, Shigella and lymphogranuloma venereum, have also declined, confirming behaviour change.
But the real-world effectiveness of the monkeypox vaccine has not yet been determined.
Bavarian Nordic's MVA-BN vaccine, which uses a weakened strain of vaccinia virus, was developed as a safer alternative to the live-virus ACAM2000 smallpox vaccine. Monkeypox is related to smallpox, and the same vaccines can be used for both. Routine smallpox vaccination was discontinued after the disease was eradicated in 1980, which has facilitated the spread of monkeypox. Because monkeypox virus has a long incubation period, vaccines can be used both as post-exposure prophylaxis for up to two weeks after exposure and as pre-exposure prophylaxis for people at risk.
MVA-BN was authorised as a two-dose series administered by subcutaneous injection a month apart. In an effort to stretch the limited vaccine supply, some countries have switched to intradermal administration under the upper layer of skin, which allows a single vial to be split into five doses. A study in 2015 showed that antibody responses were similar with subcutaneous or intradermal injection, and a new clinical trial sponsored by the US National Institutes of Health will see if the vial could be split further, into ten doses. Regardless of the administration method, participants will have a second dose one month after their first.
MVA-BN was tested against monkeypox in non-human primates. While it reduced the likelihood of symptomatic illness and death, it did not reliably prevent infection. Prior to this outbreak, however, research in humans was limited to immunogenicity studies that looked at antibody levels after vaccination.
For example, in a phase III trial published in 2019, people randomly assigned to receive MVA-BN or ACAM2000 had comparable antibody responses. Research in the Democratic Republic of Congo in the 1980s found that people who had received a smallpox vaccine before it was discontinued were 85% less likely to contract monkeypox. Because MVA-BN produces comparable immune responses, it was assumed that it would provide similar protection. But some cases in the current outbreak have occurred among people who previously had smallpox jabs. MVA-BN has not been tested in Nigeria despite an ongoing monkeypox outbreak there since 2017. A vaccine trial for at-risk healthcare workers in the Democratic Republic of Congo is underway, but results have not yet been reported.
MVA-BN is safer and better tolerated than older replicating virus smallpox vaccines, which can cause severe side effects and produce a lesion that sheds live virus. Older vaccines are not considered safe for immunocompromised people, pregnant women, people with skin conditions or people with HIV. In contrast, the most common side effect of MVA-BN is mild injection site reactions. Intradermal administration can cause more itching and redness.
Several questions about MVA-BN remain to be answered. It is not known how long protection will last, though vaccination or prior monkeypox infection are thought to confer long-term immunity. Historically, monkeypox was typically transmitted between members of the same household or via contact with animals; it is not known how well the vaccine protects against sexual transmission. A 2015 study found that HIV-positive people with adequate CD4 counts respond well to MVA-BN, but little is known about responses in people with low CD4 counts.
Studies in the current outbreak
In an effort to learn more about real-world effectiveness, CDC researchers analysed outcomes among men who were eligible for monkeypox vaccination. The study, published in the CDC's Morbidity and Mortality Weekly Report, was based on 5402 monkeypox cases that occurred between 31 July and 3 September, a period when the vaccine was widely available in the US but most people had only received their first dose.
"While the vaccine certainly provides some immunity, it does not prevent infection entirely, especially after just one dose."
Preliminary results suggest that men who received a single vaccine dose at least two weeks prior were 14 times less likely to contract monkeypox than eligible men who were not vaccinated, CDC director Dr. Rochelle Walensky told reports at a recent media briefing. But this analysis was not able to control for confounding factors. For example, men who were early vaccine adopters might have also changed their sexual behaviour.
"This early finding suggests that a single dose of Jynneos vaccine provides some protection against monkeypox infection," the study authors wrote. "The degree and durability of such protection is unknown, and it is recommended that people who are eligible for monkeypox vaccination receive the complete two-dose series."
A smaller Israeli study, published as a pre-print, looked at outcomes among 1970 vaccine-eligible men who either were on HIV PrEP or were HIV-positive and had a recent STI. Of these, 873 received one dose of the MVA-BN vaccine between 31 July and 18 August and had at least 25 days of follow-up. Three vaccinated and 15 unvaccinated men contracted monkeypox. This works out to a vaccine effectiveness estimate of 79%, though the number of cases was small and the confidence interval is wide (ranging from 24% to 94%). "Our results suggest that a single dose of MVA is associated with a significantly lower risk for monkeypox virus infection in high-risk individuals," the researchers concluded.
But some experts think it's premature to say the vaccine provides such a high level of protection – especially with only one dose -- and other recent reports suggest caution is warranted.
A French study, published as a pre-print, looked at post-exposure vaccination of people who had high-risk contact with a person known to have monkeypox. The analysis included 276 individuals, mostly men who have sex with men, who received a single dose of MVA-BN between 27 May and 13 July with a median delay of 11 days after exposure. Of these, 12 (4%) contracted monkeypox, but none of the cases was severe. Ten of the 12 developed monkeypox within five days after vaccination, but two had breakthrough infections at 22 and 25 days post-vaccination. The vaccination strategy "was well tolerated and effective against monkeypox but did not completely prevent breakthrough infections," Dr Michael Thy of Hôpital Bichat in Paris and colleagues concluded.
Dr Aniruddha Hazra and colleagues from Howard Brown Health in Chicago -- the largest monkeypox vaccination site in the US Midwest -- analysed infections after a single dose of MVA-BN. The study, published in JAMA, included 7339 people who received their first vaccine dose between 28 June and 9 September. Of this group, 90 contracted monkeypox. More than three quarters of these cases (77%) occurred during the first week (37 cases) or second week (32 cases) after vaccination. But eight people tested positive more than a month after their first dose, including two who had had their second dose more than three weeks earlier. All but one had mild illness with fewer than 10 lesions.
In another study published as a pre-print, Dr Luca Zaeck of Erasmus University Medical Centre in Rotterdam and colleagues compared antibody responses in people who received the MVA-BN vaccine, those who received an older smallpox vaccine and those who tested positive for monkeypox. They found that MVA-BN recipients had low levels of neutralising antibodies compared with the other two groups. People who received just one dose "hardly developed antibody responses" at four and eight weeks post-vaccination. Antibodies remained relatively low even after the second dose, but a third dose boosted their levels.
"As the role of monkeypox virus neutralising antibodies for protection against disease and transmissibility is currently unclear and no correlate of protection against monkeypox virus infection has been identified yet, this raises the question how well vaccinated individuals are protected," the researchers concluded.
In contrast, researchers at Bavarian Nordic reported in another pre-print that single and double subcutaneous doses of MVA-BN induced durable neutralising antibody responses comparable to those seen with older smallpox vaccines. Antibody levels remained high for at least six months but then returned to pre-vaccine levels by two years. However, this does not mean immunity was lost, as B-cells and T-cells provide longer-lasting protection.
"More research is needed before relying on vaccination alone to curb the monkeypox outbreak."
This study also found that a MVA-BN booster jab given to people who previously received an older smallpox vaccine induced a rapid increase in antibodies, reaching higher levels than one or two doses of MVA-BN without prior vaccination. A rapid antibody response was also seen when people who received one or two initial doses of MVA-BN were given a booster two years later, suggesting the booster activates existing memory B-cells.
Given the mixed evidence to date, experts caution that vaccinated people may still be at risk, and more research is needed before relying on vaccination alone to curb the monkeypox outbreak. While the MVA-BN vaccine certainly provides some immunity, it does not prevent infection entirely, especially after just one dose. Indeed, some evidence suggests a third booster dose may be needed for optimal protection.
"It is absolutely critical that public health officials work on messaging this uncertainty to people being vaccinated," Dr Jay Varma of the Cornell Center for Pandemic Prevention and Response told MedPage Today. Both Walensky and Hazra suggested that continued risk reduction is important, particularly before the second dose and for two weeks after vaccination.