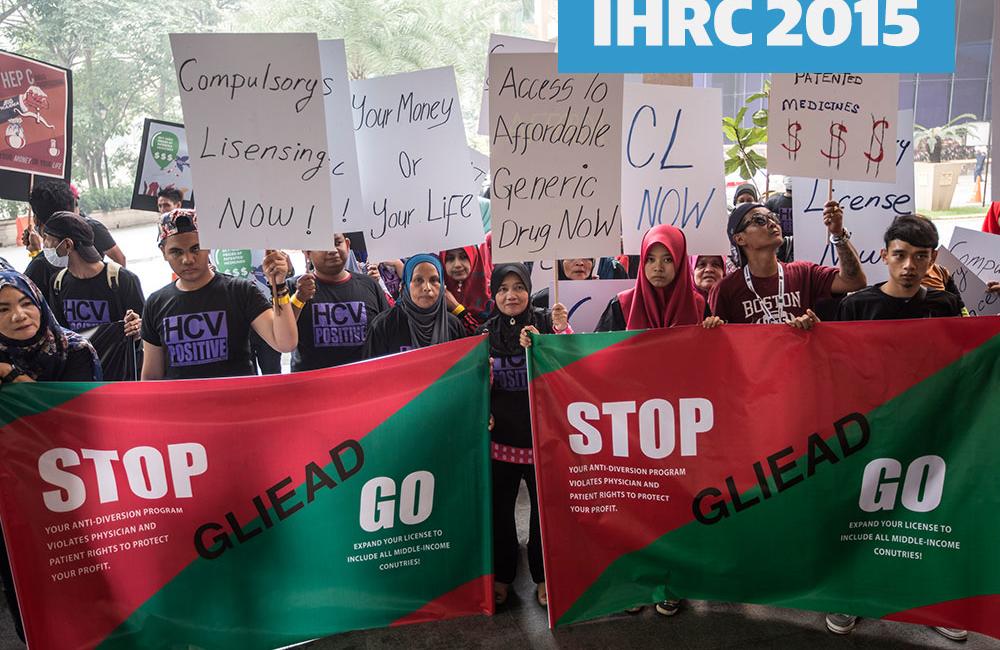 While epidemiologists and public health experts are excited by the potential of new hepatitis C drugs to limit onward transmission of the virus among people who inject drugs, the strategies ignore profound barriers to drug users engaging with healthcare and their broader needs. For 'treatment as prevention' to be ethical and acceptable to people who inject drugs, enabling treatment and policy environments need to be created, the 24th International Harm Reduction Conference in Kuala Lumpur, Malaysia, heard last week.
But there is also an opportunity: "Treatment as prevention has the potential to be a powerful advocacy tool for enhancing treatment access for people who inject drugs," Magdalena Harris of the London School of Hygiene and Tropical Medicine told the conference. Her analysis was co-authored with Eliot Albers of the International Network of People Who Use Drugs and Tracy Swan of Treatment Action Group.
Borrowed from the HIV field, the concept of 'treatment as prevention' is now being applied to hepatitis C. Modelling studies suggest significantly increasing the number of injecting drug users whose hepatitis C is treated and cured could help prevent onward transmission of the virus.
Modern hepatitis C treatment has fewer side-effects and is more effective than treatment based on pegylated interferon injections. Studies show that people who inject drugs can achieve good levels of adherence and that the treatment is effective in this population. Recently, guidelines were developed in order to encourage doctors to offer treatment to people who inject drugs.
However at the moment, the provision of hepatitis C treatment is frequently prioritised for those who have advanced liver disease. Typically, drug users who receive treatment are no longer injecting, may be receiving opioid substitution therapy and may have been assessed as having a sufficiently 'stable' lifestyle. In contrast, a treatment as prevention strategy would prioritise those who are most likely to transmit the virus – people who currently inject and do so frequently.
Public health rhetoric advocating the targeting, testing and treatment of specific populations can raise fears in already alienated and marginalised population, Magdalena Harris suggested. The language used is often stigmatising (for example calling for a focus on "the core transmitters of incident HCV infections").
With the priority given to the benefits for the whole population and for public health, the needs, fears and desires of the person taking the treatment slip out of focus.
She noted the many barriers which discourage people who use drugs from receiving hepatitis C treatment. These barriers include those to do with the individual (for example, mistrust of healthcare professionals, limited knowledge and concern about treatment side-effects) and barriers at the level of the healthcare provider (for example, perceptions of the patients' readiness or eligibility for treatment or concerns about ongoing substance use). The availability of interferon-free hepatitis C treatments can help remove some of these barriers, and others can be worked on, she suggested.
However the social and structural barriers are deeply entrenched and are rarely mentioned by proponents of hepatitis C treatment as prevention. These barriers include homelessness, poverty, stigma, marginalisation, criminalisation, limited social support, problems with health insurance or coverage, and alienating and confusing health care systems.
Magdalena Harris said that an enabling treatment environment would be needed. Her numerous qualitative studies with people who inject drugs suggested the potential of bringing hepatitis C treatment into community settings, with peer support as part of a holistic package. Services need to be trusted, familiar, accessible and convenient.
Services characterised by surveillance, punishment and social control do not generate trust and would be inappropriate settings for treatment as prevention. As well as prisons, this includes methadone clinics which patients must attend every day and be observed taking their treatment.
An enabling policy environment would include the availability of other harm reduction interventions. However Harris said that many discussions of treatment as prevention strategies have ignored the existence of other prevention methods, or the potential of scaling them up to an adequate level of coverage. Globally only 8% of all people who inject drugs are estimated to have access to harm reduction programmes of any sort, and on average each injector only receives two needles and syringes per month.
"In this context, providing a treatment as prevention strategy is frankly laughable," she said. "Treatment as prevention can only be effective and ethical in a context of scale-up of prevention as prevention."
An enabling policy environment would also encompass far-reaching progress on human rights and reform of drug policy, she argued. The criminalisation of drug use creates far-reaching social stigma, discourages people from identifying their needs at health services, and is often the cause of treatment interruptions.
In terms of policy, the excessive cost of the newer, interferon-free hepatitis C treatments also make massive provision of the drugs hard to imagine. Advocacy and activism to improve access is required. (In fact, just a few minutes after Harris' presentation, protestors at the conference called for compulsory licensing and affordable generic versions of hepatitis C drugs in middle-income countries such as Malaysia.)
'Treatment as prevention' could be used as an advocacy tool in order to achieve universal access to hepatitis C drugs, regardless of injecting status or disease progression.
"We need more community engagement and advocacy in order for treatment as prevention to become a reality and to be acceptable and ethical for the affected community," she concluded.