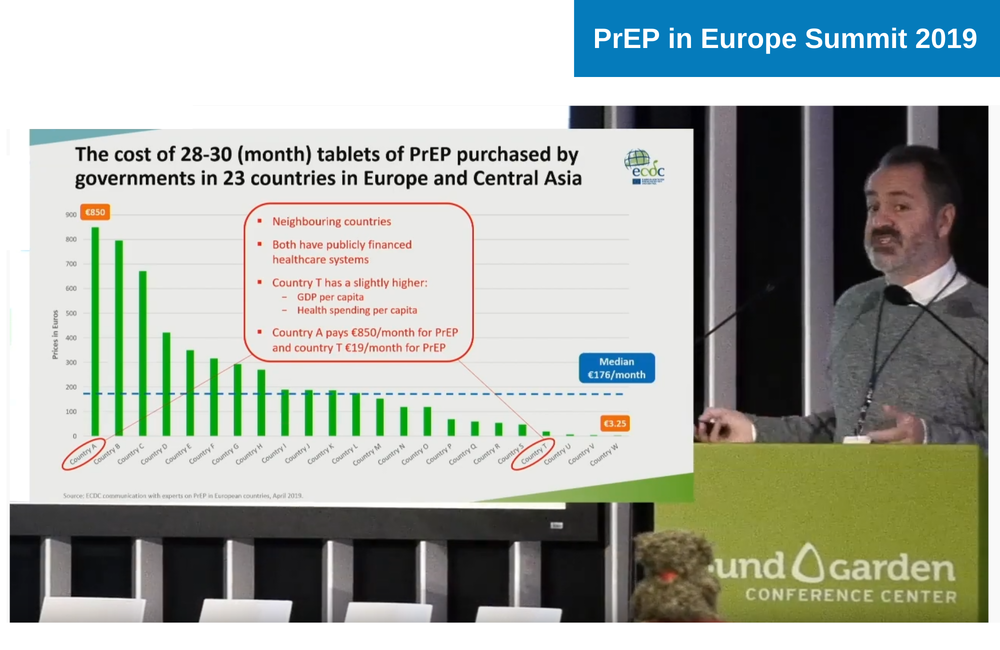 There are enormous variations in the prices European governments are paying for PrEP medication, Teymur Noori of the European Centre for Disease Prevention and Control (ECDC) told last month's PrEP in Europe Summit in Warsaw.
He had data on the cost of a month's supply of PrEP (tenofovir disoproxil fumarate/emtricitabine), as paid by 23 governments in Europe and Central Asia – although he did not reveal the names of the countries concerned.
While four countries are paying less than €20 a month (with one country paying €3.25), another four are paying more than €400. The median price is €176.
There is no clear logic to the price disparities, apart perhaps from some governments' lack of focus on allowing the use of generic products or on conducting effective negotiations with manufacturers. He highlighted two neighbouring countries, both with publicly financed healthcare systems. One pays €19 a month, the other €850. The first country actually has a slightly stronger economy (a higher GDP per capita) and generally spends a little more on healthcare than its neighbour.
Reflecting on the Spanish government's recent decision to reimburse the cost of PrEP, Dr Julia del Amo of the Ministry of Health said that the availability of low-cost generics had been an important factor, making the economic case for PrEP far more favourable.
However, any new formulations or alternative medications for PrEP are likely to come with substantially increased price tags as generics will not be available. Gilead Sciences are preparing an application to the European Medicines Agency for Descovy (tenofovir alafenamide/emtricitabine) to be licensed for use as PrEP. Pietro Vinti of Milan Checkpoint noted that PrEP implants or injections are likely to have the greatest benefit for people with adherence difficulties, who are frequently from poor and vulnerable populations, but questioned whether they would be priced appropriately.
Half a million gay men need PrEP but can't get it
Teymur Noori also gave an update on the implementation of PrEP in the region.
In 16 countries, PrEP is provided or reimbursed: Belgium, Bosnia and Herzegovina, Croatia, Denmark, France, Germany, Iceland, Ireland, Luxembourg, Moldova, the Netherlands, Norway, Portugal, Spain, Sweden, and Northern Ireland and Scotland within the UK.
In nine countries, generic PrEP is available in healthcare settings, but is not fully reimbursed: Armenia, Austria, the Czech Republic, Finland, Israel, Italy, Malta, Poland and Switzerland.
In five countries, PrEP is only available through pilot, research or demonstration projects: Georgia, Greece, Slovenia, Ukraine, and England and Wales within the UK.
There is no formal implementation of PrEP in numerous other countries in central Europe, the Baltic states, the Balkans and central Asia, nor in Russia or Turkey.
He also used data from the 2017 European MSM Internet Survey (EMIS) to estimate the PrEP gap across the region. This survey of close to 128,0000 gay and bisexual men asked respondents whether they were currently using PrEP and if they would be likely to use PrEP if it was available. Men not taking PrEP who said they would be 'very likely' to use it were judged to have unmet need.
In the 28 countries of the European Union, 3.2% of respondents were taking PrEP while 20.6% would like to.
This means that approximately half a million men who have sex with men (MSM) in the EU want or need PrEP but do not have it.
The latter figure was based on an assumption that 2.77% of the male population are MSM. It is an estimate, with a credible range of values is between 420,000 and 610,000.
Noori pointed out that while we have data on gay and bisexual men, there is a knowledge gap on the unmet need for PrEP among women, trans people, migrants and people who inject drugs.