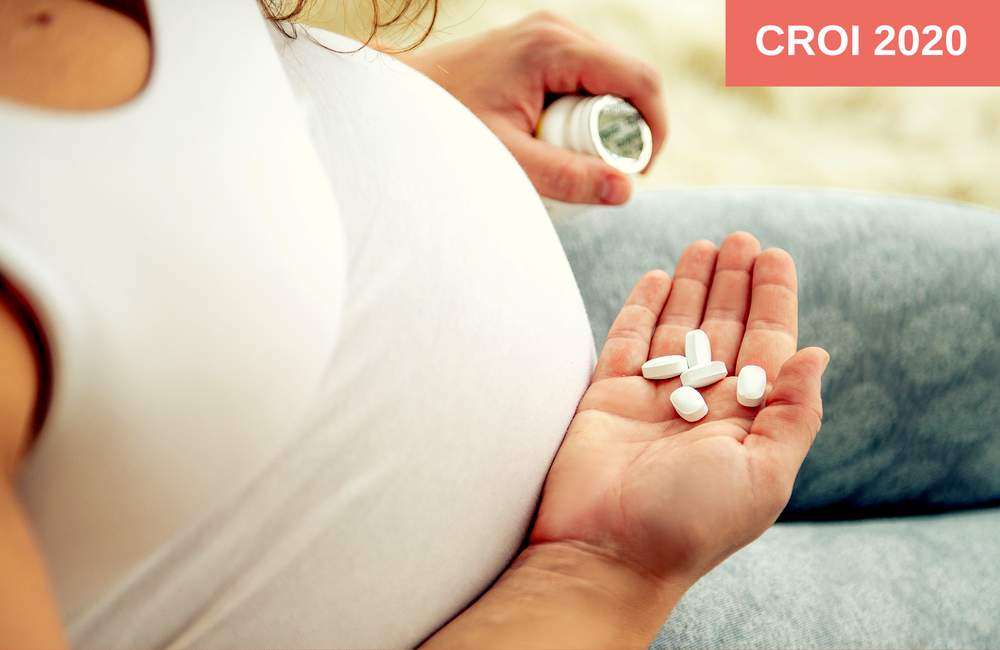 Dolutegravir-based antiretroviral treatment was associated with a higher rate of undetectable viral load at delivery in pregnant women, results of the IMPAACT 2010 trial show. A regimen containing both dolutegravir and tenofovir alafenamide was associated with fewer pre-term births and neonatal deaths than efavirenz-based treatment.
The findings were presented to the Conference on Retroviruses and Opportunistic Infections by Professor Lameck Chinula of University of North Carolina Project – Malawi. All conference presentations are taking place online this year to minimise the risk of coronavirus transmission.
Dolutegravir-based treatment is being introduced as the preferred first-line regimen in many countries following World Health Organization recommendations. Dolutegravir is preferred as the cornerstone of first-line treatment because of high efficacy, a high barrier to resistance and few side effects. But the efficacy and safety of dolutegravir-based treatment in pregnancy is unclear.
An observational cohort study in Botswana detected a slightly increased risk of neural tube defects in infants exposed to dolutegravir around the time of conception. This issue has overshadowed the lack of information on maternal safety and efficacy of dolutegravir and led to blocks on the introduction of dolutegravir-based treatment for women of childbearing age in some countries.
IMPAACT 2010, also known as VESTED (Virologic Efficacy and Safety of Antiretroviral Therapy Combinations with TAF/TDF, EFV and DTG) was designed to compare the safety and efficacy of two dolutegravir-containing regimens with the standard of care in pregnant and breastfeeding women. Participants were randomised to receive either:
Dolutegravir (DTG), tenofovir alafenamide (TAF) and emtricitabine (FTC)
Doltutegravir, tenofovir disoproxil fumarate (TDF) and emtricitabine
Efavirenz, tenofovir disoproxil fumarate and emtricitabine (fixed-dose combination).
Women were eligible to join the study between 14 and 28 weeks of pregnancy if they were previously untreated or had received less than 14 days of antiretroviral treatment in their current pregnancy. The study recruited women in Botswana, Brazil, India, South Africa, Tanzania, Thailand, Uganda, United States and Zimbabwe.
The study recruited 643 women with a median age of 27 years. Eighty-eight per cent were recruited in Africa. At time of randomisation women were 22 weeks pregnant on average and were followed for a median of 17 weeks prior to delivery. Eighty-three per cent had already started antiretroviral therapy and had been taking it for a median of six days at study entry. Eighty-four per cent of all participants still had a detectable viral load (above 50 copies/ml) and the median viral load was 903 copies/ml at study entry.
At delivery, women in the dolutegravir study arms were significantly more likely to have a suppressed viral load (< 200 copies/ml) than women in the efavirenz study arm (97.5% vs 91%, risk difference 6.5%, 95% CI 2%-10.7%, p = 0.005) and had a shorter time to viral suppression after study entry.
Professor Chinula noted that the viral suppression outcomes in IMPAACT 2010 are among the best seen in trials in pregnant women.
Pre-term delivery and other adverse birth outcome occurred more often in the efavirenz arm. Twelve per cent of women in the efavirenz arm had pre-term births compared to 9.4% in the DTG/TDF/FTC arm and 5.8% in the DTG/TAF/FTC arm (p = 0.023). The risk of any adverse birth outcome (preterm delivery, small for gestational age or still birth) was lower in the DTG/TAF/FTC arm (24.1%) than the other two arms (32.9% and 32.7%).
Neonatal deaths occurred more often in the efavirenz arm than in the dolutegravir arms (4.8% vs 1% in the DTG/TAF/FTC arm and 1.5% in the DTG/TDF/FTC arm (p = 0.019).
Maternal weight gain was significantly greater in the TAF-containing arm than either the TDF-containing arm (p = 0.011) or the efavirenz arm (p < 0.001) but did not exceed the Institute of Medicine-recommended gain of 0.42kg per week in the second and third trimesters.
The study investigators concluded that the findings support the use of dolutegravir-based treatment in pregnant women, in line with World Health Organization guidelines, and suggest that use of TAF may be preferable to TDF in pregnancy.
"Findings from the VESTED study suggest that a drug regimen containing dolutegravir provides the safest, most effective HIV treatment available during this critical time for women and their infants," said Dr Anthony Fauci, Director of the National Institute of Allergy and Infectious Diseases, sponsor of the trial.
References
Chinula L et al. Safety and efficacy of DTG vs EFV and TDF vs TAF in pregnancy: IMPAACT 2010 trial. Conference on Retroviruses and Opportunistic Infections, abstract 130LB, March 2020.
View the abstract on the conference website.
Watch the webcast on the conference website.
Update: Following the conference presentation, this study was published in a peer-reviewed journal:
Lockman S et al. Efficacy and safety of dolutegravir with emtricitabine and tenofovir alafenamide fumarate or tenofovir disoproxil fumarate, and efavirenz, emtricitabine, and tenofovir disoproxil fumarate HIV antiretroviral therapy regimens started in pregnancy (IMPAACT 2010/VESTED): a multicentre, open-label, randomised, controlled, phase 3 trial. The Lancet, 397: 1276-1292, April 2021.