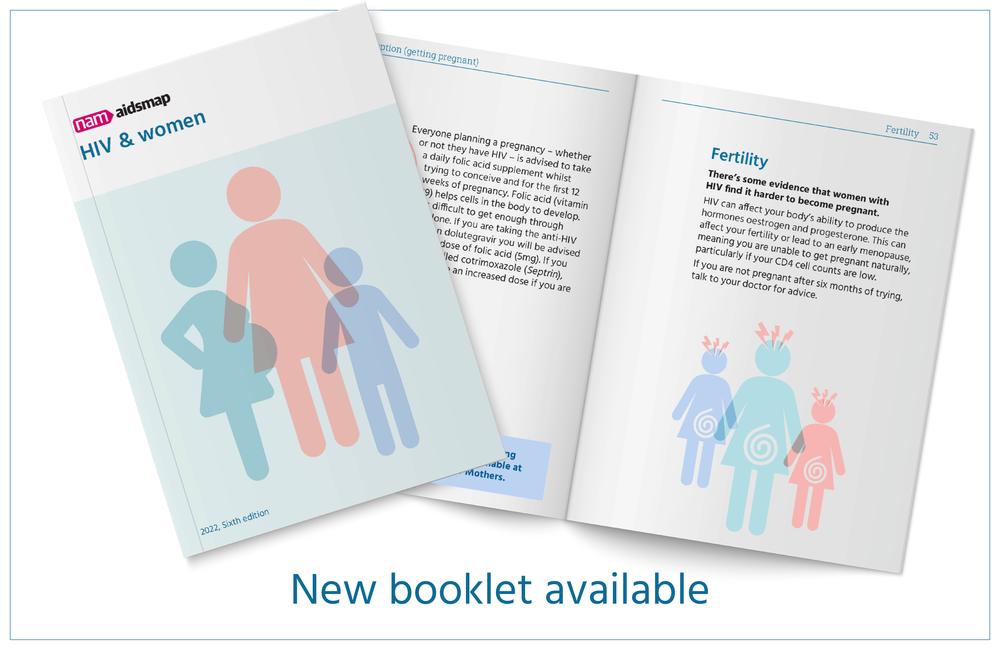 The sixth edition of our booklet HIV & women is available now through our patient information scheme as both a printed and online booklet (PDF). Members can access it here: clinic.nam.org.uk.
The booklet is for women living with HIV, whether recently diagnosed or living with HIV for decades. I hope this booklet can be an aid for navigating life within and beyond clinical appointments. It also serves as a resource for professionals supporting women with HIV.
It has been rewarding revising this booklet and reflecting on the medical advances since the last edition was published. Reading the latest research and information, I feel optimistic about my future as a 32-year-old HIV-positive woman.
This edition of HIV & women represents a distinct shift from the previous one. This is the first women's booklet to state that you cannot pass on HIV sexually if you have an undetectable viral load (Undetectable = Untransmittable); it reflects modern advice on pregnancy and infant feeding; and covers growing older and living a long life with HIV.
The opening Living well with HIV section covers the benefits of knowing your status, connecting with others living with HIV and making the most of HIV clinical appointments.
The HIV treatment in women section reflects on how medication has improved and the importance of making a note of the different drugs you are taking in case of drug interactions. This section covers ways to manage side effects and the importance of raising any concerns with your HIV clinician.
We know that some other health conditions disproportionately impact women with HIV. The Health issues section looks at mental health issues and the importance of cancer screening.
Women with HIV can have, and are having, fulfilling romantic and sexual relationships. The Sex and HIV section covers Undetectable = Untransmittable. As well as preventing HIV transmission, this section highlights the importance of sexual pleasure and wellbeing, and the importance of women looking after their own sexual health, not just that of their sexual partners.
"I hope this booklet helps women make informed decisions and gives them the confidence that living well with HIV is possible."
The Contraception section looks at the pros and cons of different types of contraception and what options are available if anti-HIV medication interacts with a preferred contraceptive.
With medication, there are now fewer differences in the way conception and pregnancy are managed between HIV-positive and HIV-negative women. The sections on Conception, Pregnancy and birth and After your baby is born look at the pregnancy journey from trying to conceive to emotional wellbeing after childbirth, and what you may need to think about each step of the way. This includes which HIV treatments are safe during pregnancy and new infant feeding guidelines.
In the UK, one in three women with HIV is now over the age of 50, so the final section of the booklet is A long life with HIV. This section covers menopause, osteoporosis and heart disease and the ways they may specifically impact women living with HIV.
Research progress has led to better HIV treatment options for women and helped people to live well with HIV. Through research, we also have greater insight into women's experiences with HIV. However, there is an underrepresentation of women in HIV-related research, particularly among certain groups of women. Moreover, some areas still require further research to be understood fully – for example, there is still an overwhelming focus on women's reproductive capabilities.
Also, most studies of women focus on the experiences of individuals who identify with and have been raised as girls and women. Therefore, there is a limited amount of research on transgender women that we could draw on. Although parts of this booklet may be helpful to transgender women, I cannot claim that this booklet is trans-inclusive.
This all highlights the importance of researching the breadth and depth of women's experiences. We must be considered in more expansive ways.
While there are still things to achieve, it has been delightful to reflect all the progress to date and the ways women are choosing to approach life, from sex and relationships to motherhood and growing older with HIV.
For women with HIV: I hope this booklet supports your existing conversations and sparks new ones, helps you make informed decisions, and gives you the confidence that living well with HIV is possible.
For clinicians and other professionals supporting women: I hope that this gives further insights into the complexities of being a woman living with HIV.
This has been my most substantive NAM piece to date! It was invaluable to hear feedback from all who took the time to review it, so a big thanks to Emma Cole, Dr Rageshri Dhairyawan, Dr Caroline Foster, Professor Yvonne Gilleece, Angelina Namiba, Mercy Shibemba, Sophie Strachan and Dr Shema Tariq for sparing your time and expertise.
Thanks to NAM editor Roger Pebody for your support and guidance throughout the past few months.
NAM's Patient Information Subscription Scheme
UK-based HIV and GUM clinics that are members of our subscription scheme can order printed copies of HIV & women on the clinic portal, as well as other booklets and leaflets in the series The basics. Clinics can also share the new booklet PDF with their patients through the clinic portal via text message and email, along with factsheets, interactive tools and resources in other languages.
To find out if your clinic is registered or for information on joining the scheme, please email info@nam.org.uk.