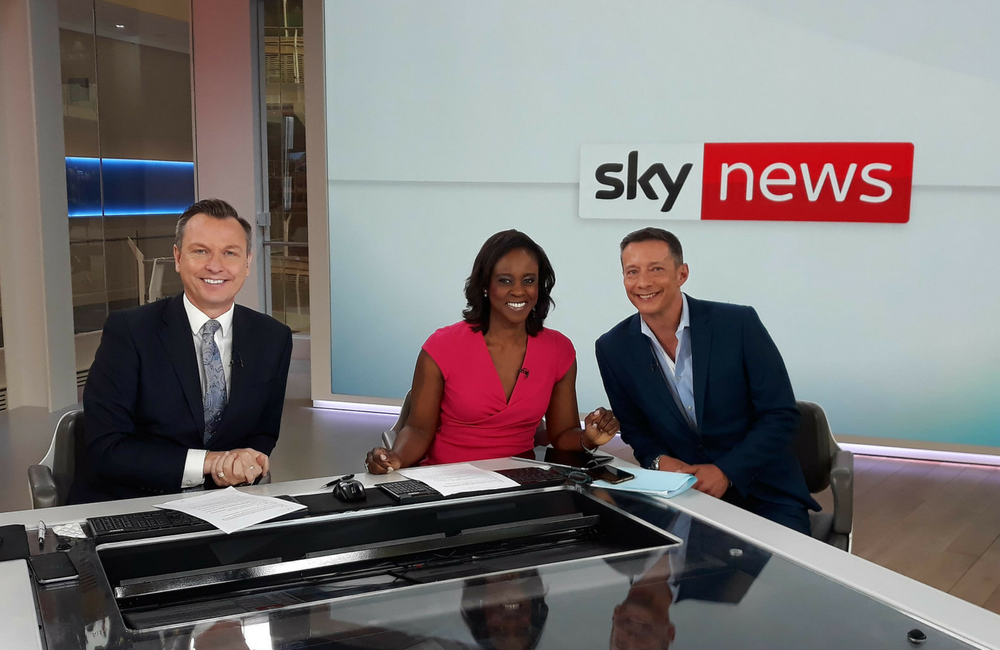 It's often remarked that HIV doesn't get the same level of news coverage as it used to in the 1980s and 1990s. If true, it's likely that this is down to the fact that good news isn't as 'newsworthy' as bad news. Ever since the arrival of effective combination therapy in 1996, the news has been mainly positive – and the public discussion of HIV has been muted as a result.
Unfortunately, the reduced coverage means that many remain unaware of the progress we have made in treating and preventing HIV. Not enough people know that when someone with HIV is diagnosed and treated promptly, their life expectancy is equivalent to that of someone who is uninfected. Awareness of, and confidence in, the impact of HIV treatment on transmission risk remains woefully low. 
I was delighted then to have the opportunity to speak with Stephen Dixon and Gillian Joseph on Sky News on Saturday 9 June about some of the recent developments in our understanding of HIV and HIV treatment. These are some of the issues that we discussed:
The Iceberg and Tombstone AIDS campaigns in the 1980s cast a long shadow. Since that time HIV has gone from being a death sentence to a chronic, but very treatable, condition. The improvements that we have seen in life expectancy in recent years required us to update our Life expectancy for people living with HIV factsheet.
The fear of HIV infection is one of the root causes of HIV stigma. This makes it all the more vital to share the news that when someone maintains viral suppression on treatment (which is the case for 94% of those diagnosed with HIV in the UK) they do not pose a transmission risk to their sexual partners. This knowledge is often referred to as U=U (Undetectable equals Untransmittable). There have been a series of studies that have looked for any evidence that HIV can be transmitted when someone is undetectable on treatment, including the PARTNER study and the Opposites Attract study of gay partners. None of these studies identified a single case of sexual transmission within serodiscordant relationships when the HIV-positive partner was virally suppressed on treatment. Sufficient data has been collected for NAM to be confident that when treatment is effective, people with HIV are not an infection risk.
When we combine all of the HIV prevention tools we have, including condoms, pre-exposure prophylaxis (PrEP) and early testing and treatment (reducing the time before someone with the virus becomes undetectable) we can achieve astonishing results. At the end of 2016, Europe's busiest sexual health clinic 56 Dean Street reported a 40% drop in HIV diagnoses. The efforts of Dean Street and other London clinics contributed massively to an overall 18% reduction in HIV diagnoses that year, with larger decreases for gay and bisexual men (21%) and for gay and bisexual men in London in particular (29% decrease). The data pointed to the effectiveness of a combination approach to HIV prevention. Such successes are threatened by cuts to sexual health services which limit the number of testing and screening appointments they can offer. Even when resourced, the challenge remains to apply a similar approach successfully for other demographic groups. 
As the range of treatments grows, and our understanding of dosing improves, HIV treatment side-effects are becoming increasingly rare, although they may still cause problems for some. NAM's Side-effects checker is designed to support people with HIV to recognise any treatment-related side-effects so that they can discuss these with their healthcare providers.
People with HIV still face high levels of stigma. Myths and disinformation about HIV lead to fear and a lack of understanding, all too often expressed in cruel language. One HIV activist, Tom Hayes, recently shared a series of messages that he had received as an openly HIV-positive gay man on a gay dating service. These messages included calls for him to be 'publicly executed' and other disturbing examples of prejudice. Such messages underline the need for up-to-date, reliable and accessible information about HIV.
NAM has been providing information about HIV since the Tombstone and Iceberg campaigns of the 1980s. We will continue to provide support and understanding to all people who are affected by HIV, including those who are living with the virus, those who care for them and those who, through ignorance, still fear them. What it means to be living with HIV has changed. Although the medical outlook for people living with HIV has improved enormously, the need for our information services is as keen as ever.
Matthew Hodson
Executive Director, NAM aidsmap
NAM aidsmap is grateful to the individuals, companies and organisations that support our provision of information to healthcare providers and people living with HIV and hepatitis worldwide. If you would like to make a donation to support our work, please visit: www.aidsmap.com/donate