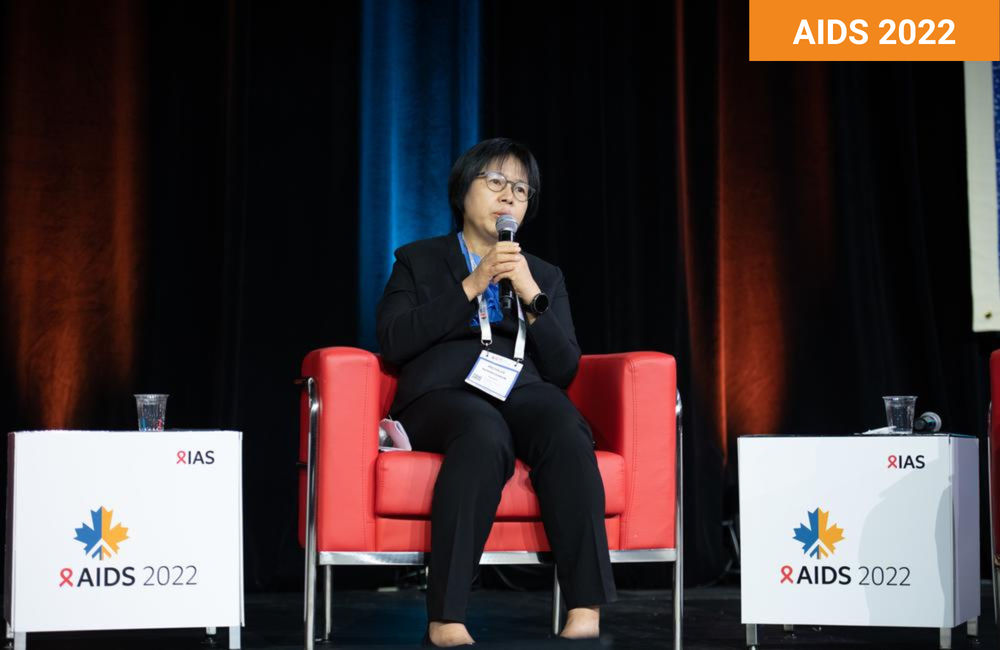 Although two antiretroviral drug regimens proved about equally effective at suppressing HIV, the Biktarvy combination pill (bictegravir, emtricitabine and tenofovir alafenamide) did a better job suppressing hepatitis B virus (HBV) in people with HIV/HBV co-infection, according to research presented on Friday at the 24th International AIDS Conference (AIDS 2022) in Montreal.
What's more, Biktarvy appeared to produce deeper responses associated with a functional cure for hepatitis B, Dr Anchalee Avihingsanon of HIV-NAT and the Thai Red Cross AIDS Research Centre reported.
HIV and HBV are transmitted by similar routes and many people carry both viruses. Worldwide, around 8% of people living with HIV also have HBV, but this can reach as high as 25% in parts of Asia and Africa. Avihingsanon noted that emerging HIV epidemics in areas with high hepatitis B rates are leading to an increasing number of people with HIV/HBV co-infection.
Over years or decades, chronic hepatitis B can lead to severe liver disease, including cirrhosis, liver cancer and the need for a liver transplant. People with HIV and HBV co-infection experience more rapid liver disease progression, on average, and are at increased risk for serious complications compared to those with hepatitis B alone.
"This is still a very important problem, particularly in Asia, and the clinical course of hepatitis B in people living with HIV is marked by accelerated liver disease progression," International AIDS Society president-elect Professor Sharon Lewin of the Peter Doherty Institute for Infection and Immunity in Melbourne said at an AIDS 2022 media briefing.
Certain antiretrovirals used to treat HIV – lamivudine, emtricitabine, tenofovir disoproxil fumarate (TDF) and tenofovir alafenamide (TAF) – are also active against HBV. They are components of several widely used antiretroviral co-formulations. Treatment guidelines recommend that people with HIV and HBV co-infection should include such dually active drugs in their regimen.
Antiviral treatment for hepatitis B suppresses HBV replication, which can reduce liver inflammation and bring liver enzyme levels back to normal. Treatment can sometimes lead to loss of hepatitis B antigens and production of antibodies (seroconversion), but this is much less common. Hepatitis B surface antigen (HBsAg) loss is considered a functional cure.
The ALLIANCE study compared:
The two study arms therefore differed in the integrase inhibitors they received (bictegravir or dolutegravir) and in the version of tenofovir they received (the newer TAF or the older TDF).
This phase III trial enrolled 243 people with HIV/HBV co-infection, mostly in Thailand, China or Malaysia, who had not previously been treated for HIV or hepatitis B. Most were men, about 90% were Asian and the median age was about 32 years. About 80% were hepatitis B 'e' antigen (HBeAg) positive.
At study entry, they had an HIV RNA viral load of 500 or higher and an HBV DNA viral load of at least 2000. The median CD4 count was quite low, at approximately 240, and 40% fell below 200. Their HIV was not resistant to emtricitabine or tenofovir, and they had adequate kidney function (a criteria for people taking TDF).
Participants were evenly randomised to receive B/FTC/TAF or dolutegravir plus FTC/TDF. The primary endpoint was HIV and HBV viral suppression at 48 weeks, with treatment continuing through 96 weeks.
Both regimens were highly effective at suppressing HIV, as seen in previous studies of people with HIV alone. At 48 weeks, 95.0% of people taking B/FTC/TAF and 91.0% of those taking dolutegravir plus FTC/TDF had an HIV viral load below 50. CD4 cell gains were 200 and 175, respectively.
HBV viral suppression was less common, and B/FTC/TAF proved superior to dolutegravir plus TDF/FTC: 63.0% and 43.4%, respectively, had HBV DNA below 29, a statistically significant difference. The time course of HBV DNA decline was similar in both groups.
Among participants who were HBeAg positive at baseline, 25.6% in the B/FTC/TAF arm experienced HBeAg loss at 48 weeks, compared with 14.4% in the dolutegravir plus FTC/TDF group. HBeAg seroconversion has also higher in the B/FTC/TAF group, 23.3% vs 11.3%, respectively. The latter difference was statistically significant at 48 weeks, Avihingsanon reported.
Declines in hepatitis B surface antigen were less common: 12.6% in the B/FTC/TAF arm and 5.8% in the dolutegravir plus FTC/TDF group achieved HBsAg loss at 48 weeks, and 8.4% vs 3.3%, respectively, experienced HBsAg seroconversion. Although the rates of HBsAg loss and seroconversion were numerically higher in the B/F/TAF arm, the differences did not reach statistical significance at 48 weeks.
People taking B/FTC/TAF were more likely than those in the dolutegravir plus FTC/TDF group (73.3% vs 55.3%, respectively) to experience ALT liver enzyme normalisation, but again the difference was not significant at 48 weeks. Seven and four participants, respectively, experienced ALT flares, bursts of liver inflammation that can be a precursor to HBsAg loss.
Looking at HIV drug resistance, three people who did not achieve HIV suppression in the B/FTC/TAF group and four in the dolutegravir plus FTC/TDF group met the criteria for resistance testing. One person in the latter group had NRTI resistance, but none showed evidence of integrase inhibitor resistance.
Treatment was generally safe and well tolerated, Avihingsanon said. The frequency of drug-related adverse events was similar in the B/FTC/TAF and dolutegravir plus FTC/TDF arms (24% vs 27%, respectively), as were severe laboratory abnormalities (34% vs 31%).
The most common drug-related adverse event in both groups was weight gain, reported by 6% and 7%, respectively. This is noteworthy because in prior studies TAF has been linked to weight gain and TDF to weight loss. Total and LDL cholesterol increases were uncommon, but seen more often in B/FTC/TAF group.
Severe drug-related adverse events were rare in both groups, 5% and 1%, respectively. Only one person with liver cancer in the B/FTC/TAF arm discontinued therapy due to treatment-emergent adverse events.
Based on these results, the researchers concluded that initial treatment with B/FTC/TAF was non-inferior to dolutegravir plus FTC/TDF when it came to HIV suppression. B/FTC/TAF was associated with a higher rate of HBeAg seroconversion, with numerically higher but not statistically significant differences in HBeAg loss, HBsAg loss or seroconversion and ALT normalisation.
B/FTC/TAF "is a safe and effective treatment" for people with HIV and HBV co-infection, Avihingsanon said.
Commenting on the findings, Lewin noted that HBeAg seroconversion is one marker of successful hepatitis B treatment. "These are important findings not just for people living with HIV but for hepatitis B management more generally."
References
Avihingsanon A et al. Week 48 Results of a Phase 3 Randomized Controlled Trial of Bictegravir/Emtricitabine/Tenofovir alafenamide (B/F/TAF) vs Dolutegravir + Emtricitabine/Tenofovir Disoproxil Fumarate (DTG+F/TDF) as Initial Treatment in HIV/HBV-Coinfected Adults (ALLIANCE). 24th International AIDS Conference, Montreal, abstract OALBX0105, 2022.
View the abstract on the conference website.
Update: this article was corrected on the day of publication to remove an incorrect statement about pill burden.