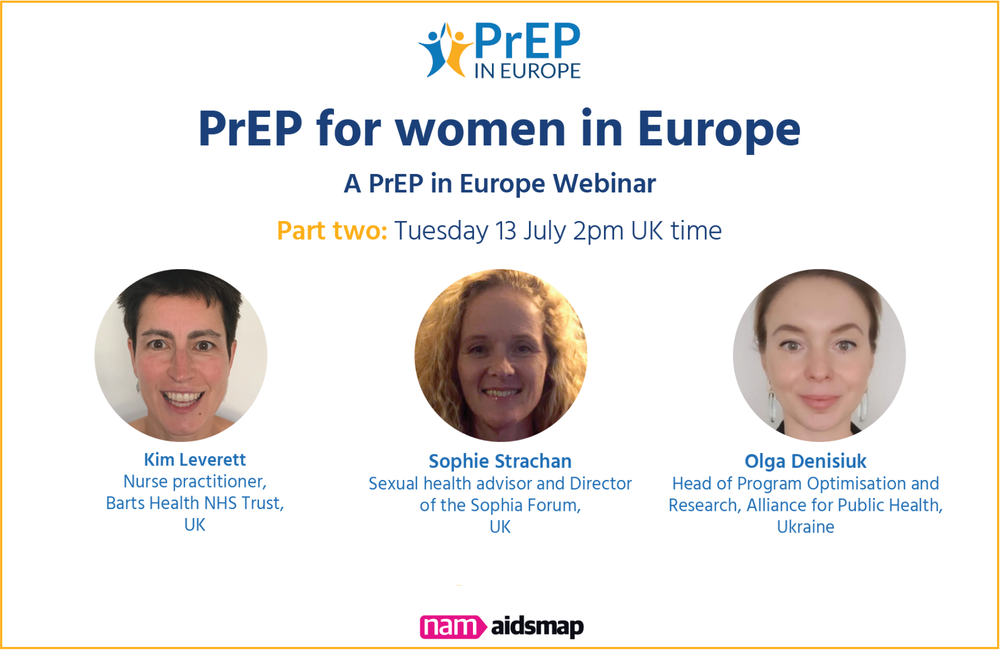 On Tuesday 13 July at 2pm (UK time), PrEP in Europe is holding the second part of its webinar on PrEP for women in Europe. You can watch the first part, held in June, on YouTube.
Register for the Zoom webinar here. After registering, you will receive a confirmation email containing information about joining the meeting. (The Zoom link is live from 1.30pm to allow for technical rehearsal).
The webinar will include presentations by:
Kim Leverett, nurse practitioner at Barts Health NHS Trust in east London, which recruited the largest group of women to England's IMPACT PrEP rollout trial.
Sophie Strachan, a UK sexual health advisor who is also co-ordinator of the Sophia Forum, an advocacy and rights group for women affected by HIV.
Dr Olga Denisiuk, who is the head of the Programme Optimisation and Research Team of the Alliance for Public Health, Ukraine and is involved in the PrEP demonstration projects there.
Visit the PrEP in Europe website to find out more about its work www.prepineurope.org.
Edit 8/7: Dr Vanessa Apea is no longer able to take part in the webinar so Kim Leverett will be presenting in her place.