Only 1.5% of PrEP users are aged 17 or under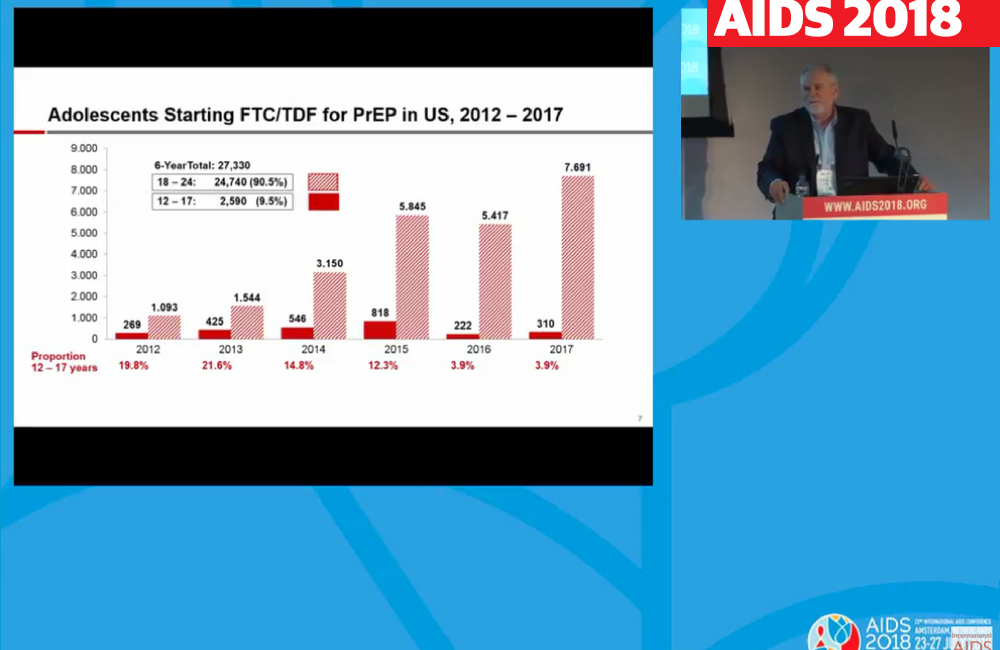 Only 1.5% of people who have used pre-exposure prophylaxis (PrEP) in the United States are aged 17 or younger, and more than 80% of them are girls and young women, according to estimates from Gilead Sciences presented last week at the 22nd International AIDS Conference (AIDS 2018) in Amsterdam.
Given that new HIV infections in the US are largely concentrated among young men who have sex with men – especially young African-American and Latino gay men – these findings highlight the importance of making PrEP more available to those at greatest risk.
The US Food and Drug Administration approved Truvada (tenofovir/emtricitabine) for HIV prevention in July 2012; this was extended to adolescents this past May. Its use has risen steadily since then, but it has been difficult to determine the total number of people who use PrEP because this data is not centrally collected.
For the past several years Gilead Sciences, the maker of Truvada, has been presenting PrEP use estimates based on surveys of commercial pharmacies. At the 2017 International AIDS Society Conference on HIV Science, Gilead researchers reported that an estimated 120,000 people had ever started Truvada for PrEP from 2012 to early 2017.
However, PrEP is still only reaching a small proportion of those who could benefit. The US Centers for Disease Control and Prevention estimates that less than 10% of the 1.2 million people at substantial risk for HIV infection are using PrEP.
This includes young gay and bi men, who in 2016 accounted for around 20% of new HIV diagnoses. More than 80% of these were among young gay men and more than half were in young black gay men. The 2017 Gilead numbers indicated that about 10% of men and a quarter of women using PrEP were under aged 25.
In the early years of the survey, a large proportion of PrEP users were women, before gay men started promoting PrEP within their communities. In part, this reflected the use of PrEP to prevent HIV transmission within serodiscordant couples who were trying to conceive.
The youngest PrEP users are still predominantly girls and young women, said David Magnuson of Gilead, who presented an analysis of the latest pharmacy survey data focusing on PrEP usage among adolescents and young adults.
The ongoing survey looks at a nationally representative sample of de-identified prescription data from more than 80% of retail pharmacies in the US, including independent pharmacies, chain stores, mail-order pharmacies and clinics. The survey excludes Truvada prescriptions that probably weren't for PrEP, such as those for HIV treatment, post-exposure prophylaxis (PEP) or off-label hepatitis B treatment.
The major limitation is that it doesn't include all the ways people may obtain PrEP, including university or military health facilities and closed health systems (such as Kaiser Permanente). PrEP prescriptions may not precisely reflect the number of people who actually started PrEP, and some who start do not stay on it.
Looking at data from January 2012 through December 2017, the total number of people starting PrEP reached 177,223. Of these, 27,330 (15.4%) were aged 12 to 24, and just 2590 (1.5%) were aged 17 or younger.
The proportion of people aged 12 to 24 declined during 2014-2016 – as PrEP use skyrocketed among older gay and bi men – but then started rising again:
2012: 1362 (17.0%)
2013: 1969 (17.8%)
2014: 3696 (15.1%)
2015: 6663 (14.6%)
2016: 5639 (13.8%)
2017: 8001 (16.9%)
Breaking down the age distribution further, adolescents aged 12 to 17 accounted for nearly 20% of new PrEP prescriptions among people under 25 in 2012-2013, but both the proportion and the absolute number fell dramatically in 2016:
2012: 269 (19.8%)
2013: 425 (21.6%)
2014: 546 (14.8%)
2015: 818 (12.3%)
2016: 222 (3.9%)
2017: 310 (3.9%)
Although women account for around 18% of PrEP users overall, more than 80% of the youngest users were girls and young women. About 75% of 12 year olds and 90% of youth aged 13 to 15 who used PrEP were female. This proportion then gradually declined, falling to around 25% for 20 and 21 year olds and down to 20% for those aged 22 to 24.
This disparity suggests that awareness of the need for HIV prevention, or willingness of providers to prescribe it, is greater for young women than for young men.
Adolescents aged 12 to 17 received Truvada for PrEP mostly from paediatricians (38%), followed by emergency medicine providers (21%) and family practice providers (13%). Family practice and internal medicine doctors provided most prescriptions for those aged 18 and older.
About three in five (59%) PrEP users in the 12 to 17 age group received coverage through Medicaid, compared with 22% of those aged 18 to 24 and 13% of adults. Nearly a third of those aged 18 to 24 and 38% of adults obtained PrEP through commercial insurance. In both groups, 37% received coverage from unspecified 'other' sources.
Based on these findings, the researchers concluded, "there remains an important unmet need to improve awareness and engagement on HIV prevention for adolescents and young adults at risk for HIV."