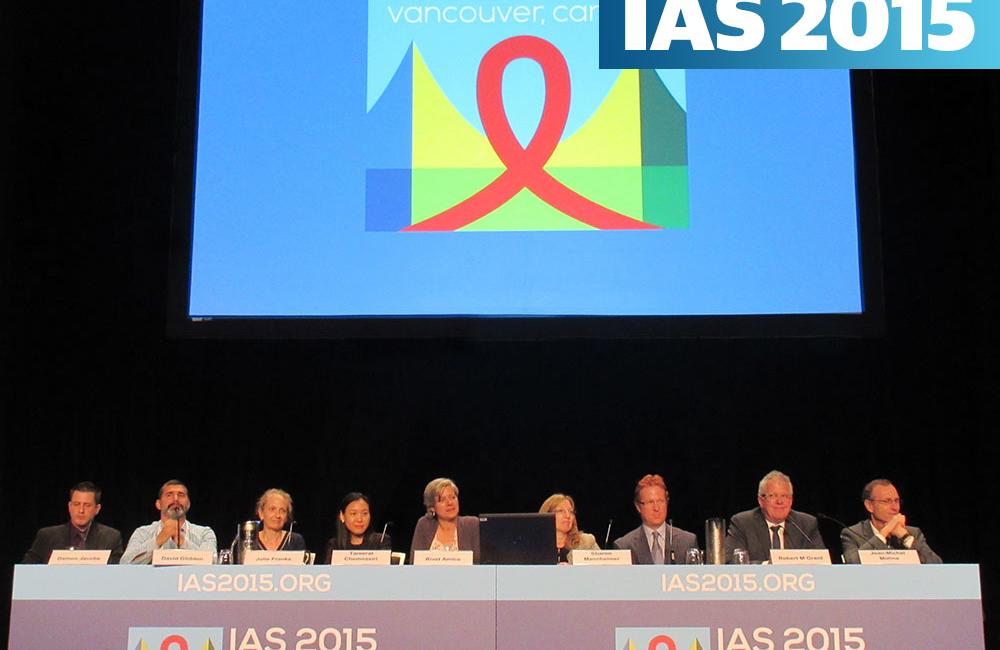 The reasons whether or not people come forward for pre-exposure prophylaxis (PrEP) or take it once prescribed are likely to be very mixed, and dependent as much on local political and cultural beliefs as they are on more personal factors like relationship status, the Eighth International AIDS Society Conference on HIV Pathogenesis, Treatment and Prevention (IAS 2015) heard yesterday.
The HPTN 067 (ADAPT) study is a phase II open-label study of Truvada PrEP based in three world cities (Cape Town, Bangkok and Harlem, New York). It aims to evaluate the ease of use and feasibility of three different PrEP regimens: daily dosing, timed dosing (meaning two doses a week plus an extra dose two hours after sex, if it happens), and event-driven dosing, which means one dose 2-24 hours ahead of anticipated sex and one two hours after, if it happens.
For the data on adherence, pill usage and HIV infections, see this report.
Each of the three city studies also had qualitative studies attached to it so that participants could relate their experience of taking PrEP.
Cape Town
In Cape Town, 18 of the 179 women involved gave in-depth interviews to the researchers – six in each regimen arm, three in the first half of the study and three near its end. There were also six focus groups of seven participants each. Thus 60, or about a third of study participants, gave qualitative feedback.
Rivet Amico of the University of Michigan, who headed the qualitative study, said that attitudes of participants in this and in other prevention studies ranged over a whole spectrum from full endorsement to complete distrust. Adherence (the percentage of pills taken) and persistence (the length of time participants stayed in the study as active participants) were likened to these attitudes. She said that attitudes towards the study varied from complete distrust and avoidance of pill-taking to empowerment and acting as a champion for PrEP.
Factors that might particularly influence African participants included 'Ubuntu', the belief that the worth of an individual depends on the contribution they make to their surrounding community: the trial would be weighed against standards of community usefulness.
Scepticism about the trial was not necessarily unhealthy: participants might be well aware that a scientific trial's outcome was uncertain and might have fears of taking PrEP and distrust of the integrity and trustworthiness of the trial and its researchers. These could be amplified or diminished by the influence of the community and especially by other PrEP champions or anti-PrEP advocates.
Distrust was more common in this and other PrEP studies in South Africa than in some other settings because participants were more likely to join the trial for other motives such as the medical benefits it offered, while actually not believing in the benefit of PrEP. Such participants could even act as advocates against PrEP. "I will never drink [take] these pills because I don't trust them" said one.
Cautious exploration was the term best suited to the next category, who weren't sure what they thought about PrEP and could be swayed by arguments for or against it, with resulting irregular adherence. "I was getting confused and pressured because I did not know whether to continue to take tablets or not" said one participant.
Provisional acceptance characterised the next group, who were motivated to try to take PrEP. Their persistence was good but they often found actually remembering to take the pills challenging: they were characterised more by a determination to be good participants than by a feeling of empowerment: "I wouldn't do that [i.e. not take the tablets] because I want to see if these pills really, really work" said one.
Ownership was the best word to describe the attitude of the fourth group, who did not just feel like enrolled participants, but like partners in a joint enterprise. They often acted as champions for PrEP and saw it as their job to combat negative perceptions and beliefs. One factor that African participants in PrEP trials, in particular, have cited as a barrier to adherence is the assumption by family and friends that someone taking an antiretroviral pill must have HIV. One participant described combating such remarks: "And I said, 'look here, ask me. And don't you dare say I have HIV, telling everyone in this shop. We are doing research here'."
Rivet Amico commented that depending on where they were in this spectrum, the usual adherence counselling strategies might help but might also have counterproductive effects. If someone was already distrustful of the trial, then asking them to address barriers to adherence might only entrench distrust: beliefs needed to be addressed rather than difficulties. Equally, people who felt like partners and advocates might feel disempowered and talked-down to if constantly reminded of the importance of adherence: instead, counselling might concentrate on supporting their advocacy. "Don't assume people enter a study 'neutral'", Amico said.
Bangkok
In Bangkok, 38 out of the 180 men who have sex with men (MSM) involved took part in qualitative evaluation of the study, 32 in six focus groups of five men, and 6 in one-to-one interviews. They were only interviewed towards the end of the study.
The MSM in the Bangkok study tended to talk much more specifically about the pros and cons of the three different regimens in terms of sex and relationships.
Presenter Tareerat Chemnasiri said that daily PrEP was preferred by many because there was no association with sex and it could be passed off as another medicine: "It would be awkward to take a tablet before or after sex. My partner would ask what the tablet was for. But for daily dose, I could say it was dietary supplement," said one participant.
A number of participants emphasised that they did not always have control over when they had sex: "My boyfriend always controls when to have sex, even though it is not often. So, I continue to take tablet two days a week and just wait for the sex to happen," said one. With others, lack of opportunity rather than lack of control was the issue, and here the twice-weekly dose made the most sense: "I don't plan for sex, [but I do] carry the tablets with me all the time."
One participant said he would prefer event-driven PrEP as he did not have enough sex to justify daily dosing. But several others had difficulty with the post-sex dose in the intermittent-PrEP arms: "After coming back from the bar, I took a tablet at 2am right before having sex and I had to wait 2 hours to take post sex dose at 4am. I already fell asleep by then." (This, incidentally, was a major problem cited by one of the few other studies of PrEP in MSM in a non-high-income country, a small study done in Kenya).
One participant however liked intermittent PrEP because it actually served as a prompt for sex, almost an aphrodisiac: "I always ask for sex from my boyfriend. Sometimes, he says yes. Sometimes, he's tired. But, if I'm really horny I would take a tablet and get what I want."
New York
In the New York study, 37 men took part in qualitative interviews including six in-depth interviews and 31 in focus groups. Here, many of the participants also concentrated on the practicalities of daily or event-driven dosing. Many did not like the idea of associating pill-taking with sex, some just felt it was 'awkward' if the other partner was not also taking a pill, while some encountered outright hostility: "My partners would be like, 'Why are you taking those pills?' [and] sometimes it would never get to the intercourse part. It would just stop the night. They would be mad and leave." Even some with steady partners, however, felt they had to conceal their PrEP taking: "If you got a steady partner you know when you are going to do it or not. You can have [the pill]; 'Hold on, let me go to the bathroom' – pop it. Because ... some people are not ready to just accept things. They live in ... in a fantasy world where you don't think it can happen to you."
However participants were also more concerned than the Thai gay men about stigmatising attitudes from other people including healthcare workers, relatives, and friends: again, there was a widespread assumption that the participant must have HIV if they were taking a pill. "You telling them you're taking a pill to prevent it; they thinking you taking a pill to stop it," said one.
The participants had encountered 'slut-shaming' and the assumption that they must be promiscuous if they were taking PrEP, while others distrusted that PrEP worked and therefore assumed that a person who took PrEP was at higher risk of having HIV: "One of my partners was like, 'Whoa. What does this mean? What are you doing?' Indicating that taking the pill means that I'm willy-nilly having unprotected sex." "A few of them were just like – 'I'd rather not have sex with you because I don't know if PrEP works,' or 'You're probably just like a big whore."
However, participants also described feelings of anxiety relief, protection and empowerment from taking PrEP. One said he called it his "Superman pill" while another rather said: "I was protected. Like that [pill] was my older brother and I was getting beat up by the bully at school."
Presenter Julie Franks of Columbia University said that interventions to address HIV-related stigma in the context of PrEP use were needed for black men who had sex with men in the US.
However, she added that "Our qualitative sample of mostly black MSM valued PrEP as a significant improvement over existing HIV prevention strategies."
References
Amico KR et al. PrEP experiences among South African women in the HPTN067 (ADAPT) study: Healthy paranoia (skepticism), Ubuntu, champions and challenges to resolving PrEP dissonance. Symposium presentation, Eighth International AIDS Society Conference on HIV Pathogenesis, Treatment and Prevention. Symposium no MOSY01. 2015.
A webcast of this presentation is available on the conference YouTube channel.
You can download the slides of this presentation from the conference website.
Chemnasiri T et al. Patterns of sex and PrEP in Bangkok MSM (HPTN 067/ADAPT Study). Symposium presentation, Eighth International AIDS Society Conference on HIV Pathogenesis, Treatment and Prevention. Symposium no MOSY01. 2015.
A webcast of this presentation is available on the conference YouTube channel.
You can download the slides of this presentation from the conference website.
Franks J et al. Patterns of Sex and PrEP in Harlem MSM: A qualitative study (HPTN 067). Symposium presentation, Eighth International AIDS Society Conference on HIV Pathogenesis, Treatment and Prevention. Symposium no MOSY01. 2015.
A webcast of this presentation is available on the conference YouTube channel.
You can download the slides of this presentation from the conference website.
Where available, you can view details of sessions, view abstracts, download presentation slides and find webcasts using the conference 'Programme at a Glance' tool.
You can also download a PDF of the abstract book from the conference website.