Results of other studies are mixed; World Health Organization supports provision of injectables in high-prevalence countries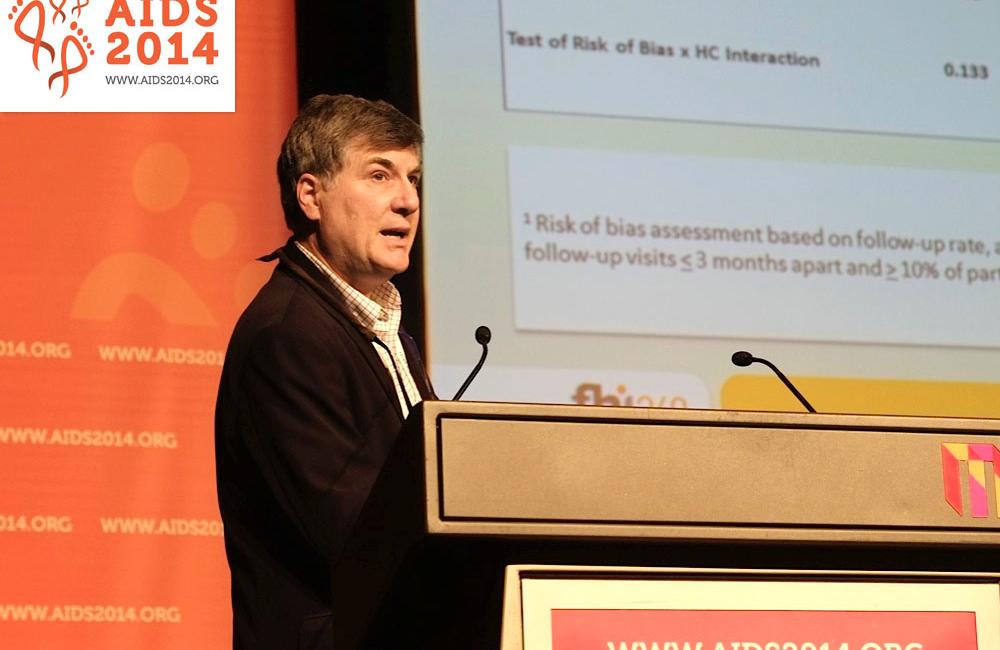 A sophisticated meta-analysis, pooling individual-level data on 37,000 women, has found that the use of DMPA injectable hormonal contraception is linked with a higher rate of new HIV infections in women, the 20th International AIDS Conference (AIDS 2014) in Melbourne heard today. However, the conference was also told that a large Zambian study has not found any link between contraceptive use and HIV infection. Furthermore, the World Health Organization (WHO) announced at the same session that its guideline supporting the provision of this contraceptive to women at risk of HIV infection remains unchanged.
WHO reviewed research on the issue earlier this year, concluding that the data that were available at the time did not support restrictions on the use of injectable contraceptives, and agreed a new version of its guidance just a few days ago. However, they could not take into consideration the two analyses released today, nor a number of new studies which are expected to issue findings within the next year. WHO's guidance will likely need to be reconsidered when those data are available.
The potential for some hormonal contraceptives to raise a woman's risk of HIV infection has been the subject of scientific debate for several years. Around half the available studies suggest an increased risk, but half do not. Moreover, accurately assessing associations between contraceptive use and HIV infection with data from observational studies is challenging and analytically complex. Studies have used inconsistent approaches and generated a body of evidence that is complicated and difficult to interpret.
Furthermore, HIV is not the only consideration when it comes to contraceptive use. The broader health impact of fewer women using effective, long-acting contraceptives could be significant. In settings where maternal mortality is high due to complications of pregnancy or childbirth, effective contraception contributes to better health outcomes in women. Infants of mothers who die in childbirth have poorer health outcomes; closely spaced pregnancies contribute to infant mortality.
Charles Morrison of FHI 360 presented the results of a meta-analysis, which aimed to determine whether the use of specific hormonal contraceptives increases the risk of HIV acquisition compared to women not using hormonal contraception, or using a different form of contraceptive.
Most meta-analyses take the overall results from previously published research and combine each study's results. The figures used are "aggregate data" – the overall average or estimate derived from each study.
In contrast, this was an individual participant data meta-analysis, a more sophisticated and complex approach. It involved collecting the raw data on all individual study participants from the original researchers and pooling it. This ensures greater consistency in the way the data are analysed (e.g. attention to confounders) and a greater ability to analyse the findings for different subgroups of participants.
Eighteen prospective observational studies were included, with data on 37,124 women. All were conducted in southern or eastern Africa. Reported contraceptive use included 28% using the injectable depot medroxyprogesterone acetate (DMPA, Depo Provera), 8% using the injectable norethisterone enanthate (NET-En, Noristerat), 19% using a combined oral contraceptive pill, and 43% not using any form of hormonal contraceptive. A total of 1830 women acquired HIV while in a study.
Compared to non-users, women using DMPA had an elevated risk of infection (hazard ratio 1.56, 95% CI 1.31-1.86), as did women using NET-En (1.51, 95% CI 1.21-1.90). There was no increased risk for women using oral contraceptives.
Similarly, comparing women using injections with those using oral contraceptives, there was an elevated risk associated with DMPA (1.43, 95% CI 1.23-1.67) and NET-En (1.30, 95% CI 0.99-1.71).
The results were consistent in several subgroup and sensitivity analyses. However, when only studies which were judged to be methodologically more reliable were included, the increased risk appeared smaller.
Charles Morrison did not use his findings to argue for a restriction on the use of injectable contraception in settings with a high prevalence of HIV. He acknowledged the limitations of all observational data and argued that what is needed is a well-conducted randomised controlled trial – something he is seeking funding for.
The findings of the meta-analysis were not replicated in a study from Zambia, presented by Kristin Wall of Emory University. While the findings from systematic reviews and meta-analyses are usually considered to carry more weight than single studies, the Zambian study was methodologically rigorous and is one of only two large studies to have recruited serodiscordant couples.
The cohort included 1393 couples, each with an HIV-positive man and HIV-negative woman. The female partner provided information about sexual behaviour and contraceptive use, and was tested for HIV, every three months. Couples stayed in the cohort for an average of two years.
During this time, 252 women acquired HIV. Incidence of HIV infection was 8.4% for women who did not use hormonal contraception, 10.7% for women using injectable contraceptives, 11.5% for women using oral contraceptives and 7.3% for women using a contraceptive implant. However, these apparent differences were not in fact statistically significant and appear to have been driven by differences in sexual behaviour – for example, women using injectables and oral contraceptives reported more unprotected sex than women who did not use hormonal contraceptives.
Moreover, in several multivariate models which took into account a range of factors which could skew the results, the risk of acquiring HIV did not vary according to the contraceptive used. The study did not find any association between the use of hormonal contraceptives and HIV infection.
WHO guidance
Mary Lyn Gaffield of the World Health Organization outlined WHO's latest recommendations on contraception and HIV, based in part on a systematic review conducted earlier this year and published today in the journal Contraception.
That review identified nine studies described as "informative" but with important methodological limitations. While five found that injectable contraceptives have no impact on HIV infection, four suggested hazard ratios ranging from 1.48 to 2.54.
Gaffield said that the epidemiological data did not warrant a change to WHO's guidance that DMPA and NET-en are available, without restriction, in areas of high HIV prevalence.
Nonetheless, the guidance states: "Women at high risk of HIV infection should be informed that progestogen-only injectables may or may not increase their risk of HIV acquisition. Women and couples at high risk of HIV acquisition considering progestogen-only injectables should also be informed about and have access to HIV preventive measures, including male and female condoms."
In relation to other methods of hormonal contraception, the WHO guidance does not recommend restrictions for women at risk of HIV or women living with HIV. Intrauterine devices (IUD) with progestogen can generally be used, but initiation should usually be avoided if women have advanced or severe HIV disease.
The review examined the data on contraception and HIV transmission (from women to men), as well as on contraception and HIV disease progression, and did not find convincing evidence of increased risks.
For women taking antiretroviral therapy, the guidance says they are generally able to use hormonal contraception. However, due to potential drug interactions, the document outlines some considerations when taking efavirenz, nevirapine and some protease inhibitors.
References
Morrison C et al. Hormonal contraception and HIV infection: results from a large individual participant data meta-analysis. 20th International AIDS Conference, Melbourne, abstract THAC0503, 2014.
View this abstract on the conference website.
Wall K et al. Weighing 17 years of evidence: does hormonal contraception increase HIV acquisition risk among Zambian women in discordant couples? 20th International AIDS Conference, Melbourne, abstract THAC0504, 2014.
View this abstract on the conference website.
Gaffield ME et al. HIV and contraception – complex issues for safe choice: the latest recommendations from the World Health Organization (WHO). 20th International AIDS Conference, Melbourne, abstract THAC0505LB, 2014.
View this abstract on the conference website.
Polis CB et al. Hormonal contraceptive methods and risk of HIV acquisition in women: a systematic review of epidemiological evidence. Contraception, online ahead of print, 2014.