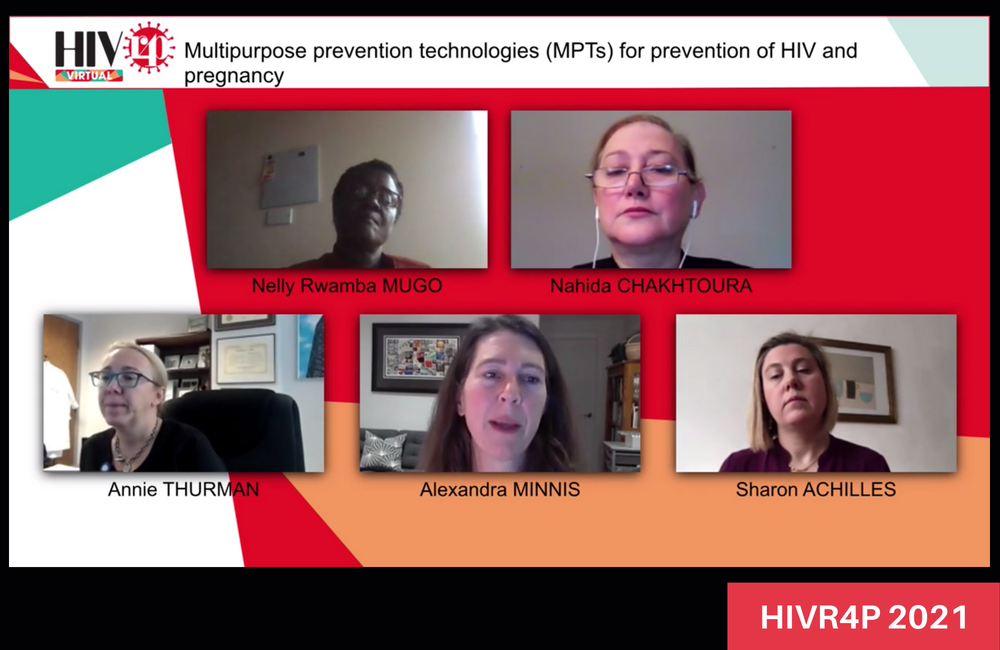 Preventing unwanted pregnancy and HIV infection by using one product could be a reality one day. Early research on several products presented last week at the virtual HIV Research for Prevention (HIVR4P) conference showed that they are safe and that potential users are attracted by the idea of a two-in-one prevention method.
High rates of HIV and unintended pregnancy in sub-Saharan Africa have spurred the search for prevention methods controlled by women that could prevent HIV and pregnancy. Multipurpose prevention technologies (MPTs) could combine methods for preventing HIV and pregnancy into a single product, such as a pill or vaginal ring, potentially improving uptake and adherence of HIV prevention.
Multipurpose prevention technologies could address several sexual and reproductive health needs for women. As well as products to prevent HIV infection and unwanted pregnancy, another option is to combine PrEP drugs with an agent that prevents a sexually transmitted infection (STI). Because STIs are caused by a wide range of viruses and bacteria, early-stage research has tended to focus on preventing single infections that increase the risk of HIV, such as HSV-2 or gonorrhoea.
Other multipurpose prevention technologies are being developed to prevent unwanted pregnancy and a broad spectrum of STIs. For example, the Population Council is developing a vaginal insert to lower vaginal acidity (pH); this will inactivate sperm and bacteria. A variant on this product also contains an agent that stops HIV entering cells.
Altogether, 24 products are in development, most still in pre-clinical laboratory testing, according to the Initiative for Multipurpose Prevention Technologies.
New data at HIVR4P
Women – and men – would like the option of using a multipurpose prevention method, preferably a tablet. Research carried out in 400 couples in Zimbabwe and Uganda, led by Dr Alexandra Minnis, found that 91% of women and men would prefer a 'two-in-one' method, chiefly because it would avoid the need to raise the topic of HIV prevention and because it would be easier to manage one method. Oral dosing every month or every two to three months was preferred to intravaginal rings or daily dosing.
All multipurpose technologies are in early-stage development. HIVR4P heard early results on products designed to prevent HIV infection and unwanted pregnancy, one containing dapivirine.
The World Health Organization last week recommended that an intravaginal ring containing the anti-HIV drug dapivirine should be offered as an alternative HIV prevention method for women who cannot use oral PrEP.
Dr Sharon Achilles of University of Pittsburgh Center for Family Planning Research reported on a phase 1 study of an intravaginal ring that will deliver dapivirine and the hormonal contraceptive levonorgestrel, at a dose of 120 μg/day for the first month, then 85 μg per day.
Periodic removal of contraceptive products to optimise bleeding patterns is common but the impact of removing the intravaginal ring at regular intervals for HIV prevention is unknown. The study compared continuous use for 90 days or use for 28 days followed by two days with the ring out, repeated three times over the 90-day use period. The study recruited 25 women in Pittsburgh.
The study found no difference in vaginal bleeding frequency between continuous or cyclical users.
Although plasma dapivirine levels did not fall below the minimum concentration approved for HIV prevention after removal of the ring, dapivirine levels in vaginal fluid fell very sharply after removal. It is not known if levels of dapivirine in vaginal fluid are critical for prevention of HIV infection.
"We don't yet know if efficacy will be maintained with periodic removal," Achilles said. "With the dapivirine-levonorgestrel ring we are going for ovulation suppression – the HIV prevention benefit is likely to be seen as additional. I call it 'contraception plus'."
Forty per cent of women in the study reported at least one involuntary expulsion of the ring and slippage was common. The ring has been reformulated to overcome this problem.
CONRAD, a research organisation focused on new sexual and reproductive health products, is developing a tenofovir and levonorgestrel intravaginal ring. Dr Nelly Mugo presented results of a phase 2a study comparing the safety and pharmacokinetics of this ring with a tenofovir-only ring or a placebo ring. Rings were used continuously for 90 days. The study found that the rings containing active products were safe and produced adequate concentrations of tenofovir and levonorgestrel in cervicovaginal fluid.
"Other antiretrovirals that can be delivered as long-acting products may change thinking about how PrEP and contraception can be delivered together."
Professor Annie Thurman of CONRAD presented results of CONRAD 138, the ENRICH study, which compared continuous or cyclic use of a tenofovir/levonorgestrel intravaginal ring to a placebo ring. Women in the cyclic arm used the ring in three 28-day cycles with three-day interruptions between each cycle. The ring delivers 20 μg per day of levonorgestrel.
Bleeding at unpredictable times during the menstrual cycle and increased bleeding during menstruation are common side effects of levonorgestrel: menstrual bleeding is frequently cited as a reason for discontinuing the use of a contraceptive implant containing levonorgestrel.
"That's why we used a microdose of levonorgestrel – it's consistent with recent contraceptive developments of using microdoses to reduce systemic side effects," Annie Thurman said in a question and answer session after presenting the data.
The ENRICH study found that a majority of women in the study did not report major changes in their menstrual cycle or extent of bleeding. There was no significant difference between study arms in the proportion of women reporting irregular menstrual bleeding.
Tenofovir levels remained high in vaginal fluid during the three-day removal period in the cyclic arm and tenofovir diphosphate levels in vaginal tissue remained high for at least five days after stopping. Levonorgestrel levels fell below the level needed for contraceptive efficacy within three days after stopping.
Combination products are still in the early stages of development and other antiretrovirals that can be delivered as long-acting products may change thinking about how PrEP and contraception can be delivered together. In a plenary presentation, Dr Sinead Delany-Moretlwe of the University of Witwatersrand pointed out that 8-weekly cabotegravir injections for PrEP could be aligned with long-acting hormonal contraceptive injections. Islatravir, shown to be suitable for monthly PrEP dosing in another study presented at HIVR4P, could be co-administered with a hormonal contraceptive delivered through an implant. Islatravir's developer Merck makes contraceptive implants too.
References
Achilles S et al. Pharmacokinetics, safety, and vaginal bleeding associated with continuous versus cyclic 90-day use of dapivirine and levonorgestrel vaginal rings for multipurpose prevention of HIV and pregnancy. HIV Research for Prevention (HIVR4P) virtual conference, abstract OA06.01, 2021.
View the abstract on the conference website.
Mugo N et al. Randomized, placebo-controlled trial of safety, pharmacokinetics, and pharmacodynamics of 90-day intravaginal rings (IVRs) releasing tenofovir (TFV) with and without levonorgestrel (LNG) among women in Western Kenya. HIV Research for Prevention (HIVR4P) virtual conference, OA06.02, 2021.
View the abstract on the conference website.
Thurman A et al. Randomized, placebo-controlled phase I trial of safety, pharmacokinetics, pharmacodynamics and acceptability of a multipurpose prevention vaginal ring containing tenofovir and levonorgestrel. HIV Research for Prevention (HIVR4P) virtual conference, abstract OA06.03, 2021.
View the abstract on the conference website.
Minnis A et al. Heterosexual couples' preferences for dual-purpose prevention products for HIV and pregnancy prevention: the CUPID Study (MTN-045) in Uganda and Zimbabwe. HIV Research for Prevention (HIVR4P) virtual conference, abstract OA06.04, 2021.