Islatravir could be dispensed at pharmacy visits, suggest researchers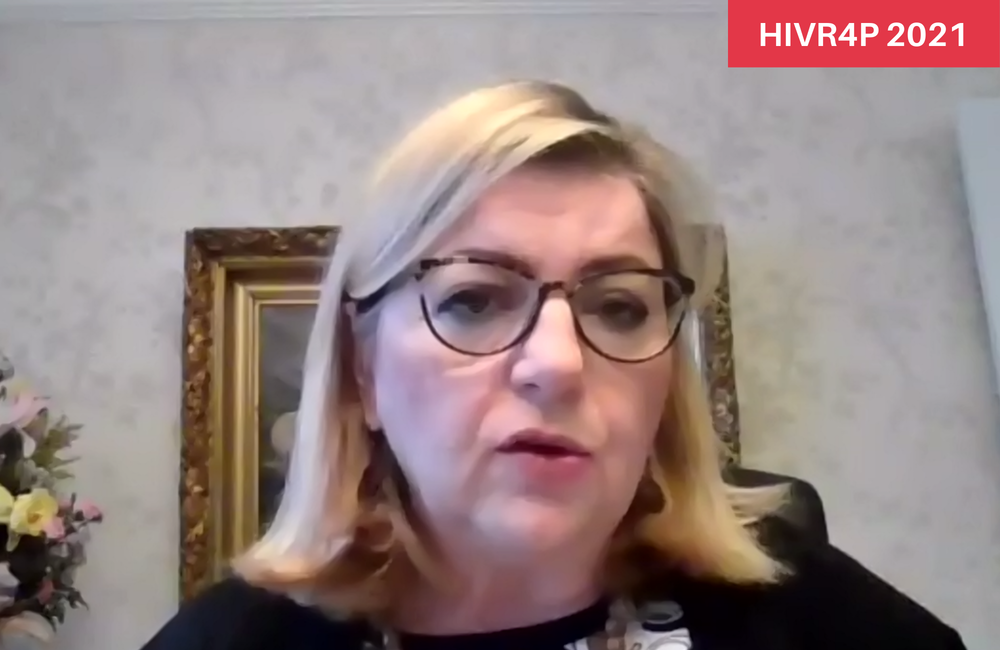 Islatravir (MK-8591) is an antiretroviral drug with a novel mode of operation that has excited a lot of interest in the last two years because of its extraordinary persistence in the body. This means it may only need to be given once a week as an HIV treatment, and a subcutaneous implant that releases the drug might only need to be replaced once a year when used as pre-exposure prophylaxis (PrEP).
Pending the results from studies of an implant, however, a study presented at the HIV Research for Prevention (HIVR4P) virtual conference yesterday showed that islatravir as PrEP can be given very easily as a pill that only needs to be taken once a month.
Professor Sharon Hillier of Pittsburgh University presented the results of a US-based phase IIa study whose aim was to establish the level and persistence of islatravir in the blood and tissues of 250 volunteers aged 18-65 who were at low risk of HIV infection. Drug-level data in blood plasma is available for 192 people up to the end of October, which was the most recent date of analysis.
The volunteers were divided into three groups: 100 volunteers each received six oral monthly doses of either 60mg or 120mg tablets of islatravir, while 50 received a placebo. After the sixth dose, drug levels will continue to be measured for another three months while participants and researchers are still 'blinded', i.e. do not know which study arm they are in, and then for a further five months unblinded. 
Based on single-dose phase I studies, drug levels over each month and their range were forecast to stay well above the level of 0.05 picomols of drug per million cells which is the threshold of efficacy. The purpose of the phase 2 study was to see how closely actual drug levels fitted this model.
The 192 people whose results were presented had an average age of 32, and two-thirds of them were women. Nearly two-thirds (64%) were White, of whom one in six were of Latino origin, while 30% were Black; only a few were mixed-race or of other ethnicities.
Islatravir is not completely without side effects, and more than half (53%) reported at least one adverse event, which may or may not have been connected to the drug. The most common ones reported were gastrointestinal symptoms (nausea, stomach pain, diarrhoea) and headache. Two discontinued the drug due to adverse events, one due to a rash, and four had transient rises in their liver enzymes. However, no adverse events were classed as serious. Six others discontinued the trial early for reasons not related to side effects.
"The once-monthly dose provides enough forgiveness for people to be a couple of weeks late in taking their next dose."
The key data reported to HIVR4P were drug levels reported immediately after dosing and then each week during the first and sixth month of the trial. For the months in between, just the trough levels (i.e. the ones immediately before taking the next dose) were measured.
The trough levels each month were in the order of one picomol per million cells in volunteers taking the 60mg dose (in other words, 20 times the estimated efficacy threshold) and in the order of 40-50 times the efficacy threshold in those taking the 120mg dose. All levels fell within the pre-modelled range and indeed the range between different volunteers was considerably narrower than forecast, with only a two- to threefold range between the lowest and highest levels at any time point. Levels neither increased nor decreased over the six months, with the peak and trough levels remarkably consistent.
In a minority of volunteers, data was available for drug levels up to 28 weeks, which is eight weeks after the last dose. These levels were still four to five times the estimated efficacy threshold. Hillier said that this showed that the once-monthly dose "provides enough forgiveness for people to be a couple of weeks late in taking their next dose."
A subgroup of 54 participants had biopsies taken to measure drug levels in rectal and vaginal tissues and also intracellular levels, but these results are not yet available. The phase I studies suggest that these are not likely to be substantially different to plasma levels.
In terms of efficacy against HIV, so far the only data come from monkeys, who were completely protected from viral challenge by monthly islatravir.
However, human efficacy studies are imminent. The IMPOWER 022 study will recruit 4500 cisgender women in the US and in sub-Saharan Africa, and the IMPOWER 024 study will recruit 2000 gay and bisexual men and transgender women in a number of different countries. Both will compare the efficacy of monthly islatravir against daily tenofovir disoproxil fumarate (TDF)/emtricitabine or, in the case of IMPOWER 024, either TDF or tenofovir alafenamide (TAF) plus emtricitabine. The enrolment of US participants in IMPOWER 022 will start next month, African participants a few months after that, and IMPOWER 024 will start enrolling in late summer this year.
The dose tested will be 60mg because it was felt that 120mg was not likely to provide significantly greater efficacy to be worth risking more frequent side effects.
In terms of how monthly oral islatravir PrEP will eventually be provided (assuming it's effective), Hillier said "We envisage people could go to a pharmacy once a month and either take it right there or take it home with them. This would be ideal for people who don't want an injection but also don't want to risk the discovery of a bottle of pills."
References
Hillier S et al. Trial design, enrolment status, demographics, and pharmacokinetics (PK) data from a blinded interim analysis from a phase 2a trial of Islatravir once monthly (QM) for HIV pre-exposure prophylaxis (PrEP). HIV Research for Prevention (HIVR4P) virtual conference, abstract OA04.05, 2021.