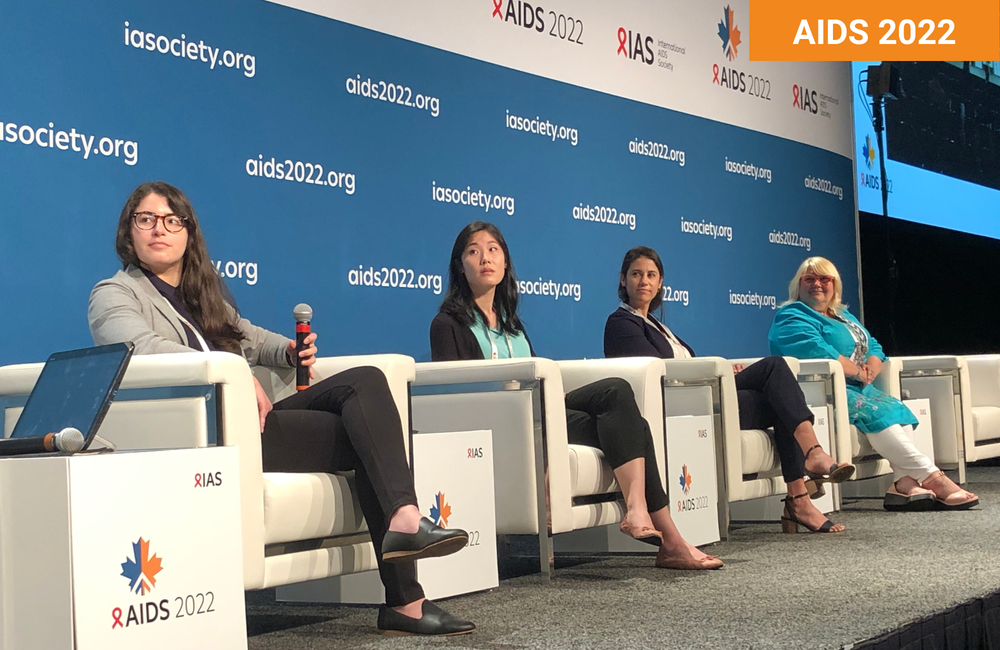 New data on oral PrEP use during pregnancy suggest it is not harmful to children's longer-term development, according to a preliminary analysis presented at the 24th International AIDS Conference (AIDS 2022) on Monday. The study looked at the growth and neurodevelopmental outcomes of infants between the ages of two and three whose mothers had used PrEP (tenofovir disoproxil fumarate/emtricitabine) during pregnancy and found no differences between them and infants whose mothers had not used PrEP. Previous studies of PrEP during pregnancy have only measured infant outcomes up to 12 months after birth.
The World Health Organization (WHO) recommends that pregnant and breastfeeding women at risk of acquiring HIV should be offered daily PrEP containing tenofovir disoproxil fumarate (TDF). This recommendation is supported by data from many women living with HIV who used TDF during pregnancy, which showed that it is safe for both mother and infant, as well as limited data from PrEP users.
Only six studies so far have reported on PrEP safety during pregnancy, although these have produced reassuring results. However, three were based on data from initial PrEP efficacy trials (FEM-PrEP, VOICE, and Partners PrEP) where pregnancy was an exclusion criterion, meaning that PrEP was stopped once pregnancy was detected. These studies therefore only provided data on short-term, early first-trimester exposure to PrEP. The other studies did include pregnant women but only assessed infant outcomes up to a year after birth, meaning that a number of questions remain in relation to longer-term safety of PrEP exposure for infants.
Given the need for more evidence, a team of researchers from Kenyatta National Hospital and the University of Washington therefore designed the PrIMA-X study to provide longer-term data on the safety of PrEP use during pregnancy. The study involves measuring growth and neurodevelopment among children with and without prenatal PrEP exposure from birth to five years of age. PrIMA-X is an observational cohort study which is an extension of a larger randomised controlled trial – the PrEP Implementation for Mothers in Antenatal Care, or PrIMA, study.
In the PrIMA study, 4447 HIV-negative women in western Kenya were enrolled and offered PrEP during their pregnancy and assessed at regular intervals up to nine months after they had given birth, regardless of whether they took PrEP. PrIMA-X enrols mother-child pairs at 4 PrIMA sites and follows them up until the child's fifth birthday (or 60 months after birth). Enrolment is still ongoing, so the preliminary analysis presented at AIDS 2022 focused on infant outcomes between 24 and 36 months.
Study nurses assess children's growth and neurodevelopment at six-month intervals. Neurodevelopment is measured using the Ages and Stages questionnaire – a standardised questionnaire conducted with mothers which assesses a variety of social and emotional topics, such as communication and behaviour.
At the time of analysis, data were available for 664 mother-child pairs. The median age of mothers and children when enrolled in the cohort was 28 years and 26 months respectively. Only 119 (17%) started PrEP in their pregnancy. Mothers began PrEP a median of 27 weeks into their pregnancy, took it for a median of 2.4 months during pregnancy, and 54% continued to use PrEP nine months after giving birth.
There were no differences between the groups of mothers who had and had not used PrEP during pregnancy in relation to marital status, education, number of living children, or premature birth. However, more mothers who had used PrEP in pregnancy had a partner known to be living with HIV than those who had not used PrEP (13% vs 3%).
In their statistical analysis of the association between prenatal PrEP exposure and growth and neurodevelopment, the researchers adjusted for a number of potential differences between those who did and did not use PrEP during pregnancy. These included age, partner's HIV status, having a syphilis diagnosis during pregnancy, and length of pregnancy.
This study found that infants exposed to PrEP during pregnancy were no more or less likely to experience stunting, wasting, or be underweight than infants not exposed to PrEP. Children's length and weight were the same at 24, 30 or 36 months. Neurodevelopment between infants exposed to any PrEP during pregnancy and those who were not was also the same.
These preliminary findings therefore support previous studies that indicate that using PrEP during pregnancy is safe. However, the number of mothers who had used PrEP during pregnancy was relatively small. The researchers hope to enrol another 525 mother-child pairs and will be continuing data collection up to 60 months after birth – which should shed light on the longer-term safety of PrEP during pregnancy.
In the future, the study team intends to assess the relationship between PrEP use during pregnancy and infant bone mineral density and neurocognition. They will also analyse PrEP exposure levels using hair and dried blood samples (which is more precise than relying on self-report) to see if the level of PrEP exposure affects infant outcomes.
Laurén Gómez, presenting the preliminary findings, said "importantly, our study contributes to the very few data available on early childhood outcomes following ARV exposure without the confounder of HIV exposure or infection". Members of the PrIMA-X study team were among the authors of an opinion piece published in the Lancee HIV in March, arguing that the inclusion of pregnant and breastfeeding women in PrEP trials is an ethical imperative.
References
Gómez L et al Association of prenatal PrEP exposure with growth and neurodevelopmental outcomes beyond 24 months among Kenyan children. 24th International AIDS Conference, Montreal, Abstract OAC0502, 2022.