A round-up of the latest HIV news, for people living with HIV in the UK and beyond.
Practical experience of injectable HIV treatment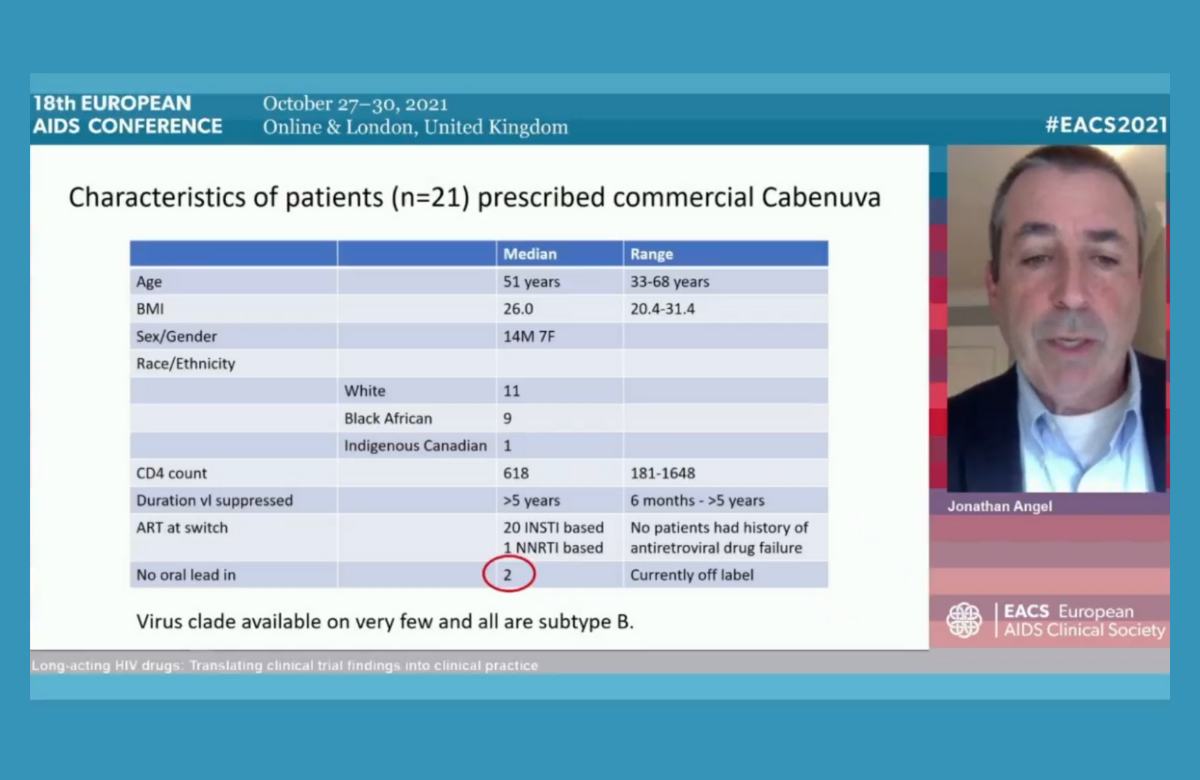 This edition of HIV update focuses on news from the recent European AIDS Conference (EACS 2021) that is particularly relevant to people living with HIV. One of the closely followed presentations at the conference was from Dr Jonathan Angel, one of the first doctors in the world to prescribe the new injectable antiretrovirals cabotegravir and rilpivirine as part of routine medical care.
Canada, where Dr Angel is based, was the first country to license the injectable treatments. While they have since been approved by drug regulators in other parts of the world, including Europe, many health services and insurers still need to decide whether they will actually pay for them. For example, while NHS Scotland said last month that it would support their routine use, people living with HIV in England are currently waiting for a decision by the National Institute for Health and Care Excellence (NICE).
Dr Angel outlined the practicalities of providing the injections. He said that injecting a significant number of patients every month or two would be a extra burden on any busy outpatients' department. In Canada, the pharmaceutical company has sponsored a programme which sends nurses to primary care clinics, pharmacies and people's homes to administer the injections.
Standard practice is to begin treatment with four weeks of taking the medications as pills (rather than injections). The idea behind this is that if someone finds they cannot tolerate the new drug, it is possible to quickly change treatment. However, some research suggests that it may not be necessary, and a few patients have chosen to start with the injections. The injections can be either taken once a month or once every two months.
Dr Angel said that a handful of patients have decided to discontinue the injections and go back on to daily pills. This was mostly due to 'injection fatigue' – the inconvenience of arranging injection appointments and side effects.
---
Pregnancy and birth
We have updated our information page on pregnancy and birth on aidsmap.
Find out about health care and HIV treatment during pregnancy, childbirth, testing and post-exposure prophylaxis for your baby, and your emotional wellbeing.
We have also published a new page on getting pregnant when you have HIV.
---
COVID-19 vaccines in people with low CD4 counts
In general, studies on COVID-19 vaccine response in people with HIV have been conducted with individuals who were mostly doing well on HIV treatment and had robust CD4 cell counts. The CD4 count is a marker of the strength of a crucial component of the immune system, and we would expect the effectiveness of a vaccine to be different in people who have a lower CD4 count.
Vaccines work by priming the immune system to recognise and respond to an infection that it might need to deal with in the future. When the immune system is not fully functional, it may be less able to do this.
So a new Italian study of 166 people with HIV who had two doses of the Pfizer or Moderna mRNA vaccines is of interest. The analysis included 32 people with a CD4 count below 200, ten of whom did not have an undetectable viral load.
The researchers assessed three different aspects of immune response: general antibody levels, HIV-specific neutralising antibody levels and cellular immune responses. On all measures, people with a CD4 count below 200 had less of a response than people with HIV and a higher CD4 count.
A second study focused on safety, rather than efficacy. It did not identify any particular concerns about vaccine safety in people with a low CD4 count. Like other COVID-19 vaccines in widespread use, the mRNA vaccines are not 'live' vaccines, so they are expected to be as safe for people with low CD4 cell counts as for other people.
---
aidsmapLIVE: HIV prevention special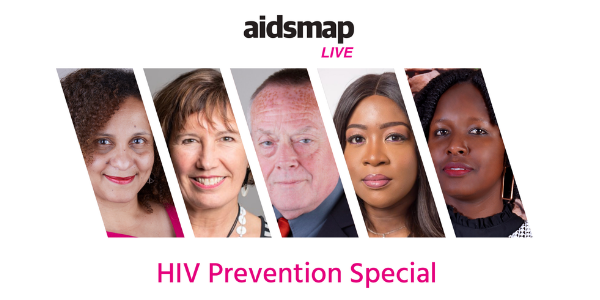 On Monday 8 November, we broadcast an aidsmapLIVE HIV prevention special.
NAM aidsmap's Susan Cole was joined by guests Professor Sheena McCormack from the Medical Research Council Clinical Trials Unit; Dr Vanessa Apea from Barts Health NHS Trust; Winifred Ikilai from the National Forum of People Living with HIV/AIDS Networks in Uganda; and Gus Cairns from NAM aidsmap.
You can watch the broadcast on our Facebook and Twitter pages.
---
Abacavir and heart disease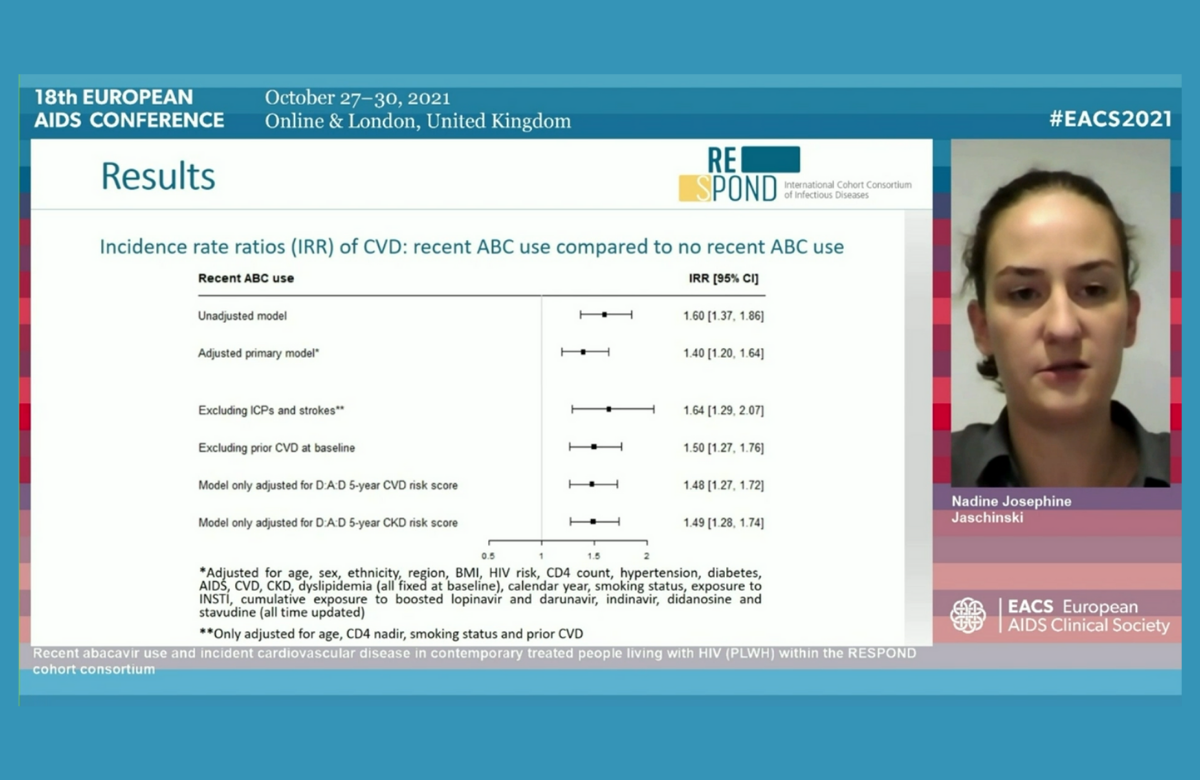 Abacavir is a widely used anti-HIV medication. It is often part of the 'nucleoside backbone' along with other medications. It is most often taken in a pill that also contains lamivudine, or in a one-pill-a-day treatment called Triumeq that contains dolutegravir, abacavir and lamivudine.
In 2008 a major study found a link between abacavir and heart disease. While not all studies have come to the same conclusion, HIV treatment guidelines have adopted a cautious approach – people known to be at higher risk of cardiovascular disease should not take abacavir. Cardiovascular risk is assessed taking into account age, gender, high blood pressure, cholesterol, diabetes and smoking.
Despite these guidelines, a recent large international study has found that 1 in 200 people taking abacavir each year experienced a heart attack, stroke or other serious cardiovascular event. After adjustment for other factors that could affect the risk of heart disease, people recently exposed to abacavir were 40% more likely to have a serious cardiovascular event.
One concerning finding was that people assessed as having a lower risk of cardiovascular disease were just as likely to experience an event as people assessed as being at very high risk.
---
World AIDS Day Red Run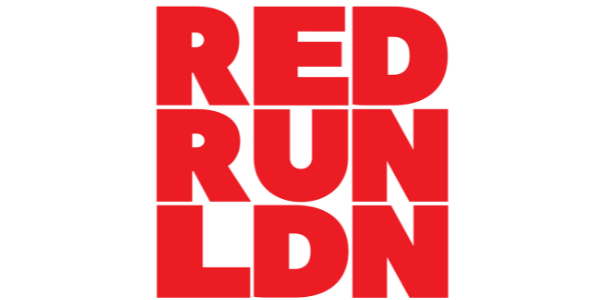 The World AIDS Day Red Run is taking place in Victoria Park, London on Saturday 27 November.
Want to take part in this year's event in support of NAM aidsmap? There's still time to sign up and you'll be helping to raise vital funds so we can continue to provide information to people living with HIV.
---
Lung function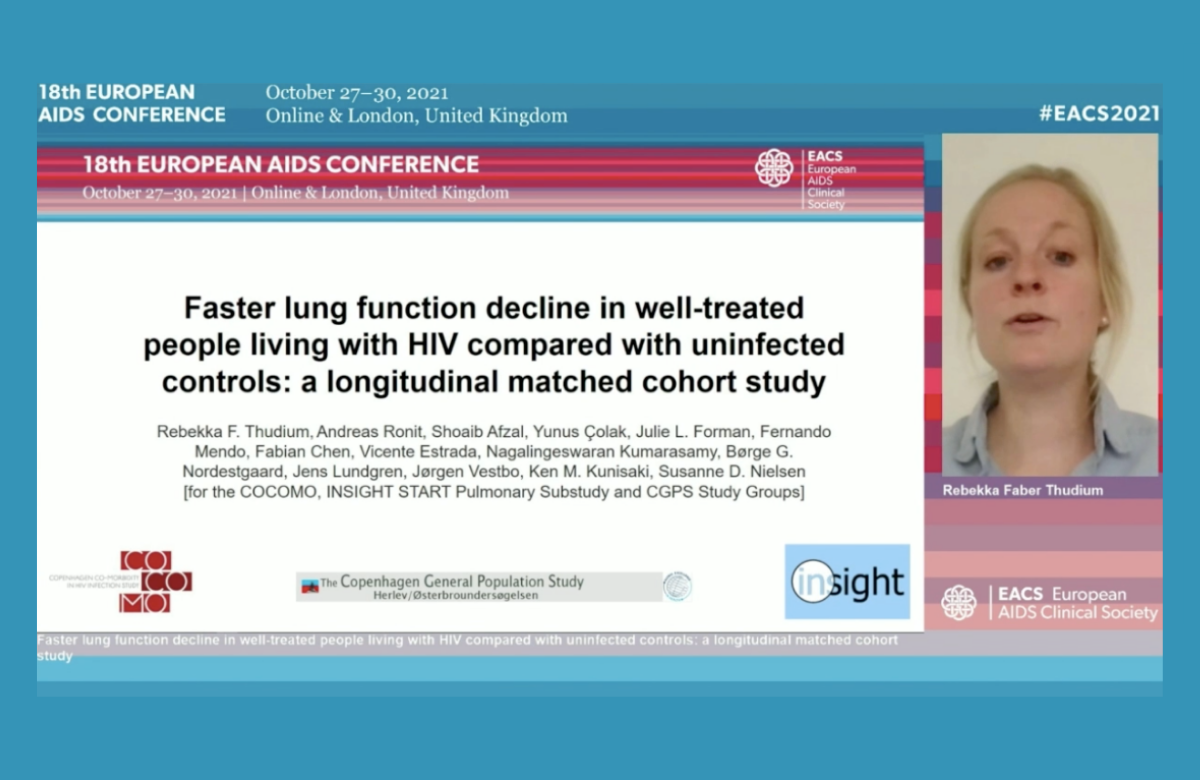 Respiratory problems, including asthma, bronchitis and emphysema sometimes affect people living with HIV as they get older. Both risk factors also found in the general population (like smoking) and HIV-related risk factors may contribute.
A recent study measured lung function over time in people with HIV who were taking effective HIV treatment and compared it with people in the general population. Participants were asked to blow into a device that measures the maximal amount of air you can forcefully exhale in one second.
The researchers found that people living with HIV had a faster rate of lung function decline than HIV-negative people. This was true both for smokers and non-smokers, but the largest difference was between HIV-positive smokers and HIV-negative smokers.
This suggests that the association between HIV and lung function decline is amplified by smoking, which appears to be more harmful in people with HIV than those without.
However, lung function also declined faster in people living with HIV who never smoked, suggesting that HIV-related risk factors also play a role.
---
Editors' picks from other sources
If the mRNA that was used in the vaccine coded for HIV surface proteins instead, would this protect against HIV in the same way? The short answer is that we do not know, but the possibility is already being tested in early clinical trials.
A solicitor at Duncan Lewis law firm has submitted a pre-action letter to the UK government stating an intention to take them to court over a failure to "operate a safe and lawful system for individuals with HIV in detention" and the subjection of their client to an "unacceptably high risk of contracting Covid-19" prior to or whilst on the scheduled charter flight.
"We are starting to see some movement," says The Well Project's Dawn Averitt of the inclusion of women in HIV clinical trials – but more changes are needed.
Reduced viral load monitoring resulting from restricted HIV outpatient visits during the COVID pandemic in the UK caused little short-term harm in an analysis of 2677 people with a stable pre-COVID HIV load at a single centre in London. But a concerning proportion of the study group had not returned for a viral load test after 14 months.