Therapeutic vaccine shows potential for HIV control off treatment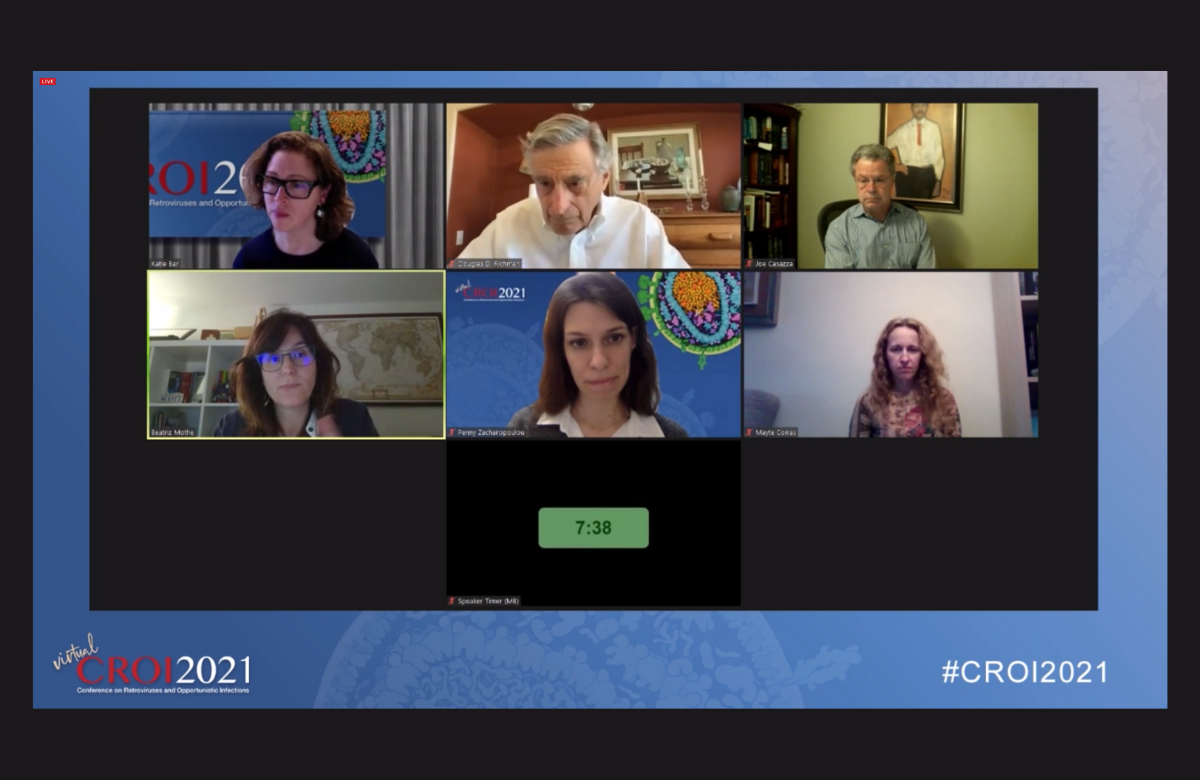 A therapeutic vaccine allowed some people with HIV to interrupt treatment for at least 22 weeks and maintain very low viral load, Dr Beatriz Mothe of the IrsiCaixa Institute for AIDS Research, Badalona, Spain, told the virtual Conference on Retroviruses and Opportunistic Infections (CROI 2021).
The HTI therapeutic vaccine was designed using insights from studies of 'elite controllers' (individuals who have controlled HIV for long periods of time without needing treatment). These studies have identified CD4 and CD8 cell immune responses to specific regions of HIV that are associated with viral control. The vaccine is designed to stimulate similar responses.
Mothe presented results of the AELIX-002 phase I/IIa safety trial of the vaccine in people with HIV. Trial participants had begun antiretroviral treatment less than six months after HIV acquisition and had undetectable viral load for at least one year and a CD4 count above 400 for at least six months.
In the first phase of the study, the 45 participants were randomised to receive eight vaccine doses over a period of 18 months, or placebos. Some doses delivered the HTI immunogen in a DNA vector, some in an MVA vector and some in a modified chimpanzee adenovirus vector.
In the second phase, participants were invited to interrupt treatment for 24 weeks to assess the impact of vaccination on viral control and 41 chose to do so. Viral load and CD4 counts were monitored weekly. If viral load rose above 100,000 copies/ml at any point or rose above 10,000 copies/ml for more than 8 weeks, or the CD4 count fell below 350 cells twice in a row, treatment was resumed immediately.
Viral load rebounded in all participants, usually within two to three weeks of stopping treatment, but did not rebound to pre-treatment levels in the majority of participants. Eight participants were able to stay off treatment until week 22. Five vaccine recipients and one placebo recipient maintained viral load below 2000 copies/ml throughout the treatment interruption.
The health implications of prolonged viral control at low but detectable levels are unclear, and the ultimate aim of functional cure studies is to maintain HIV levels below the limit of detection without treatment. However, the study results were welcomed by Professor Adeeba Kamarulzaman, President of the International AIDS Society, as "the first proof of concept in people living with HIV that stimulation of HIV-specific T-cells can contribute to cure strategies".
A 'functional cure' – indefinite HIV suppression without antiretroviral treatment – is likely to require a combination approach, for example combining this vaccine with other agents. A study pairing this vaccination regime with the TLR-7 agonist vesatolimod is currently underway.
---
Underlying health conditions key to increased risk of COVID-19 hospitalisation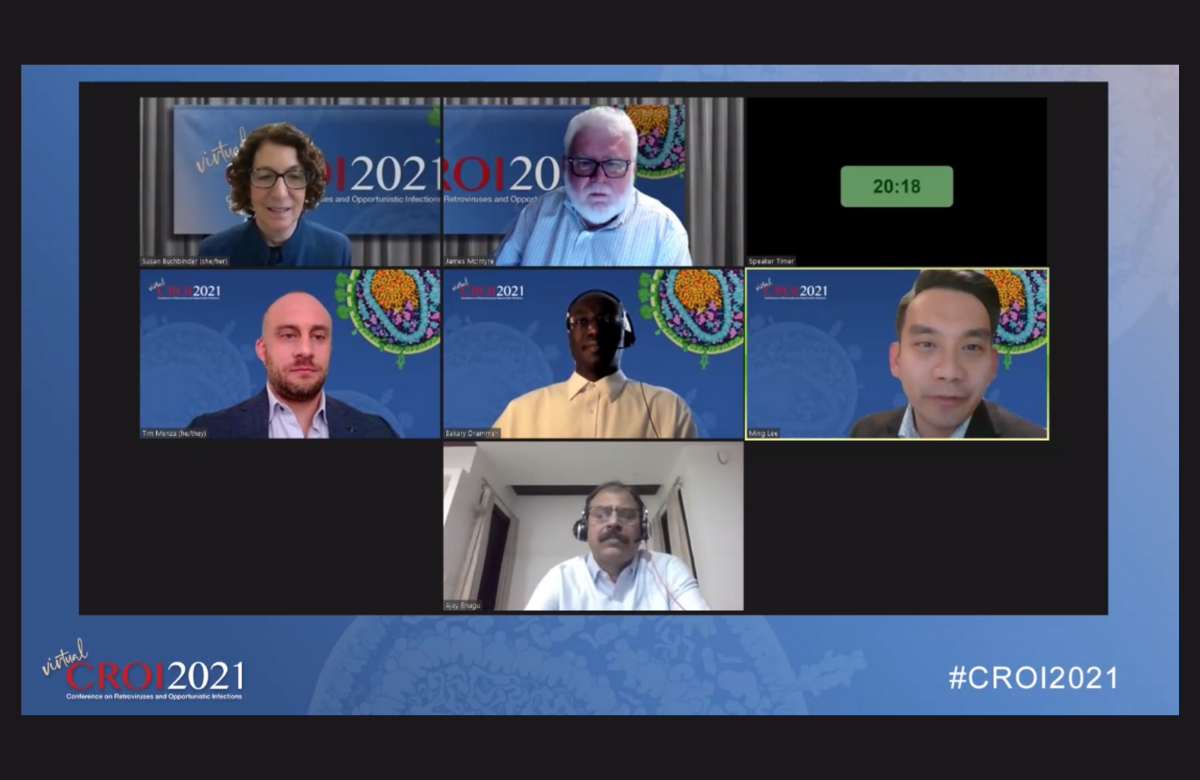 Higher rates of hospitalisation or worse outcomes after admission for COVID-19 in people living with HIV are partially explained by underlying health conditions, especially heart disease and kidney disease, two studies from the UK and the US presented to CROI 2021 have found.
Research in the UK found that the higher risk of COVID-19 in people with HIV was entirely attributable to underlying health conditions and greater physical frailty. However, the US study found a small but statistically significant increase in the risk of hospitalisation, even after controlling for some underlying conditions. Differences in methodology may explain the differing conclusions.
The UK study looked at people living with HIV admitted with COVID-19 to one of six hospitals in London, Leicester and Manchester and matched them with HIV-negative people by hospital, age, gender, COVID-19 diagnosis date and deprivation index.
People with HIV were significantly more likely to be Black or of minority ethnicity and had a higher median clinical frailty score. Several co-morbidities strongly associated with poorer COVID-19 outcomes were significantly more common in people with HIV, including end-stage renal disease, chronic kidney disease and liver cirrhosis.
After admission to hospital, people with HIV were 43% less likely to experience improvement by at least two points on a COVID severity scale, but did not have a higher risk of death within 28 days of diagnosis. However, in a multivariable analysis that adjusted for confounding factors including body mass index, clinical frailty, ethnicity, hypertension, diabetes and chronic kidney disease, HIV status ceased to be a risk factor for lack of improvement.
The US study looked at the risk of severe COVID-19 outcomes in people with HIV and people who received solid organ transplants at 39 hospitals in the US.
The rate of hospitalisation was higher in people with HIV (48.5%), organ transplant recipients (63.8%) and HIV-positive transplant recipients (70.3%) compared to HIV-negative people (30.6%).
Reporting the results, Dr Jing Sun of Johns Hopkins University, Baltimore said that although the effect of HIV on risk of hospitalisation weakened when the analysis was adjusted for the presence of co-morbidities, they still found that people with HIV in the US were at increased risk of severe COVID-19 outcomes.
---
Depression and anxiety can be improved with mindfulness audio lessons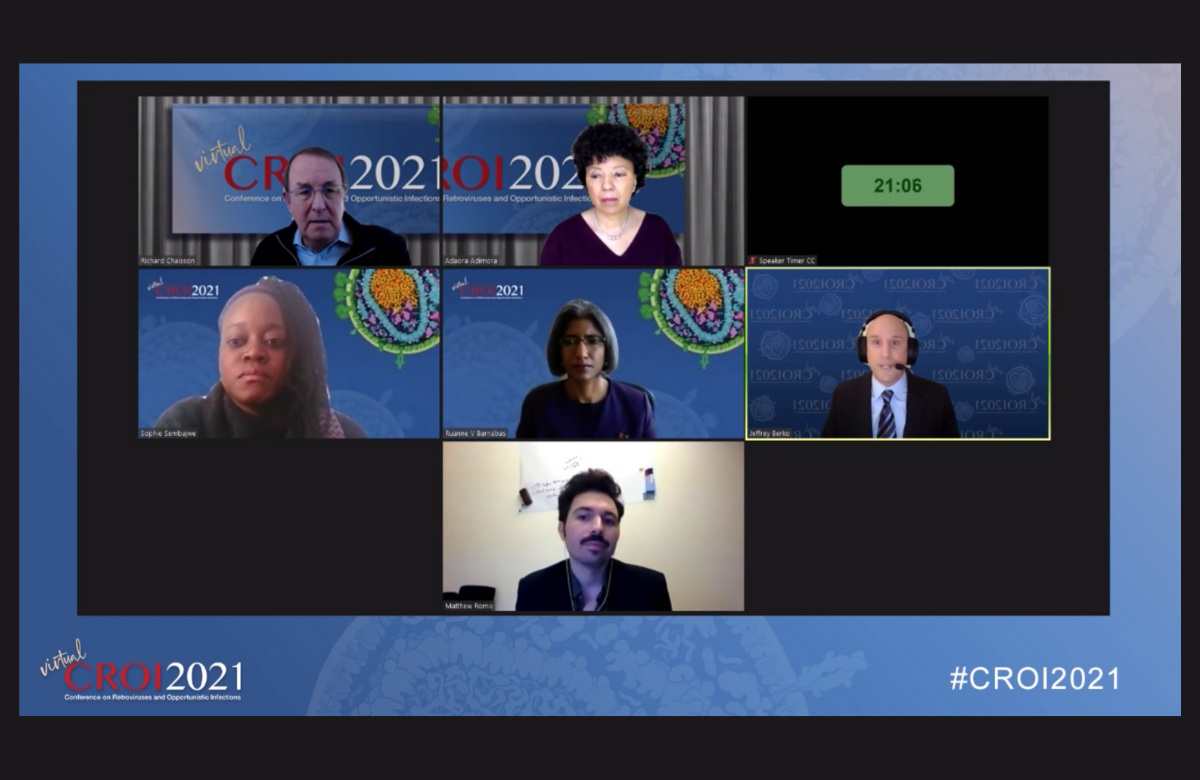 Online mindfulness audio lessons can significantly reduce depression, anxiety and loneliness in older people with HIV, according to a randomised study presented at CROI 2021. This may be the first time this effect has been demonstrated by research.
Practising mindfulness involves breathing methods, guided imagery, and other practices to relax the body and mind and help reduce stress.
The researchers worked with an existing observational cohort study of people living with HIV in the US over the age of 50. In this cohort, 21% reported experiencing depression, 21% anxiety and 51% loneliness.
The randomised controlled trial was conducted between May and August 2020, during the COVID-19 epidemic. It compared online mindfulness audio lessons to no intervention. Individuals in the intervention group were given 25 days to listen to 14 mindfulness lessons.
Depression levels improved by 2.6 points in the intervention arm, compared to the non-intervention one, and levels of anxiety decreased by 1.5 points. Results for loneliness were mixed. For loneliness in the previous two weeks, no significant change was observed between the two study arms. However, loneliness recorded in daily diaries significantly reduced.
---
HIV capsid inhibitor offers new option for people with highly resistant HIV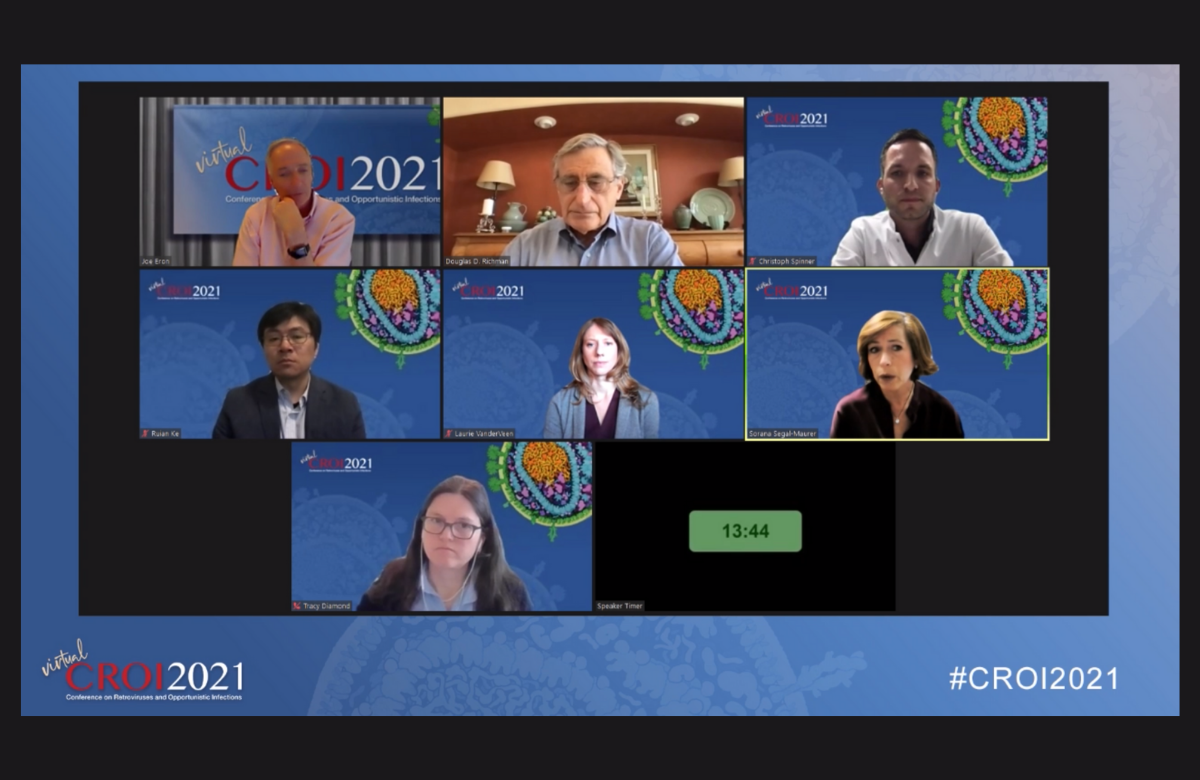 Lenacapavir, an experimental HIV capsid inhibitor, led to rapid reduction of viral load in highly treatment-experienced people with multidrug-resistant virus, according to a study presented to CROI 2021.
Professor Sorana Segal-Maurer of New York-Presbyterian Queens Hospital presented findings from the phase II/III CAPELLA trial, which enrolled 72 people with resistance to at least two drugs from three of the four major antiretroviral classes.
The first 36 participants were randomised to add either oral lenacapavir or a placebo to their failing regimen for 14 days. Then everyone was offered open-label lenacapavir given by subcutaneous injection every six months plus an optimised background regimen selected following resistance testing. Another 36 people in a non-randomised cohort received lenacapavir plus an optimised background regimen from the outset.
At the end of the initial 14-day period, 88% of participants in the lenacapavir group experienced at least a 0.5 log10 drop in viral load, compared with just 17% of those in the placebo group. As of the end of February, 26 participants had received an injection and been followed through 26 weeks, of whom 19 (73%) achieved viral suppression (below 50 copies/ml).
Based on these findings, the researchers concluded that lenacapavir could become an important agent for heavily treatment-experienced people with multi-drug resistant HIV. Lenacapavir also has the potential to be a component of long-acting antiretroviral regimens taken every six months or to be used alone as long-acting PrEP.
---
Injectable PrEP can make breakthrough infections hard to detect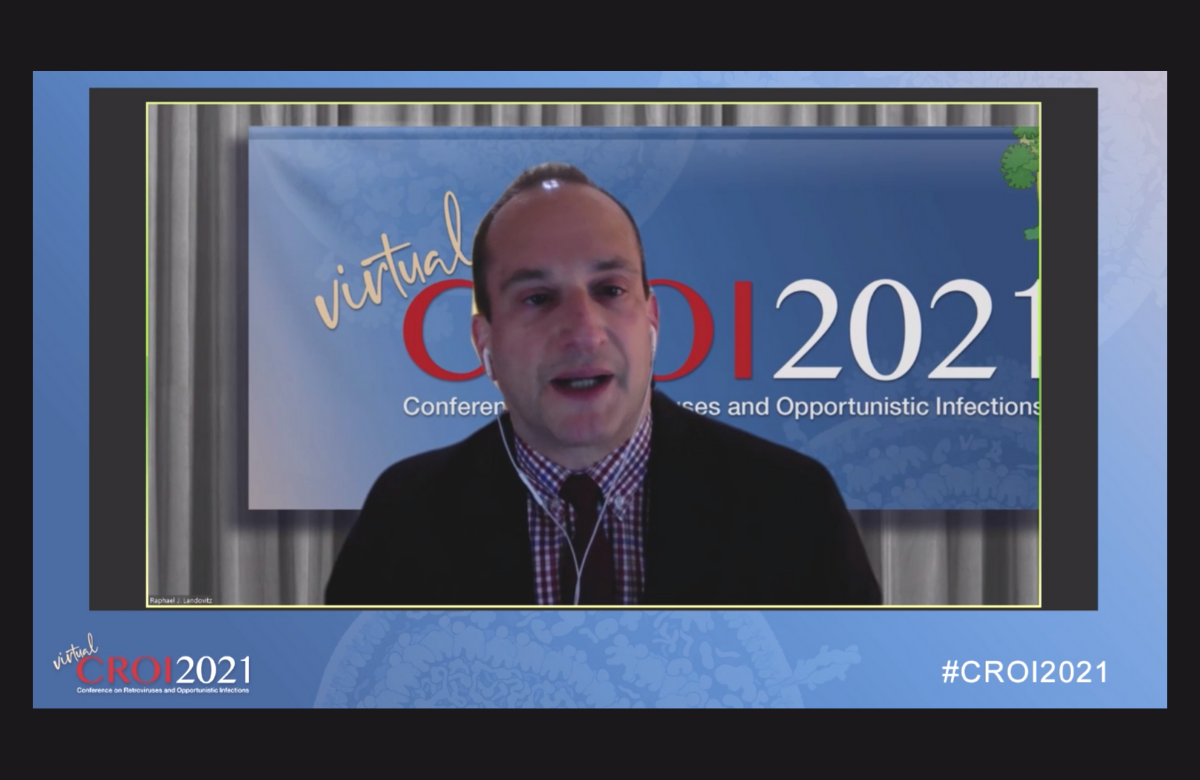 The HPTN 083 PrEP study compared the efficacy of a two-monthly injection of the drug cabotegravir against daily oral tenofovir disoproxil fumarate and emtricitabine (TDF/FTC) pills and published its main findings in 2020. A new analysis of the results, presented to CROI 2021, has confirmed that there were 68% fewer HIV infections in people given the injections than in people taking the pills.
The study looked in detail at the 12 HIV infections in people given the cabotegravir injections. The majority of the HIV infections can be explained as infections that occurred just before starting PrEP; infections which occurred just after people started PrEP when drug levels were low; or infections which occurred when people had stopped taking PrEP.
However, some of the baseline cases were not identified for several weeks or months. This suggests that injected cabotegravir could delay the detection of HIV infections, with participants testing negative using antibody tests, but retrospective testing of blood samples identifying that infection had occurred earlier. A possible future approach is to use regular viral load as well as antibody tests to screen for HIV infections.
In addition, four people tested positive for HIV while they were receiving cabotegravir injections and had drug levels which should have protected them – so-called 'breakthrough' infections.
Professor Raphael Landovitz said that the occurrence of infection despite on-target cabotegravir concentrations was of concern and that further investigations of, for instance, how cabotegravir concentrations varied from one body compartment to another was ongoing.
On the other hand, no resistance had arisen in people with low-level cabotegravir in the post-injection 'long tail' phase, not even in the case of a participant who developed a very high viral load.