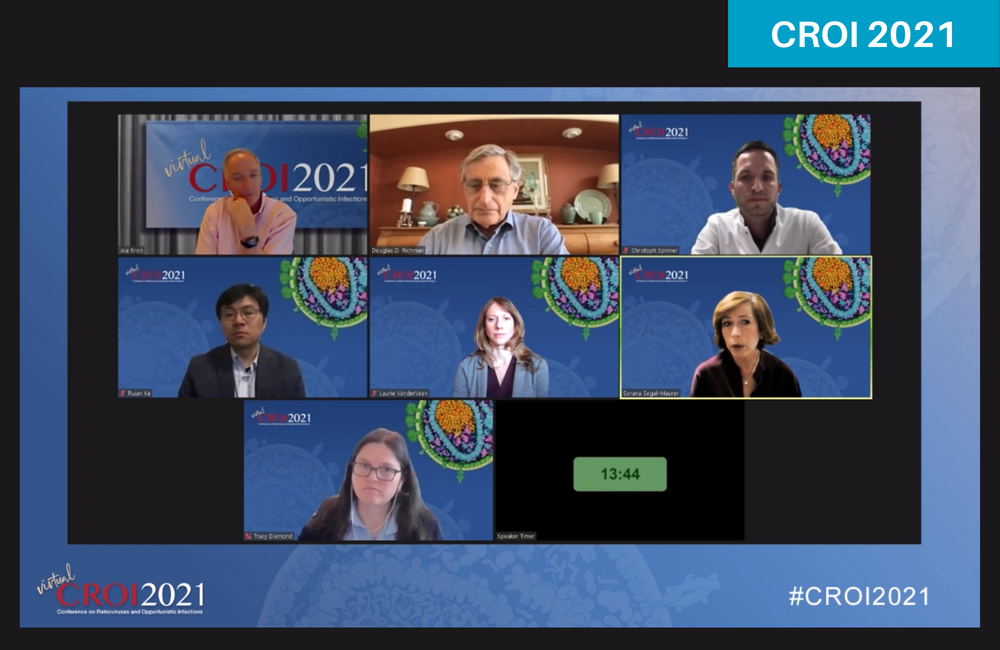 Lenacapavir, an experimental HIV capsid inhibitor, led to rapid viral load reduction in highly treatment-experienced people with multidrug-resistant virus, according to a study presented yesterday at the virtual Conference on Retroviruses and Opportunistic Infections (CROI 2021).
What's more, lenacapavir's long half-life in the body suggests it has the potential to be a component of long-acting antiretroviral regimens taken every six months or to be used alone as long-acting PrEP (regular medication to prevent HIV infection).
Lenacapavir (formerly known as GS-6207), from Gilead Sciences, disrupts the HIV capsid, the cone-shaped shell that surrounds the viral genetic material and essential enzymes. Laboratory studies showed that it interferes with multiple stages of the HIV lifecycle. Because it works differently to existing drugs, it remains active against virus that has developed resistance to other antiretroviral classes. Prior research showed that a single dose led to sustained drug concentrations for several months.
At last year's CROI, researchers reported results from a small phase Ib study showing that a single dose of lenacapavir used as monotherapy reduced viral load by more than 2 log10 in people who were treatment experienced but had been off antiretrovirals for more than a year.
At this year's meeting, Professor Sorana Segal-Maurer of New York-Presbyterian Queens Hospital presented findings from the phase II/III CAPELLA trial, which enrolled 72 people with resistance to at least two drugs from three of the four major antiretroviral classes. About 75% were men and the median age was 52 years. They were currently on antiretroviral therapy but were unable to maintain viral suppression; the mean baseline viral load was over 4 log10. About two thirds had advanced immune suppression with a CD4 count below 200.
The first 36 participants were randomised to add either oral lenacapavir or a placebo to their failing regimen for 14 days. During this period, lenacapavir was essentially functioning as monotherapy. Then everyone was offered open-label lenacapavir given by subcutaneous injection every six months plus an optimised background regimen selected following resistance testing. Another 36 people in a non-randomised cohort received lenacapavir plus an optimised background regimen from the outset, starting with a 14-day oral lead-in before switching to injections.
At the end of the initial 14-day period, 88% of participants in the lenacapavir group experienced at least a 0.5 log10 drop in viral load, compared with just 17% of those in the placebo group. People who received lenacapavir saw a significantly greater mean change in viral load compared with those in the placebo group (-1.93 versus -0.29 log10).
As of the end of February, all 72 participants had received at least one six-monthly lenacapavir injection, 26 had received a second injection and two had received a third injection. Among the 26 participants followed through 26 weeks, 19 (73%) achieved viral suppression (below 50). At that point, CD4 counts rose by an average of 72.
Two participants developed capsid mutations that conferred a high level of lenacapavir resistance; however, the signature M66I mutation appears to impair viral replication fitness. One of these individuals was able to resuppress the virus with no change in background regimen, while the other – who had no fully active agents – did so after adjusting the background regimen.
Lenacapavir was generally safe and well tolerated with no drug-related serious adverse events. Nearly half of the participants had injection-site reactions including swelling, redness, nodules and pain. These were mostly mild and resolved within days, but some had mild nodules that lasted a few months. About 30% experienced severe laboratory abnormalities including low creatinine clearance (a sign of kidney impairment) and elevated blood glucose, but these were transient or related to underlying diabetes. No one discontinued treatment due to adverse events.
In a related study, Dr Justin Lutz of Gilead and colleagues assessed drug-drug interactions between oral lenacapavir and other medications. The results showed that lenacapavir can be used with strong inhibitors of the CYP3A and P-glycoprotein drug metabolism pathways, but should not be used with potent CYP3A and P-glycoprotein inducers or UGT1A1 inhibitors. Overall, the researchers concluded, lenacapavir has "limited drug interaction potential."
Based on these findings, the researchers concluded that lenacapavir could become an important agent for heavily treatment-experienced people with multidrug-resistant HIV. The results are "really encouraging," Segal-Maurer told reporters at a press conference.
Lenacapavir has the potential to be used as a component of a complete long-acting treatment regimen, but there are currently no other antiretrovirals that can be given at such long intervals. Segal-Maurer declined to speculate about possible partners for lenacapavir. An islatravir implant that maintains drug levels for a year could offer one option, and Gilead recently licensed a set of broadly neutralising antibodies against HIV that could potentially be used for long-acting treatment and prevention.
(Following the conference, on March 15, Gilead and Merck announced a collaboration to jointly develop long-acting combinations of lenacapavir and islatravir for HIV treatment).
Long-acting PrEP is easier because a single drug is enough to prevent HIV infection.
In another presentation at CROI, Dr Elena Bekerman of Gilead and colleagues reported that a single injection of GS-CA1 – a drug similar to lenacapavir that is active against both HIV and its simian cousin SIV – partially protected macaques repeatedly exposed to SHIV (an HIV/SIV hybrid virus). While all eight monkeys in the placebo group were infected after 15 SHIV exposures, five of the eight animals that received a higher GS-CA1 dose were protected, representing a 96% risk reduction, according to Bekerman.

Twice-yearly lenacapavir injections for PrEP will be evaluated in two clinical trials, Dr Moupali Das, also from Gilead, reported at the recent HIV Research for Prevention Conference. A lenacapavir arm will be added to the Women's HIV Prevention Study, which is evaluating daily oral PrEP using tenofovir disoproxil fumarate/emtricitabine (Truvada) or tenofovir alafenamide/emtricitabine (Descovy) for adolescent girls and young women in sub-Saharan Africa. Another planned study will compare daily oral PrEP versus six-monthly lenacapavir injections in cisgender men, transgender women and trans men who have sex with men in the United States and South Africa.
References
Segal-Maurer S et al. Potent antiviral activity of lenacapavir in phase 2/3 in heavily ART-experienced PWH. Conference on Retroviruses and Opportunistic Infections, abstract 127, 2021.
Update: Following the conference presentation, this study was published in a peer-reviewed journal:
Segal-Maurer S et al. Capsid Inhibition with Lenacapavir in Multidrug-Resistant HIV-1 Infection. The New England Journal of Medicine, 386:1793-1803, May 2022.
DOI: 10.1056/NEJMoa2115542
Begley R et al. (Lutz J presenting) Clinical evaluation of drug interactions with oral lenacapavir and probe drugs. Conference on Retroviruses and Opportunistic Infections, abstract 89, 2021.
Bekerman E et al. Long-acting HIV capsid inhibitor effective as PrEP in a SHIV rhesus macaque model. Conference on Retroviruses and Opportunistic Infections, abstract 717, 2021.
Download the abstract eBook from the conference website.
Update: Following the conference presentation, this study was published in a peer-reviewed journal:
Vidal S et al. Long-acting capsid inhibitor protects macaques from repeat SHIV challenges. Nature, 601: 612-616, 2022.
https://doi.org/10.1038/s41586-021-04279-4