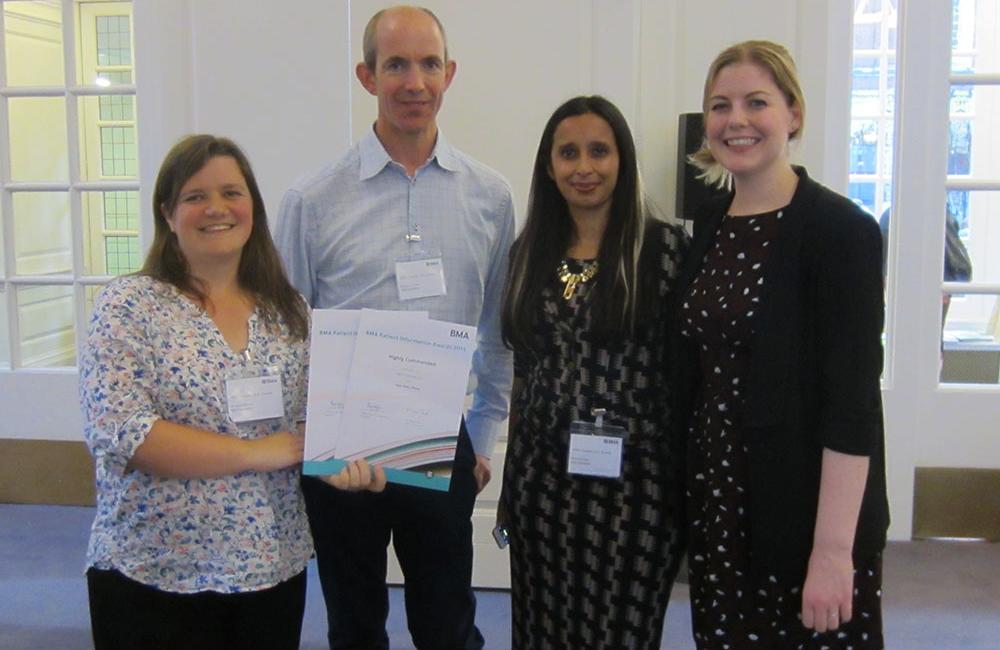 We're really pleased that two of NAM's information booklets for people living with HIV were commended in the British Medical Association (BMA) Patient Information Awards earlier this week. Your next steps was highly commended and Anti-HIV drugs was commended. You can find both booklets on our website here: www.aidsmap.com/booklets
During the process of developing, reviewing and publishing all our resources, we work with people living with HIV and people working in HIV, including health professionals and staff in support organisations. Their input and feedback is essential to our work – we rely on their expertise, knowledge and personal experience. This year, some members of our review panel came along to the awards ceremony with us – it was lovely to share the experience with them.
Feedback from the BMA reviewers
As part of the judging process, we had some thoughtful and positive feedback from the BMA reviewers on both booklets.
On Your next steps: "This booklet is a fantastic example of targeted information for people at a particular stage of their diagnosis when they are bound to have lots of questions. It provides simple but comprehensive answers to a wide range of questions about treatment and living with HIV… Its tone is empowering and it feels like it gives the newly diagnosed patient the potential to take control of their care and their lives. The design process shows real inventiveness and creativity in accessing the right people to inform the work."
On Anti-HIV drugs: "This is a really useful practical resource which is part of the comprehensive offering from NAM. Clear and non-patronising explanations are used throughout and there is also a brief glossary at the end. The booklet is pocket-sized, very readable, well laid-out and covers a lot of ground in a small space. It's exemplary."
The BMA Patient Information Awards
The awards are held every year, and their stated aim is to "support and encourage patient-centred care in meeting the needs of patients through the production and dissemination of accessible, well-designed and clinically balanced information, which will promote both greater awareness and understanding of health matters, and patient choice".
It's always interesting to have the opportunity to hear about information resources other organisations are producing and how they go about producing them – many resources are nominated for the awards from large and small organisations across the country, working on a wide range of health conditions and settings.
Other HIV and hepatitis resources were also highlighted in the awards. Congratulations to the Terrence Higgins Trust, HIV i-base and London School of Hygiene and Tropical Medicine and London Joint Working Group on Hepatitis C and Substance Use for their highly commended resources.
For more information
Clinics with a NAM subscription can order hard copies of the Anti-HIV drugs and Your next steps booklets from our online portal. If you do not currently have a subscription but would like to order hard copies of either booklet, please contact Jonny: jonny@nam.org.uk.
Thank you to everyone involved in producing Anti-HIV drugs and Your next steps. Thanks also to MSD, ViiV Healthcare and Wandsworth Oasis for funding towards the development of these resources. Our funders have had no editorial control over the content.