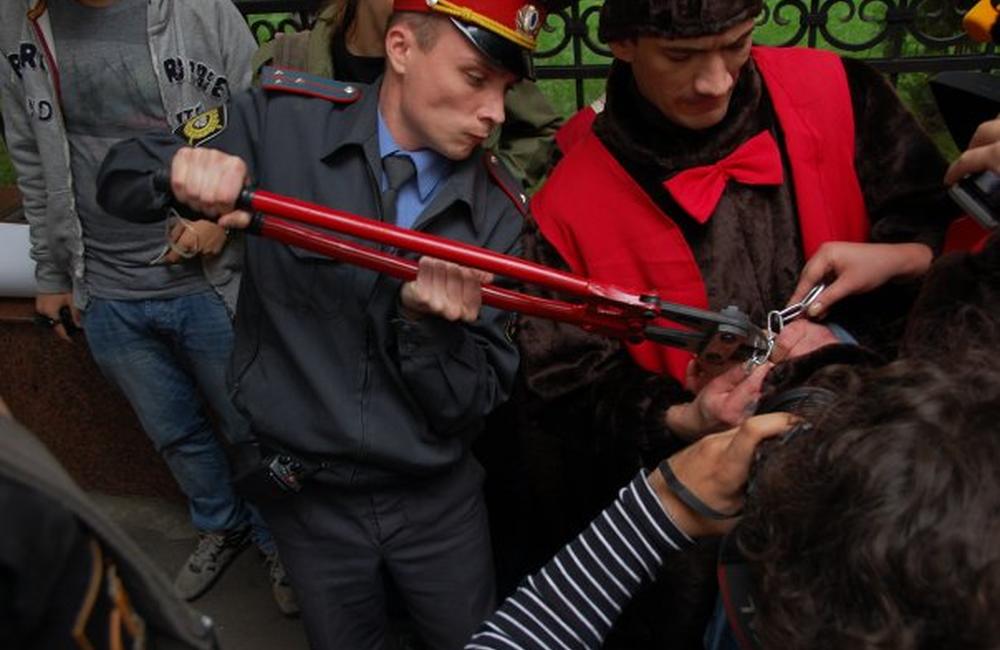 HIV treatment activists were arrested in Moscow this week following protests against stock-outs that have led to forced treatment interruptions across the Russian Federation. They say that less than 62,000 of the 120,000 patients who need antiretroviral therapy will receive it in 2010.
In Red Square on Wednesday, activists dressed as nurses held a man dressed as a bear on a leash. The nurses resembled the Russian minister of Health Tatyana Golikova, with the bear on a leash representing the need to stop the destruction of the ARV supply.
"This was meant to symbolise the farce that's taking place within the Ministry of Health and Social Development," organiser Alexandra Volgina said.
Yesterday activists in the same costumes chained themselves to the railings of the Ministry of Health building in Moscow. On both days, they were arrested and subsequently released.
Stock-outs of antiretroviral treatments have been documented for the past four years. According to a Russian language website monitoring the issue (www.pereboi.ru), drug shortages have been documented this summer in Moscow, St. Petersburg, Tula, Ulyanovsk, Samara, Arkhangelsk, Vladimir, Kaliningrad, Saratov and other areas. Moreover, stock-outs in prisons have been documented in all regions.
Legal proceedings against the government with regard to stock-outs have already been initiated in Kazan, Moscow and Tula.
Activists allege that officials have proven unwilling or unable to arrange the timely supply of the essential drugs on which lives depend. "We people living with HIV are tired of inhumane treatment at the hands of officials," said Alexandra Volgina. "We will not be held hostage to official incompetence or negligence, we have the right to live!" she continued.
In response to the protests, the Ministry of Health issued a press release denying that that there are stock-outs which prevent people from starting or continuing treatment.
Activists say that officials are lying.
Moreover, as part of a court case brought in the far northern city of Arkhangelsk by a person unable to access treatment, the city's chief HIV clinician confirmed the shortages on Wednesday. Yelena Popova submitted detailed evidence of the applications and requests for ARVs that her hospital had made to the federal Ministry of Health and Social Development but which had been turned down.
Activists are calling on the government to transfer management of the ARV supply from the Ministry of Health to a more competent organisation, even the Ministry of Emergency Situations. Moreover drug provision should be based on scientific assessment of the number of people in need of treatment, prices should be re-negotiated on a regular basis and a reserve fund should be established to cover stock-outs.
The protests were organised by a coalition of individuals, activists and civil society organisations from across the country.
They say that people with HIV face a choice: to die quietly at home or to draw the attention of the media and the government.