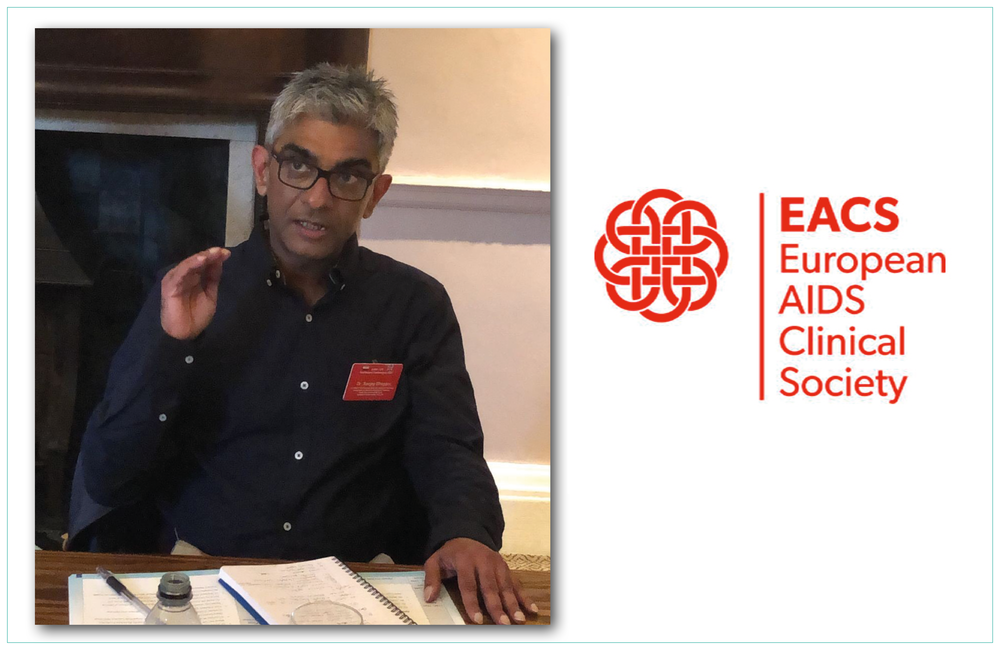 Dr Sanjay Bhagani is president of the European AIDS Clinical Society (EACS) and an experienced consultant in infectious diseases and HIV. We spoke to him about the upcoming EACS conference and his vision for HIV care in Europe.
The theme of this year's EACS conference is 'crossing borders'. What does that mean to you and what do you hope it will inspire in others?
One of the really important things that the EACS conference does is bring people together from many different countries and regions across Europe and also outside of Europe.
While we may usually practise medicine in our specialties and within our national borders, big meetings like this highlight the importance of crossing those boundaries and learning from each other's experience.
An important reason for choosing the theme was to say to people: when we think about HIV care, we should think across the whole European region.
But it is not only about national borders. We also need to think about care across sectors as well. We realise that HIV care is not just about clinicians, scientists, community, academia or industry; it's bringing all partners together, across those boundaries, to look after people with HIV.
COVID-19 has really highlighted for us that care for HIV also crosses borders in terms of disease disciplines. In other words, caring for people with HIV encompasses everything, including sexual health, mental health, and co-morbidity care.
The whole concept of the conference is that we are crossing borders on many different fronts.
In that context, how would you describe the European HIV field at the moment and how can we improve?
We have been aware for many years that there is inequity in HIV care across Europe, both in terms of testing and prevention services, and in terms of care for individuals. There is huge variation not only between countries, but across regions – between the north and the south, and particularly between central and eastern Europe and western Europe.
Some differences are positive and help us to learn from each other and improve care, but some differences highlight areas we really need to tackle, including access to testing, prevention and HIV care and treatment.
The work we do at EACS focuses on addressing these differences. Our three key themes as an organisation are: education and training; production of HIV care guidelines including co-morbidities, co-infections and opportunistic infections; and work on standards of care. The work we do within those streams contributes to fixing these inequities in care across our region.
As EACS president and as a clinician, what's your vision for the future of HIV care?
We all have the big vision of what we would like to achieve in the next 5, 10 or 20 years, and then there are the immediate or unexpected things we need to attend to. I started my presidency at EACS during the COVID-19 pandemic and it's been a difficult time for all of us.
The first part of my presidency has been focused on steadying the boat. I've been focused on making sure that we can continue to deliver the programmes we set out to deliver.
The EACS conference in London this month is the first time since COVID-19 emerged that we have the opportunity to host anything close to a face-to-face event. It is also the first-ever hybrid HIV conference and a lot of work has gone into it.
Thinking longer-term, I would like to see us move from disease-focused care to patient-centred care. That would be my vision. We have to stop thinking about specific diseases and start thinking about the patients in front of us. This is particularly important in the context of HIV, where in certain parts of the region we have a population that is growing older, living longer, and experiencing more co-morbidities. It really is time to think beyond just undetectable viral load.
Key populations are still struggling in many parts of the region, with inequalities of care affecting people who inject drugs, people in prison settings, men who have sex with men, women, children, and transgender people. In terms of the region as a whole, I would use that well-polished phrase, 'leaving no-one behind'.
How has COVID-19 impacted the HIV sector in Europe?
Because of our infectious disease backgrounds, HIV caregivers across Europe have been at the frontline of COVID-19 care over the last 18 months. It has taken a huge toll in terms of people's resilience and the impact on their mental health.
Having said that, we've seen during COVID-19 that adversity is often a driver of innovation. We've seen models of care emerge that will probably change the way we deliver care for years to come. For example, in some countries, telemedicine has become a key component of the way we deliver care and I think it is here to stay.
Another important aspect is delivering care near to the patient. Innovations like home self-testing kits for sexually transmitted infections and HIV, home management of blood pressure and diabetes – all of those things are going to become important, and the reliance on specialist centres is going to be less important.
Perhaps most importantly, the pandemic highlighted our need for partnerships, and partnerships not just with academia in terms of research and science, but partnerships with community organisations. In the midst of the COVID pandemic, it was often the community organisations that were directly involved in providing care and support. It really highlighted the need for us all to work together.
What can we expect from the EACS conference later this month?
The conference programme is on the website now and we've got some really exciting plenaries and sessions. We will explore things like: the agenda for HIV cure research; the resurgence of mRNA vaccine technology in COVID-19 and its potential uses in HIV vaccine studies; highlights on co-morbidities; COVID-19 and HIV; and the last word on treatment-related weight gain.
The highlights for me, as always, are the clinical sessions. We have some great practical clinical sessions planned, including case-based discussions, which clinicians really appreciate. On the final day, we will present the update of the EACS treatment guidelines and there are some significant changes this time.
It's going to be a truly hybrid meeting with online sessions and sessions in front of an attending audience. Live sessions will be broadcast and everything will be available online for several months afterwards.
Find out more about the 18th European AIDS Conference on the official conference website.
This feature appeared in the October edition of the Eurobulletin.