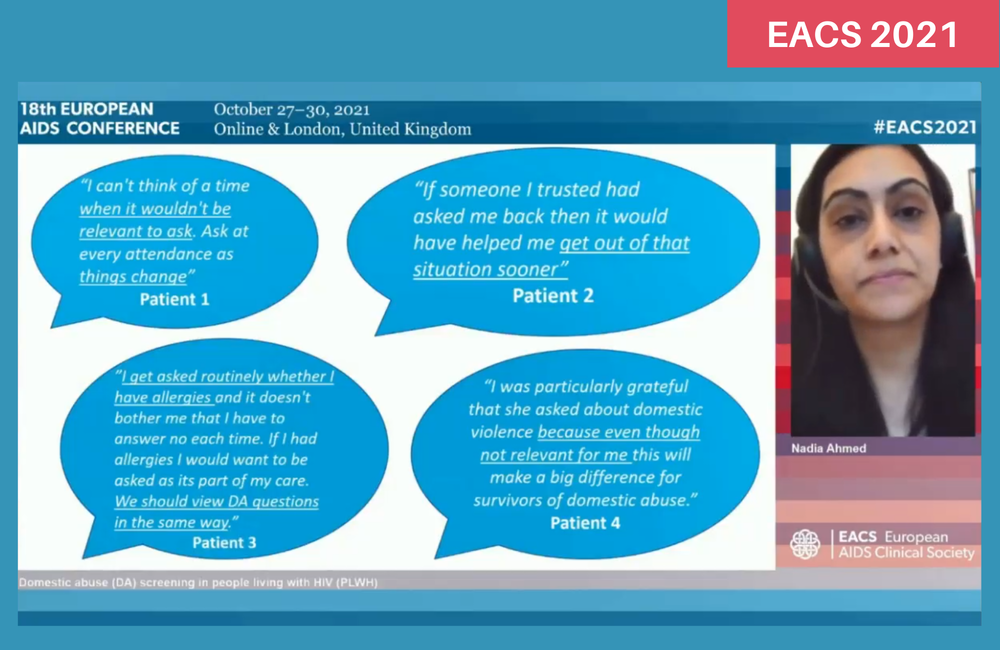 "I get asked routinely if I have allergies and it doesn't bother me that I have to answer no each time. If I had allergies, I would want to be asked as it's part of my care. We should view domestic abuse questions in the same way."
This quote is from a person living with HIV who is receiving care at the Mortimer Market Centre in London. It concluded Dr Nadia Ahmed's talk today at the 18th European AIDS Conference (EACS 2021), after she reported on the importance of routine domestic abuse screening following a project that she and her colleagues ran from March 2020 to March 2021.
There have been three times as many reports of domestic abuse since the launch of the project. The majority of disclosures came from non-White British men who have sex with men.
Data from a 2019 national household survey showed that 5.7% of the UK adult population (2.4 million) had experienced domestic abuse, which is also the cause of one in five murders in the country. During the COVID-19 lockdown (March-May 2020), there was an increase of 25-60% of calls for help and of 150% in access to online information about domestic abuse. 
While there is increasing evidence of domestic abuse among people living with HIV and its link to poor health outcomes. However, only one study has specifically reported on domestic abuse screening in this population and found that women were predominantly affected.
While the European AIDS Clinical Society guidelines do not address the topic, the British HIV Association guidelines recommend asking patients about previous or current intimate partner violence every six months. However, these guidelines are not always implemented.
Ahmed and colleagues aimed at improving rates of routine domestic abuse inquiry by 50% over a year period (March 2020 to March 2021). For this, they used quality improvement methods, relying on staff, information technology and patients. Among the several steps taken:
All clinicians, nurses and other healthcare support workers were encouraged to ask patients about domestic abuse.
Staff training on screening and managing domestic abuse cases was held.
Weekly reminders, including reports of domestic abuse screening rates, were sent to staff with regular support and encouragement to continue asking.
Patient records were reviewed to optimise reporting.
Patient feedback was collected.
Additionally, patients who disclosed domestic abuse were referred to health advisors and reviewed by the safeguarding team.
Routine domestic abuse screening by physicians at each clinic visit improved from an average of 8% in the year before the lockdown, to 33% post-lockdown. Screening by nurses and support workers – who were trained later – improved from 8% to 24%.
Prior to the project, eleven patients had disclosed domestic abuse, while 36 disclosed during the project period of 12 months. Ahmed highlighted that 68% of these 47 patients were asked about domestic abuse more than once before they disclosed, showing the value of repeat assessments.
Of the 47 patients disclosing domestic abuse, 68% were men and 36% women.
Of the men, 80% were gay or bisexual. Notably, the ethnicity of 67% was other than 'White British'. With regards to women, 65% were Black.
Staff feedback was generally positive and there was consensus regarding the benefit of domestic abuse screening at every opportunity (not only when seeing a doctor but also when attending for blood tests, etc.). "I can really see the benefit of asking patients, and feel more confident. Patients are also very receptive and confident when we ask," a clinician said.
Likewise, patient feedback was generally positive. All 14 surveyed patients felt comfortable with the routine screening and 13 found it important. Question fatigue was raised as a potential issue, and the patients made recommendations around confidentiality. They saw a need for support, even when someone did not disclose domestic abuse.
Dr Ahmed's last words were to remind the conference that domestic abuse does not discriminate and can happen to anyone, by anyone. "By asking about domestic abuse", she said, "we can improve patient outcomes, protect and save lives."
References
Ahmed N et al. Domestic abuse (DA) screening in people living with HIV (PLWH). 18th European AIDS Conference, London, abstract BPD 2/5, 2021.