Non-Londoners, Black people less likely to take part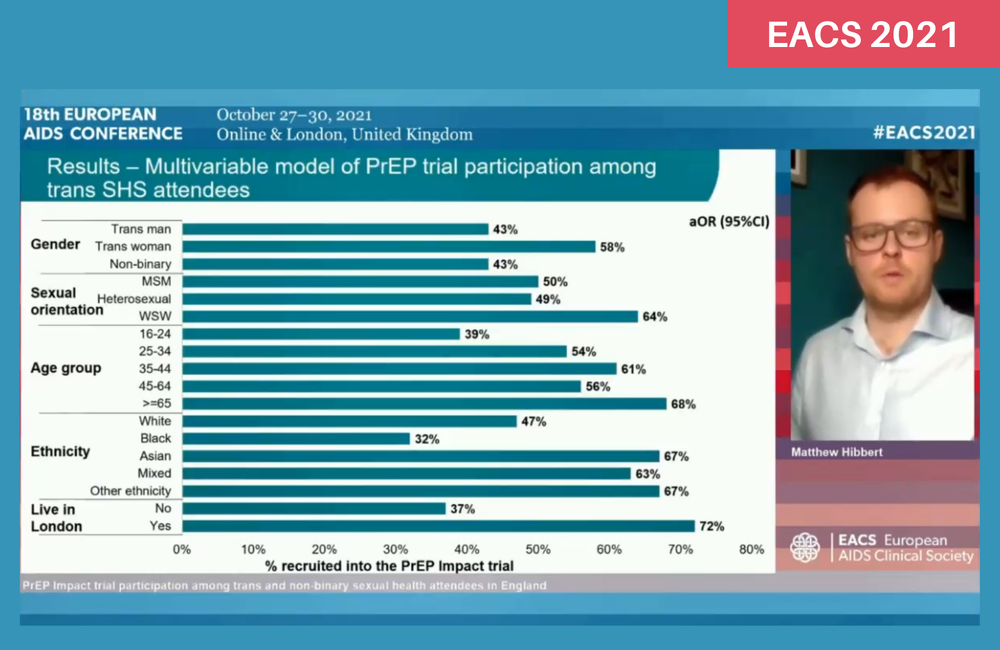 A study comparing HIV risk factors in trans and non-binary people who did, and did not, take part in the PrEP IMPACT study has found that just over half the people who attended sexual health services in England during the period of the IMPACT trial ended up participating in it.
Dr Matthew Hibbert of the newly founded UK Health Security Agency told the 18th European AIDS Conference (EACS 2021) that trans and non-binary people's participation in PrEP IMPACT was in general related to people's apparent degree of HIV risk. For instance, people who had been diagnosed with a bacterial sexually transmitted infection were much more likely to be recruited into the IMPACT trial than ones who had not.
However, trans people of Black ethnicity were less likely to join IMPACT than White people (and Asian people more likely); people under the age of 25 were less likely to join; and people living in London more than twice as likely.
IMPACT was a large PrEP implementation study, more fully described in another article. The vast majority of its 24,255 participants were cisgender gay and bisexual men, with smaller numbers of cisgender heterosexual men and women taking part. Concerted efforts were made by trans community advocates and the specialist sexual health service CliniQ in London to engage trans and non-binary people.
During October 2017 to February 2020 (all but the last five months of the IMPACT trial), 978 people who were recorded by GUMCAD, the UK's STI surveillance system, as having a different gender to the one assigned to them at birth, attended a sexual health clinic.
Of these, 546 were trans women, 331 were trans men, and 101 defined as non-binary.
Five hundred and one of these people (51%) joined the IMPACT trial: 58% of the trans women and 43% of both the trans men and the non-binary people.
Of the people who did not join IMPACT, the majority were not coded by the GUMCAD system as having a sufficiently high risk of HIV for a PrEP referral. However, 97 people (20%), though categorised as eligible, were not prescribed PrEP. In a minority of cases (22 people), PrEP was offered but declined, but this left 75 people who should have been offered PrEP but seemingly were not.
The median age of the trans and non-binary people who joined the IMPACT trial was 30 and of the people who did not, 27. A smaller proportion of the under-25s (39%) joined the trial than any other age group. In contrast, 61% of those aged 35-44 joined the trial and 68% of the small number of people aged 65 or older.
Of people of White ethnicity, 47% joined IMPACT. A smaller proportion of Black people (32%) joined the trial and a higher proportion of Asian people (67%). Matthew Hibbert reflected that this might be influenced by the relative acceptability of trans identity in different cultures.
The biggest disparity in trial enrolment was geographical. Nearly three-quarters of those living in London (72%) joined the trial but half as many (37%) living elsewhere.
The strongest predictor of whether people would join the trial was having had a bacterial STI. Eighty-four per cent of people who had had a bacterial STI diagnosis in the previous three months joined IMPACT and 88% of those who had a rectal STI.
Perhaps the most interesting question was one not answered by this study: how representative are those attending sexual health clinic of the wider trans and non-binary population and their sexual health needs? Estimates of the proportion of the population who define as trans or non-binary vary widely and are tremendously influenced by definitions and by cultural attitudes, but several studies have reported that one in several hundred people is trans or non-binary. This implies a conservative estimate of 70,000 people between the ages of 16 and 65 in England alone who are trans or non-binary. It seems that only a fraction use sexual health services.
Matthew Hibbert commented that only 178 of the 94,885 people living with diagnosed HIV in England (0.19% or one in 533 people with HIV) were identified as trans or non-binary on clinical records. This was a far lower HIV prevalence than that seen in other studies. 
There were several possibilities that might all contribute, he went on to say. HIV risk and incidence in trans people might indeed be lower in a country like the UK where trans people are not so stigmatised that they have to resort to risky activities like survival sex in order to live. On the other hand, current ways of recording and estimating the number of people in clinics with trans or non-binary identity may considerably underestimate the true figure. 
The lower PrEP uptake of people living outside London may be evidence that trans people may only come forward and receive appropriate services in places where they feel safe and their needs understood, he added.
References
Hibbert M et al. PrEP Impact trial participation among trans and non-binary sexual health attendees in England. 18th European AIDS Conference, London, poster discussion session, abstract number BPD2/4, 2021.