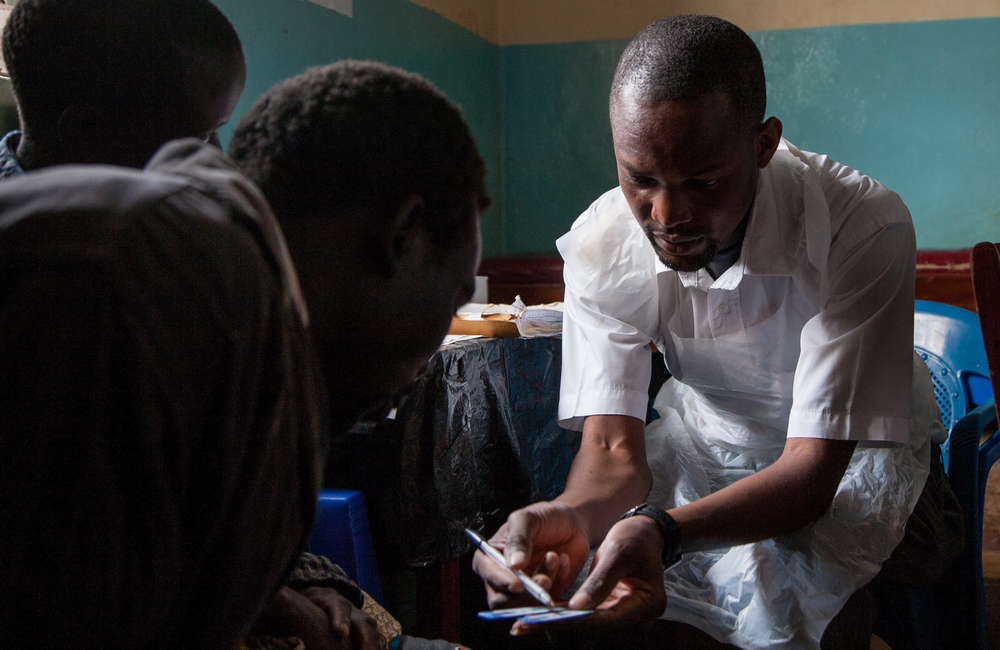 Albert Dube and his colleagues in Malawi, Tanzania, South Africa and London, wanted to know if policies designed to attract male partners of women patients in HIV and antenatal care had any effect. If so, was the effect beneficial or was it something more complicated? In order to find out, they interviewed people in three rural locations in Malawi, Tanzania and South Africa. The interviews focused on the involvement of men as well as their female partners in HIV care in the context of antenatal care. They found that while there were many benefits to this approach, some unexpected disadvantages emerged.
By 2017 an estimated 72% of women with HIV living in the region knew their HIV status. However, among men diagnosis rates are lower. In 2016, HIV-related deaths were 27% lower among women and girls than they were among men and boys. Healthcare workers in the region wanted to improve men's HIV diagnosis and engagement in care, as well as improve women's antenatal and maternal health, and so they developed clinic-based policies than encourage men to accompany their wives in antenatal care so that both might benefit.
Earlier studies have shown that support from a male partner (this is often known as male partner engagement or participation) is associated with a number of benefits including enhanced maternal HIV testing during pregnancy, increased initiation and adherence to maternal antiretroviral therapy (ART), improved HIV communication and prevention among couples, and decreased vertical transmission, with attendant increase in HIV-free infant survival. There have also been suggestions that male partner participation in antenatal care might help to improve men's rates of HIV diagnosis and treatment.
The authors' starting point was the body of data from a larger study on the health systems impact of delivering HIV Test and Treat in three rural locations: Ifakara in Tanzania, Karonga in Malawi and uMkhanyakude in South Africa. They interviewed healthcare workers, female service users and their male partners from each of these three sites. A total of 101 participants were recruited: 66 female service users, ten male partners and 25 healthcare workers, most of whom were nurses. Interviews with healthcare workers included discussion of what they saw as facilitators, barriers and subsequent effects of couples attending antenatal care and HIV testing together.
Interviews were conducted in English with healthcare workers and in the local language with service users and male partners. No information from discussions with female service users was disclosed during interviews with their male partners.
Healthcare workers and female service users reported various benefits of couples attending HIV testing together. Many women said that their clinic has a deliberate policy of seeing women who attend with their male partner first (although an unintended result of this is that women who attend alone often have to wait). Some healthcare workers in Malawi mentioned that when men attended clinics it became easier to talk openly about HIV status, to initiate ART and to support each other's engagement in care including collecting meds when one of them was ill or busy. Some healthcare workers and women service users felt that including partners brought benefits for the unborn child in preparing for the birth and in protection from HIV.
Some healthcare workers reported that men received health advice including HIV results better when told by healthcare workers rather than by their spouses:
"Sometimes nurses or doctors will tell women that the time has come to stop some domestic chores because of their condition and sometimes when men hear it from their spouses they don't believe them, they feel their wife is being lazy, so when they are together they can also listen to the advice given to them as a family." (healthcare worker, Malawi)
Similarly, some husbands were more willing to buy various recommended items after speaking to the healthcare worker:
"When I go alone to antenatal clinic, I am told things. When I come home and tell my husband about what the health workers have advised us to purchase to prepare for the child, he will not understand. Instead he will argue and say it's my personal demand. But the good thing about attending antenatal care together is that both of us hear information about the required materials together." (routine ART-user, Malawi)
At all three sites, participants said that for some, couples' involvement in antenatal care could lead to a greater support between partners who attend services together:
"She makes sure that we eat first, before we get the medication. If there is nothing, I try my best to find small jobs so that we can get food. We put things together since our lives are at stake." (male partner, South Africa)
"Although prioritising women who attended antenatal care with their partners was valued, the flip side was that women who did not attend with partners were faced with longer waiting times."
Some women who attended with their partners and were found to have a different HIV status described their partners being more understanding and accommodating:
"I should not hide. At first I refused and I said 'I accept whatever may come to me.' Later he started encouraging me that I should get the drugs. He said I should not think he will leave me because I tested HIV positive, and that I have to get drugs." (woman, routine ART-user, Malawi)
Although prioritising women who attended antenatal care with their partners was valued, the flip side was that women who did not attend with partners were faced with longer waiting times:
"But those who came with their husbands, even if they come late, they were the first ones assisted and they went home earlier than us." (woman, lost-to-follow-up, Malawi)
Some services delayed or refused to offer HIV testing or ART if male partners were not present for the consultation. In some instances, women were expected to wait for their partners to find time to visit the facility together:
"We had this one patient, she said that she is waiting for her partner who has travelled to come back so they could come together and start treatment." (healthcare worker, Tanzania)
In Tanzania and Malawi, some women reported needing to present a letter from their village leader to justify the absence of their partner from antenatal consultations.
Some couples found themselves in sero-different relationships and were unable to resolve the situation. This sometimes led to separation and divorce:
"The difficulty comes as they are a couple, they have been living together for maybe two to three years and they trust each other, and all of a sudden you tell them that one is infected (positive) and the other is not, it's quite difficult to digest the situation, and it is difficult to counsel them on how to accept the situation and how to live knowing that your partner is infected, sometimes because of this, they get separated." (healthcare worker, Tanzania)
Reports from all sites suggested that when partners attended antenatal care, the consultation was mainly focused on HIV testing. This lessened the focus on antenatal care, meaning that topics relating to care of the newly born baby, breastfeeding, and maternal health had to be covered in later visits.
The authors note two main limitations to their study: it took place in a small sample of centres in rural settings and is therefore not representative of urban settings, and they were only able to recruit ten male participants. They recommend that future studies approach a larger sample of linked couples to allow more opportunities to unpick the complexities of relationships and engagement with care in the context of antenatal care.