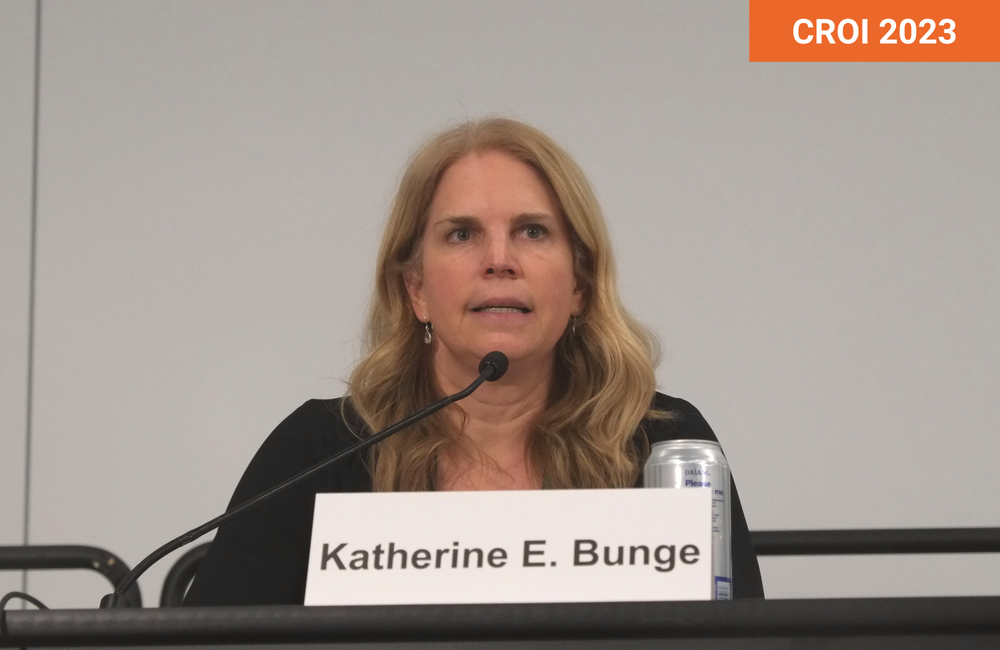 Women can safely use the dapivirine vaginal ring for HIV pre-exposure prophylaxis (PrEP) in the third trimester of pregnancy and during breastfeeding, according to new studies presented this week at the 30th Conference on Retroviruses and Opportunistic Infections (CROI 2023). The research is also the latest to reaffirm the safety of daily oral PrEP in pregnancy.
Data from the Ring Study and ASPIRE Phase III studies originally showed the ring could reduce the risk of HIV infection by about 30%. In subsequent analyses, the monthly ring was found to reduce HIV infection risk by as much as 75% among women who were best able to use the ring correctly and consistently. 
There was some data from 240 participants who became pregnant while on these studies and were quickly taken off the ring to avoid potential side effects. This data, although limited, found no increased risk of pregnancy or birth complications after having conceived while using the vaginal ring.
Now, the world's first-ever studies of the vaginal ring in late pregnancy and breastfeeding confirm the dapivirine vaginal ring is safe to use for women in their third trimester of pregnancy or while breastfeeding, and poses no safety concern for infants. On Monday, the Microbicides Trial Network's ongoing DELIVER study announced that it found no increased risk of major pregnancy or birth complications in women who used the ring from the 30th week of pregnancy onwards. aidsmap previously reported similarly positive results from women using the ring from the 36th week of pregnancy from this study in 2021.
Today, DELIVER's sister study, B-PROTECTED, revealed that women can also safely breastfeed while using the silicon ring. B-PROTECTED found very low levels of dapivirine in participants' breast milk and even lower concentrations of the medicine in infants' blood, posing no safety risk.
Both DELIVER and B-PROTECTED are Phase IIIb, open-label studies.
Studies should leave policymakers confident to pursue inclusive rollouts
Although not yet approved for use in the United States, regulatory bodies in South Africa, Uganda and Zimbabwe have given the soft, silicon ring the green light. These and many more African countries now plan to pilot the monthly vaginal ring in implementation studies alongside oral PrEP using tenofovir disoproxil fumarate/emtricitabine (TDF/FTC; Truvada or generic equivalents) and every-other-month injectable cabotegravir PrEP.
Researchers say DELIVER and B-PROTECTED results should give medicine regulators and policymakers the confidence to include pregnant and breastfeeding people in rollouts of the vaginal ring.
"Women need safe and effective methods for HIV prevention they can use at all times of their lives, perhaps especially when they are breastfeeding – which we know to be a time of heightened risk," said B-PROTECTED researcher Maxie Owor, who is based at Uganda's Makerere University-Johns Hopkins University Research Collaboration centre.
Pregnant people are three times more likely to contract HIV than their non-pregnant peers. The risk of infection is four times higher in the postpartum period six months after birth. Scientists believe biological changes during pregnancy and soon after at least partly explain this increased risk. In addition, people who contract HIV during pregnancy or while breastfeeding are more likely to pass the virus to their infants during labour or via their breast milk.
DELIVER: a study in three phases
DELIVER was carried out among otherwise healthy pregnant women aged 18 to 40 in Uganda, Malawi, Zimbabe and South Africa. As part of the trial, women were randomly assigned to receive either the vaginal ring or daily oral PrEP.
The study used a three-phased approach, first enrolling 150 women whose advanced pregnancies put them at the lowest risk of experiencing drug-related complications: those at 36 weeks of pregnancy. After an independent review panel found no safety concerns for this group, a second cohort of 157 participants at 30 to 35 weeks of pregnancy was started on the trial. Similarly, another independent review of this cohort data was required before the study embarked on its third and final phase among 250 people between 12 and 29 weeks of pregnancy.
In both DELIVER's first and second phases, women were randomised in a two to one ratio in favour of the ring. Women in the final phase of the study, which is ongoing, have been randomised four to one to receive the dapivirine ring.
Pregnant on PrEP: women's outcomes were on par with those of host communities
Participants were followed up weekly to identify pregnancy outcomes and any complications, up to six weeks following birth. These outcomes were compared to those within broader site communities extracted from a review of about 10,000 hospital medical records across the four trial sites.
Both the ring and daily oral PrEP were found to be safe for use during the third trimester of pregnancy, with at least 94% of participants delivering healthy, full-term babies across the two cohorts or phases and irrespective of PrEP option.
One stillbirth was experienced by a participant on oral PrEP among DELIVER's first cohort of women who initiated PrEP at 36 weeks of pregnancy. Another stillbirth was reported in the second phase or cohort of the study – this time, to a woman using the vaginal ring.
Neither death was attributed to the medication. In fact, the prevalence of stillbirths seen in the trial was less than half than is typically seen in host communities, according to the medical record review.
The study also tracked potentially life-threatening pregnancy complications such as those related to high blood pressure (eclampsia and pre-eclampsia) and haemorrhages shortly before or after delivery. Many of these conditions are some of the leading causes of maternal death in study countries.
DELIVER found that conditions associated with hypertension affected less than one in 10 women in the study regardless of cohort or PrEP options – roughly on a par with those seen in local communities.
The study is expected to complete its third and final phase – collecting additional safety data on the ring in the second trimester of pregnancy – in May 2023, according to DELIVER protocol chair Dr Katherine Bunge of the University of Pittsburg.
"All I can say is, so far, so good," Bunge says.
Infants of women on the ring had nearly undetectable levels of the medicine in their blood
DELIVER's companion study on the vaginal ring's safety during breastfeeding, B-PROTECTED was also conducted in Malawi, South Africa, Uganda and Zimbabwe and enrolled 197 mother-baby pairs. Women were randomised in a three-to-one ratio to use the ring or to take daily, oral PrEP. Participants used the products for three months.
Mothers' median age was 26 years at the time of enrolment while infants' median age was nine weeks.
In the 148 pairs assigned to the study's vaginal ring arm, drug concentrations were measured in samples of maternal and infant plasma as well as breast milk. The 49 pairs randomised to the oral PrEP group were similarly monitored via samples of breast milk as well as mother and baby dried blood spot testing.
Adherence to both the ring and oral PrEP was high. Still, extremely low levels of dapivirine were found in infant plasma samples. In babies whose mother was on oral PrEP, dried blood spot concentrations of TDF were so low that they were undetectable.
No infant experienced any adverse event, or side effect, from either the ring or oral PrEP. Among mothers, most adverse events were mild or moderate.
"This was one of the most rigorous studies for quantifying drug concentrations for oral PrEP during breastfeeding and the only study of its kind of the dapivirine vaginal ring conducted in mother-infant pairs," explains study researcher Dr Lisa Noguchi, who is director of maternal and newborn health at the international non-governmental organisation Jhpiego. "The data it has generated is very reassuring for both products, but particularly for the dapivirine ring."
DELIVER and B-PROTECTED are the latest studies to affirm the safety of TDF/FTC for HIV prevention during pregnancy and breastfeeding. Earlier this month, findings from a randomised, open-label study in Durban, South Africa, showed that women who initiated oral PrEP as early as 14 weeks of pregnancy had no greater likelihood of stillbirths, preterm deliveries or low birth weight compared to women who waited to start PrEP until after they had stopped breastfeeding.
Delivered by design: could phased studies age
According to Bunge, DELIVER participants appreciated the study's design and valued its phased approach as an extra safety check.
"[Study clinic staff] were able to explain everything to me like, 'you're not the first one to use the ring," said one participant quoted in her presentation. "Studies with animals, then a smaller group of people then a bigger group then we reached to those people who were pregnant as well."
DELIVER's phased approach has allowed researchers to report findings more quickly.
"Safety data on the use of these HIV prevention products in this population is vitally important, which is why we designed DELIVER the way we did, enrolling one group at a time, to ensure the safety of both mothers and their babies," she explained. "[But also] so that we would be able to report our results in a more timely fashion rather than waiting until completion of the study."
It's an approach, Bunge believes, that could be used to safely gather drug safety data in pregnant people sooner. Traditionally, most studies for new medicines exclude pregnant women and infants due to safety concerns, leaving these groups among the last to access new treatments.
"Studying and investing in the safety of an investigational product is hard in pregnancy, but it can be done," she said. "It should be done because pregnant people deserve better."
References
Bunge, K et al. A safety study of a dapivirine vaginal ring and oral PrEP for the prevention of HIV during pregnancy. Conference on Retroviruses and Opportunistic Infections, Seattle, abstract 127, 2023.                              
View the abstract on the conference website.
Owor, M et al. Dapivirine ring safety and drug detection in breastfeeding mother-infant pairs. Conference on Retroviruses and Opportunistic Infections, Seattle, abstract 785, 2023.