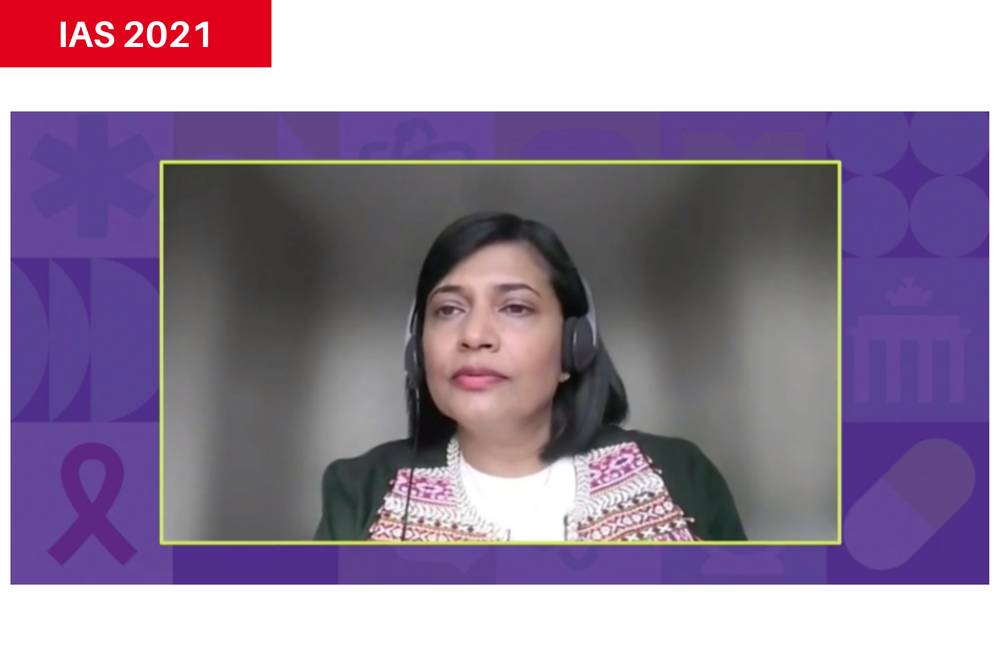 Adolescent girls and young women can consistently use the dapivirine vaginal ring and daily pills for HIV pre-exposure prophylaxis (PrEP) when they receive adherence support, according to a study presented last week at the 11th International AIDS Society Conference on HIV Science (IAS 2021). Encouragingly, adherence to both methods was higher in this study than rates seen in prior trials. Another study found that both the ring and oral PrEP were safe for pregnant women, which to date has been an understudied population for HIV prevention.
"In many ways, these results exceeded even our own expectations, yet at the same time, it's not surprising to find that these young women have the capacity and desire to protect themselves against HIV," Dr Gonasagrie 'Lulu' Nair of Stellenbosch University in Cape Town, South Africa, said in a statement from the Microbicides Trials Network. "They simply need to feel empowered and have the agency to make choices based on what they feel is right for them."
In January 2021, the World Health Organization recommended the vaginal ring, a silicone device that slowly releases the non-nucleoside reverse transcriptase inhibitor dapivirine, as an additional prevention option for women at substantial risk for HIV.
A pair of phase III randomised clinical trials in sub-Saharan Africa, the Ring Study and ASPIRE, found that the ring reduced the risk of HIV infection by about 30%. An open-label extension of ASPIRE, known as HOPE, found that effectiveness rose to 39% with longer use. Two studies of oral PrEP using tenofovir disoproxil fumarate/emtricitabine (TDF/FTC; Truvada or generic equivalents) for women in Africa, VOICE and FEM-PrEP, found that the daily pills did not reduce the risk of infection more than a placebo.
These results were disappointing, given that oral PrEP is highly effective for gay and bisexual men and heterosexual couples. Further analysis showed that both the ring and oral PrEP worked well for women when adherence was high, but many African women – especially young women – had difficulty using the methods consistently. In VOICE and FEM-PrEP, less than 25% of young women maintained good adherence. In ASPIRE, the ring was 61% effective for women older than 25, only 10% effective for those younger than 25 and showed no efficacy for those 18 to 21.
But interim results from the REACH trial point to a more hopeful conclusion. This Microbicides Trials Network study, launched in February 2019, enrolled 247 adolescent girls and young women aged from 16 to 21 in South Africa, Uganda and Zimbabwe. The average age was 18 and more than a third were 16 or 17. They were not pregnant and were using reliable contraception.
Most of the participants were unmarried and 40% had previously been pregnant. Three-quarters had a secondary school education, with 37% currently in school; about one in five earned an income. Most (89%) reported having a primary sexual partner, 75% were aware of their partner's HIV status and 24% thought their primary partner had other partners. The women had an average of 2.5 sexual partners during the last three months and 35% had one or more sexually transmitted infections at baseline, with chlamydia being most common. While 7% said they were very worried about getting HIV, 39% said they were not at all worried.
The study aimed to assess the safety, adherence, acceptability and preference for the dapivirine ring and oral TDF/FTC. Using a crossover design, one group was randomly assigned to use the ring for six months (one ring per month) then switched to oral PrEP for six months. The second group used the methods in the opposite order. During the final six months, the women used the method of their choice, or neither.
Participants were offered a menu of adherence support including daily text message reminders, weekly check-ins by text or phone, pairing up with another participant as an adherence buddy, support groups and adherence counselling.
Nair presented interim findings after the first two six-month periods; at that point, most of the women (94.4%) had attended all study visits.
Both methods were generally safe and well-tolerated. About a third of participants reported adverse events related to the ring and about half reported side effects related to oral TDF/FTC. However, there were no serious adverse events with either method and no one stopped using the ring or PrEP pills for this reason.
The researchers estimated adherence based on the amount of residual dapivirine left in the returned rings or tenofovir drug levels in dried blood spots. Non-use or minimal use during the first 12 months was very uncommon, Nair said. Half the ring users (50.2%) achieved high use, 45.4% showed evidence of some use and just 4.4% showed no evidence of use. For oral TDF/FTC, the corresponding figures were 58.6% (four or more doses per week), 39.9% (one to three doses per week) and 1.5% (no tenofovir detected).
In terms of full compliance, however, the ring fared better. Half left the ring in place for a full month compared with less than a quarter who took at least six doses per week of TDF/FTC.
Moreover, the women reported a clear preference for the ring: 88.5% said the ring was acceptable while 63.9% said the same about oral TDF/FTC.

Although the study was not designed to evaluate effectiveness, Nair noted that there was just one new HIV infection, for an incidence rate of 0.5 per 100 person-years.
"Adherence to the ring and oral PrEP was higher than anticipated among African adolescent girls and young women. Both were well-tolerated and highly acceptable," the researchers concluded. "Adherence to both products can be achieved with tailored adherence support."

"What strikes me most about REACH is that not only are we seeing high adherence, but persistence appears to be high as well," said REACH protocol co-chair Professor Connie Celum of the University of Washington in Seattle. "Clearly, the ongoing support and individual attention paid to participants seems to make a difference. To see this kind of high adherence – it's pretty remarkable, especially during this time of COVID-19."
PrEP for pregnant women
A second study by the Microbicides Trial Network, dubbed DELIVER, evaluated the safety of the dapivirine vaginal ring and oral TDF/FTC in pregnant women.

DELIVER enrolled 150 women aged 18 to 40 in Malawi, South Africa, Uganda and Zimbabwe. The median age was 25 and nearly a third had a prior pregnancy. Of these, 101 were randomly assigned to use the monthly ring and 49 to use daily oral PrEP. They started using the methods during late pregnancy (about 36 to 38 weeks of gestation) and continued until delivery. The mothers and infants were then followed-up for six additional weeks.
Professor Bonus Makanani of the Malawi College of Medicine-Johns Hopkins University Research Project presented pregnancy outcomes for 141 participants.
Both prevention methods were found to be safe. Only one severe adverse event (nausea) was deemed related to TDF/FTC. No infants had severe adverse events linked to the methods.

Pregnancy complications were rare, with hypertensive disorders being the most common. Three women in the vaginal ring group and two in the TDF/FTC group had gestational hypertension (high blood pressure), and two in the TDF/FTC arm developed pre-eclampsia. Two women in each group experienced haemorrhage. One woman in the ring group and two in the TDF/FTC group had pre-term deliveries. There was one stillbirth and one newborn death, both in the TDF/FTC arm. These were comparable to the rates seen in other pregnant women at the clinics taking part in the study.
"In this first study of a long-acting HIV prevention agent in pregnancy, adverse pregnancy outcomes and complications were uncommon when the dapivirine vaginal ring and TDF/FTC were used in late pregnancy and were generally similar to rates observed in the communities where the study is being conducted," the researchers concluded. "These data support plans for subsequent investigation of safety among pregnant women using [the] dapivirine vaginal ring earlier in pregnancy."
Subsequent cohorts in the study will include 150 women who will start using the prevention methods at 30 to 35 weeks of gestation and 250 women who will do so starting at 12 to 29 weeks.