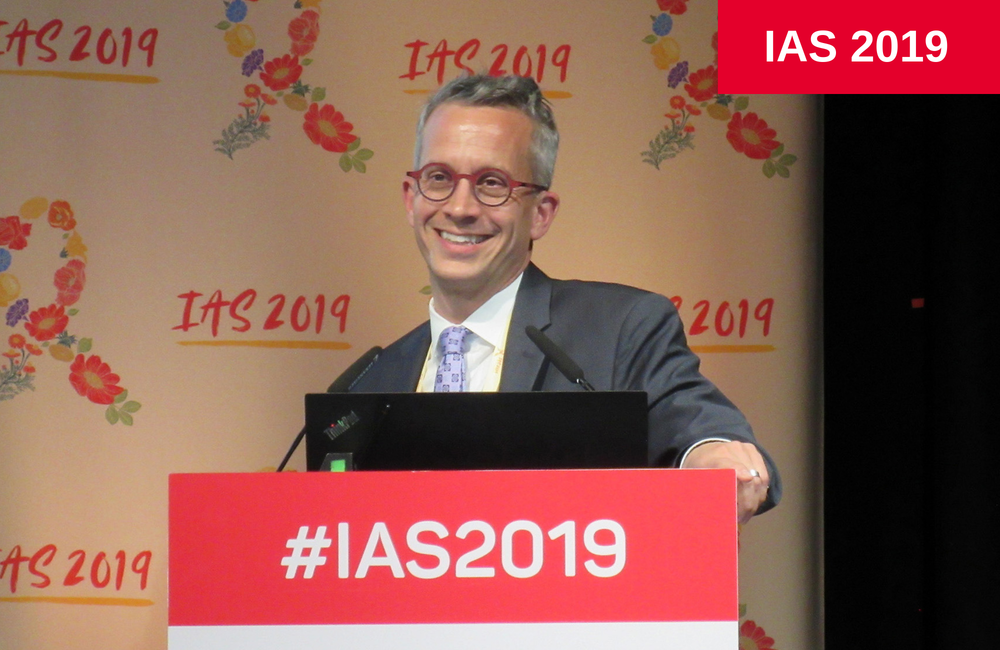 A silicone vaginal ring containing the antiretroviral drug dapivirine continued to demonstrate moderate effectiveness and remained well tolerated and acceptable to African women over a year-long period, according to a report presented at the 10th International AIDS Society Conference on HIV Science (IAS 2019) this week in Mexico City.
In an open-label extension of the randomised ASPIRE trial, nearly three-quarters of the participants opted to use the ring for the full two-year follow-up period, and researchers estimated that it reduced the risk of acquiring HIV by 39%.
Women have different HIV prevention needs and preferences, and having a variety of effective tools is essential for controlling the epidemic worldwide. Along with treatment as prevention, condoms and pre-exposure prophylaxis (PrEP), antiviral products inserted in the vagina could play a role in preventing sexual transmission of HIV.
Professor Jared Baeten of the University of Washington presented the latest results from the HOPE study (MTN-025), a follow-up to the ASPIRE trial (MTN-020). In ASPIRE, run by the Microbicides Trials Network, more than 2600 HIV-negative women at 14 sites in Malawi, South Africa, Uganda and Zimbabwe were randomly assigned to use the dapivirine ring or an inactive placebo ring.
The flexible silicone polymer ring contains 25mg of the non-nucleoside reverse transcriptase inhibitor (NNRTI) dapivirine, which has never been developed as an oral drug. It is worn continuously for a month before being replaced. Dapivirine diffuses slowly out of the ring over time, and researchers can estimate how often it was worn based on the amount of drug left in the ring at the end of the month.
As first reported at the 2016 Conference on Retroviruses and Opportunistic Infections (CROI), the ring reduced the risk of acquiring HIV by a disappointing 27% overall. However, its effectiveness was associated with age, most likely due to different levels of adherence. The ring showed zero efficacy for women aged 18-21, but this rose to 56% for those aged 22-26 and 51% for those 27 or older. A later analysis showed that women who used the ring consistently had a 65% lower risk of infection, and efficacy may have been as high as 90% or more for those with the best adherence.
After the randomised trial was completed, participants were invited to join the open-label extension study, in which all women were offered rings with dapivirine and there was no control group. More closely resembling real world conditions, participants knew that the rings were not placebos and had some efficacy. Women could still join the study if they opted not to use the ring.
HOPE started in August 2016 and concluded in October 2018. Study visits took place monthly for the first three months and then quarterly – a more likely frequency for wider real-world implementation, Baeten said. At each visit, the women were tested for HIV and offered risk-reduction counselling, pregnancy testing, contraceptive counselling and provision, safety monitoring and counselling about using the ring. Used rings were returned to be tested for residual dapivirine levels.
Baeten presented interim findings from HOPE at CROI 2018 and final results this week in Mexico City.
A total of 1456 women enrolled in HOPE, or 59% of the original ASPIRE participants who remained HIV negative. The most common reasons for not joining were having serocoverted or wishing to become pregnant, as pregnant and breastfeeding women were excluded because of the unknown safety of the product.
The median age of the participants was 31 years, with 12% being under 25. Nearly half (47%) were married. About one in four reported using a condom the last time they had sex, and 16% were found to have a sexually transmitted infection at study entry.
Retention in the study was very high, Baeten reported, with the women completing 98% of scheduled study visits – higher than the 91% rate in ASPIRE.
At the start of the study, 92% of the women opted to use the ring. This dropped off over time, falling to 83% at six months and 79% at nine months. However, 73% of the women who remained eligible used the ring for the entire 12 months of the study. The most common reason for declining was having chosen another HIV prevention method.
Overall, 90% of returned rings had a residual drug level that indicated at least some use, and the amount of dapivirine released was greater than the amount observed in ASPIRE. Adherence remained relatively steady over the course of follow-up, Baeten said.
A total of 35 women acquired HIV during follow-up, for an incidence of 2.7 per 100 person-years, or 2.7%. Although there was no direct control group, this rate compared favourably with the 4.5 per 100 person-years seen in the placebo arm of ASPIRE. After adjusting for factors including age and sexually transmitted infections, the researchers estimated that the ring reduced HIV incidence by 39%.
Of the 35 women who seroconverted, seven had NNRTI resistance mutations, but no evidence of dapivirine-specific resistance patterns was observed.
The safety and tolerability of the ring were similar to that seen in ASPIRE, with no new safety signals. Serious adverse events (1%) and grade 3 adverse events (4%) were rare and not judged to be related to use of the ring.
A total of 70 pregnancies occurred during follow-up, and no congenital anomalies were observed. Baeten noted that the Microbicides Trials Network is now planning studies of the ring's safety in pregnancy and breastfeeding women, starting with late pregnancy – when drugs taken by the mother typically have the least effect on a developing foetus – and moving progressively earlier. He added that the ring produces little systemic exposure to dapivirine.
Based on these findings, the researchers concluded, "Final results from this open-label extension trial of the dapivirine vaginal ring indicate high uptake and adherence, a well-tolerated safety profile consistent with that seen in the phase 3 studies and lower HIV-1 incidence than expected."
Results from DREAM, another open-label study of the same product, were announced at last month's South African AIDS Conference. This also showed moderately increased product use compared to the placebo-controlled study, and an estimated reduction in HIV incidence of 63%.
"Having both PrEP and the dapivirine ring would be a significant milestone for HIV prevention, because the more options the better," Baeten said in a MTN press release. "No one method is going to be right for all women, and no method will be nor can be effective if it's not used or not available in the first place."