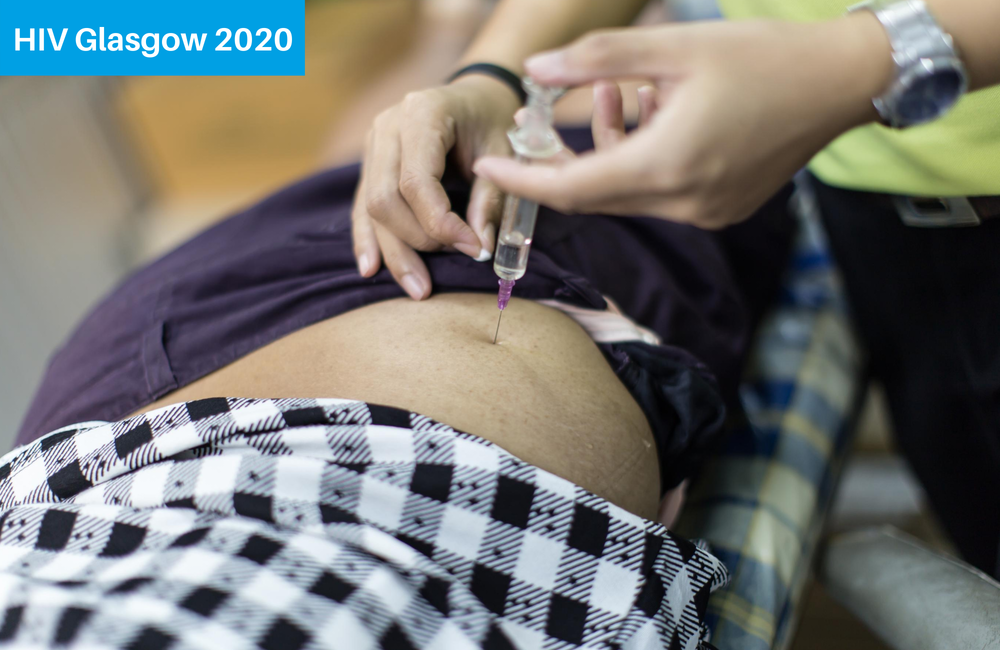 Two-thirds of people on HIV treatment would like to switch to a long-acting injectable regimen, according to a four-country survey presented to the virtual HIV Glasgow conference this week. Healthcare professionals answering the same survey thought fewer people – a quarter – would end up switching.
The survey was run on behalf of ViiV Healthcare, who make injectable cabotegravir/rilpivirine, so it might be expected to come up with a favourable result. However, an independently run Italian survey found an even greater level of interest, with 89% of respondents being interested in injectables.
The ViiV survey
The ViiV survey was run online, in France, Germany, Italy and the United Kingdom. It included 120 healthcare professionals and 688 people living with HIV. A third of the patients were female, just under a third were over 50 and 89% had an undetectable viral load.
Overall, 66% were interested in trying a long-acting injectable regimen. Those interested were more likely to be younger, more recently diagnosed, heterosexual and born overseas.
People with specific unmet needs generally agreed that the injectable would help with those issues:
Among the 304 people with emotional issues related to daily adherence, 79% thought the injectable would help. This includes people who feel anxious about missing a dose or taking it late and people who dislike the daily reminder of their HIV status.
Among the 374 people with suboptimal adherence to daily therapy, 81% thought it would help.
Among the 523 people with confidentiality or privacy concerns, such as worrying that taking pills every day increases the chance of their HIV status being revealed, 88% believed the injectable would help.
Among the handful of people with specific medical issues, such as drug malabsorption or gastrointestinal conditions that interfere with oral therapy, 100% felt it would be helpful.
The key benefits from patients' point of view were it being easier to travel because of not needing to carry pills (56%), two months of uninterrupted drug efficacy (56%), less frequent drug intake (53%), less risk of missing a dose and therefore of treatment failure (51%) and less risk of HIV transmission (50%). Perceived constraints were scheduling travel to have the injection within a two week time frame (37%), pain of the injections (35%), missing an injection within the time frame (33%) and making time to go to the clinic every two months (32%).
Clinicians were generally open to offering long-acting injectables to patients, assuming that they were not more expensive. This was not only to individuals with strong medical needs such as difficulty swallowing (60% of clinicians definitely would offer and 33% probably would), but also to "patients who prefer a long-acting regimen for convenience and lifestyle reasons" (34% definitely would and 50% probably would offer).
Nonetheless, the clinicians only thought that 26% of patients would actually switch. From their point of view, the key benefits of a long-acting injectable were more frequent contact with patients (54%), the medication not having food requirements (37%) and the route of drug intake (31%). They described more disadvantages than patients did, including the time and capacity to see patients every other month (57%), the route of drug intake (53%), injection site reactions (50%) and the possibility of needing to take a patient off injectables and back onto daily antiretroviral therapy (50%).
The Italian survey
The Italian survey only included 242 people, but they were spread throughout the country, included a wide range of ages (the largest numbers being in their thirties, forties and fifties) and a quarter were women. Clinics and patient organisations invited participants to complete the survey during clinic visits, via WhatsApp and through social media.
Fifty nine per cent of respondents were taking one pill a day and 82% said they had a good relationship with antiretroviral therapy (ART). Nonetheless, 34% considered daily ART to be an obligation and a restriction on their freedom.
Over half had already heard of the prospect of long-acting ART and 89% would be interested in switching – evenly split between those who definitely would, and those who probably would be interested. Although most people said they would prefer to receive injections at home, two-thirds of respondents said that even if the injection could only be provided in a hospital, their level of interest would be the same.
The Italian researchers say they were surprised that so many people wanted to switch from a single tablet regimen to a series of injections. They note the challenges this could pose to their healthcare system – even if only a quarter of Italian patients actually switched, that would still be 37,500 people needing to be seen every other month.
"It would be necessary to rethink the organization of the outpatient unit or identify alternative methods to manage a so high daily number of injections," they say.
References
Akinwunmi B et al. Factors associated with interest in a long-acting HIV regimen: perspectives of people living with HIV and physicians in western Europe. HIV Glasgow 2020, abstract P014.
Update: Following the conference presentation, this study was published in a peer-reviewed journal:
Akinwunmi B et al. Factors associated with interest in a long-acting HIV regimen: perspectives of people living with HIV and healthcare providers in four European countries. Sexually Transmitted Infections, 97: 566-573, 2021.
Celesia M et al. Long-acting treatments: people's expectations and attending physicians' preparedness. Are we ready to manage it? HIV Glasgow 2020, abstract P015.
Correction: this article was amended on 8 October 2020. An earlier version mischaracterised the data in the bullet points. They show the proportions of people who felt a long-acting injectable would help with an issue, rather than the proportions who would like to try the long-acting injectable.