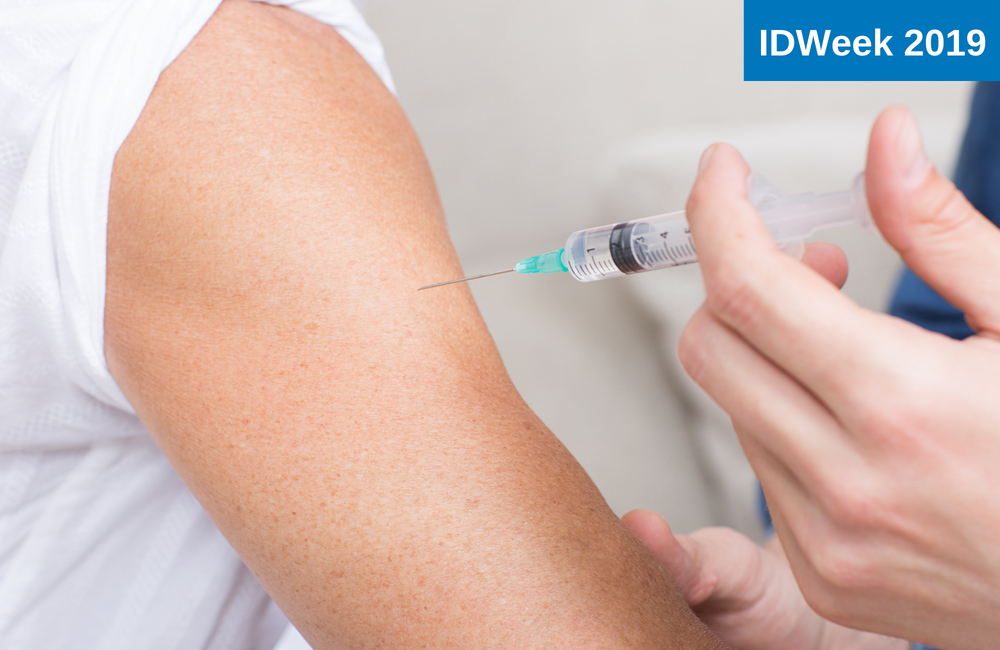 An experimental two-part vaccine was not able to prevent chronic hepatitis C virus (HCV) infection in a mid-stage study, according to a presentation at the recent IDWeek 2019 conference in Washington, DC.
Professor Andrea Cox of Johns Hopkins University reported that study participants who received the prime-boost vaccine were no less likely to develop chronic infection than placebo recipients, but they did show stronger immune responses against the virus.
Successful treatment of hepatitis C reduces new infections, as people who are cured can no longer transmit the virus. But despite a dramatic improvement in the cure rate since the advent of direct-acting antivirals, many experts believe that the World Health Organization goal of eliminating hepatitis C as a global public health threat can only be achieved with a vaccine.
Yet efforts to develop an effective HCV vaccine have been hampered by several challenges including the high variability of the virus – which has also stymied HIV vaccine development – and incomplete natural immunity.
Around a quarter of people with acute HCV infection are able to clear the virus spontaneously without treatment, while the remainder develop chronic, or long-term infection lasting more than six months. Unlike hepatitis A and B, people who clear hepatitis C naturally or are cured with antivirals can become infected again. However, those who are infected a second time typically have lower HCV viral load. And, as Cox explained at the 2016 International Symposium on Hepatitis Care in Substance Users in Oslo, the magnitude and breadth of T-cell responses increase and the likelihood of spontaneous clearance rises with each subsequent infection.
At IDWeek, Cox presented findings from a phase I/II clinical trial (NCT01436357) evaluating a dual prime-boost vaccine strategy for HCV prevention.
The vaccine regimen involves a recombinant chimpanzee adenovirus 3 vector prime vaccine (known as AdCh3NSmut1) followed by a recombinant modified vaccinia Ankara booster (MVA-NSMut HCV), both genetically engineered to encode nonstructural proteins from genotype 1b HCV.
The study included 455 participants age 18 to 45 who were at risk for HCV through injection drug use. Nearly 80% were men and about 60% were white. They were enrolled at Johns Hopkins in Baltimore, the University of California at San Francisco and the University of New Mexico.
Participants were randomly assigned to receive the prime-boost regimen or placebo injections administered at the start of the study and eight weeks later. The researchers monitored vaccine safety, immunogenicity (ability to stimulate immune responses) and ability to prevent chronic HCV infection.
The overall incidence of HCV infection after six months of follow-up was 13 cases per 100 person-years, Cox reported. She noted that this was lower than expected, likely because study participants in both arms received counselling and referral to syringe programmes, addiction treatment and other harm reduction services.
However, the study found no difference between vaccine and placebo arms in the likelihood of developing chronic infection, with 14 cases in both groups.
The vaccine did seem to stimulate immune responses against the virus. Among the participants who received the active vaccine, 78% generated T-cell responses to at least one of the encoded HCV antigens. And people who became infected in this group had lower peak HCV viral load, on average.
The vaccine combination was generally safe and well tolerated, Cox said, with no serious vaccine-related adverse events. More people who received the active vaccine reported adverse events compared with placebo recipients (81% vs 59%), mostly attributable to injection site reactions.

The vaccine candidate "elicited robust immune responses without evident safety concerns, but did not provide protection against chronic HCV infection," the researchers concluded, adding that this study demonstrates the feasibility of conducting rigorous vaccine research among people who inject drugs.
References
Cox A et al. A randomized, double-blind, placebo-controlled efficacy trial of a vaccine to prevent chronic hepatitis C virus infection in an at-risk population. IDWeek, Washington, DC, abstract LB10, 2019.
Update: Following the conference presentation, this study was published in a peer-reviewed journal:
Page K et al. Randomized Trial of a Vaccine Regimen to Prevent Chronic HCV Infection. New England Journal of Medicine, 384: 541-549, February 2021.
DOI: 10.1056/NEJMoa2023345